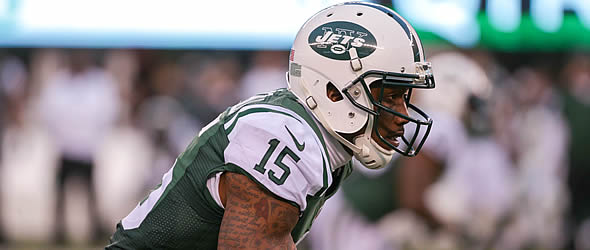 Marshall will defer to Odell Beckham Jr. but should have no problem returning WR2 value in 2017.
For the first time since 2007, his second NFL season, Brandon Marshall isn't his team's top receiver. That might be a shock to the system if it weren't for the fact that the free agent receiver knowingly chose to sign with the New York Giants. So, playing a support role for Odell Beckham Jr. shouldn't be an issue on the field or in the Giants' clubhouse.

There was a time when it would have been a problem. But Marshall isn't the same guy he was a decade ago. He's even done solid work in the community regarding mental health issues recently. Other than a run-in with well-known "knucklehead" Sheldon Richardson, Marshall was a good citizen in the Jets locker room last season.

Still, the reasonably-priced signing (two years, $12 million) won't be without risk.

Projected Impact with the Giants

New York drafted Sterling Shepard in the second round of the 2016 draft and the rookie posted solid numbers last season (65-683-8). What he didn't do, however, was force teams to play Beckham Jr. straight-up.

That's one of Marshall's primary jobs.

ODB's catch percentage was around 60-percent for the second consecutive season after catching 70-percent of his targets in his rookie season (2014). He finished with 10 touchdowns in 2016, the lowest total of his career. Meanwhile, his red-zone touchdown total has dropped from eight to six to five in three seasons.

Job No. 2 for Marshall is red-zone and goal-line touchdowns. The 11-year veteran has caught 50 of his 82 career touchdowns inside the opponent's 20-yard line. Eli Manning should see improved red zone efficiency by using the 6-foot-4, 229 lbs two-time All-Pro Marshall on fade and back shoulder routes in the corner of the end zone.

Fantasy impact with the Giants

Marshall is just the deputy sheriff in the Giants' passing game. He'll certainly see significantly less targets and opportunities than Beckham Jr. and Shepard also will draw his fair share of the receiving workload.

Fortunately, unless the Giants draft a stud running back or sign free agent Adrian Peterson, the New York running game will continue to be sub-standard. They ran the ball 39.9-percent of the time last season behind Rashad Jennings, Paul Perkins and Shane Vereen. As a group they averaged just 3.5 ypc which ranked them 30th of 32 teams.

With no running game or pass-catching tight end (assuming they don't draft Alabama's O.J. Howard), all three wide receivers can still be viable fantasy options.

There are red flags of which you should be aware. The Giants do have some issues on the offensive line which can't be ignored and the 36-year-old Manning didn't play particularly well last season. They could use an upgrade at both guard and tackle because keeping Manning upright would lead to better decision-making - a must if Eli is going to throw the ball 600 times or more.

Marshall's Fantasy Projection

Over the past three seasons, Beckham has averaged 96 receptions for 1,367 yards and 11.7 touchdowns on 152 targets. Meanwhile, the Giants' No. 2 man (rookie Shepard/underachiever Rueben Randle) averaged 64 receptions for 806 yards and 6.3 scores on 107 targets. Even at 33-years-old, Marshall should do better than that.

This will be a new experience for Marshall, seeing double coverage on the other side of the field, but after averaging almost 155 targets per season over the past 10 years, he'll have to produce results on significantly fewer opportunities. As long as he doesn't get frustrated, Marshall can generate high WR2 numbers.

Ignore his 2016 season in which he played with an "inefficient" Ryan Fitzpatrick, Bryce Petty and Geno Smith at quarterback (Yes, I'm being very kind). Marshall is still the player who posted 1,502 yards and 14 touchdowns the previous season. Unfortunately, he won't see 173 targets as he did in 2015.

Figure Marshall for 128 targets, 76 receptions for 976 yards, eight touchdowns and three 100-yard receiving days. Adding it all up, Marshall should average 9.6 FPts/G in 2017. That kind of production would have ranked him 13th among receivers who played at least four games last season.


---
Steve Schwarz served as the fantasy sports editor of The Sports Network and is the 2014 FSWA Football Writer of the Year.