Injuries continue to pile up. Odell Beckham Jr. and Brandon Marshall were lost for the season and solid performers like Travis Kelce, DeVante Parker and Stefon Diggs were nicked up. This season is looking like the owner with the healthiest roster wins.

OK, the boring stuff. Bye season continues with Dallas, Seattle, Buffalo and Cincinnati taking a seat. Thatís a lot of firepower sidelined. Weather should not be a factor in Week 6.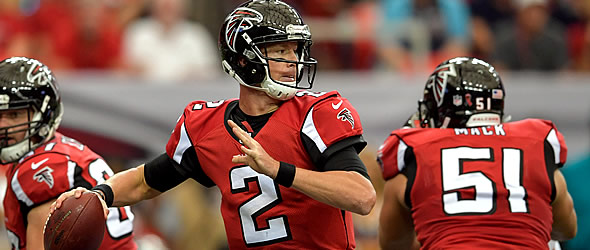 With CAR, SEA and MIN still on the schedule, the Matt Ryan regression looks like it's here to stay.

Truths

"In a time of deceit, telling the truth is a revolutionary act." - George Orwellt

1) Matt Ryan has underperformed over his first four games and unfortunately its likely to continue.
Ryan is ranked 18th among quarterbacks, scoring just 19.5 FPts/G, after finishing third last season at 27.5 per game. Heís struggled against four opponents who rank in the top half of the league in fantasy points allowed and because the Falcons earned a division title last season they are faced with a tougher schedule in 2017. Still on the docket this season are: Miami, Carolina, Seattle and Minnesota, all top-10 defenses.
2) If you plot Kareem Huntís production over the first five games you will see itís time to sell high to maximize your return.

If itís not a keeper league - sell. His production graph looks like a ski slope. Heís getting more and more touches and producing less and less. Trade him while other fantasy owners still remember the game against New England.

3) Leonard Fournette is a fantasy stud only as long as defensive coordinators allow him to be one.

Fournette is a volume producer and currently seeing 24.4 touches per game including almost 22 touches on the ground. Given the state of Blake Bortlesí ďgame,Ē defensive coordinators should be able to shut the running back down by overloading the box and letting Bortles try and beat them. Since even the Jacksonville head coach doesnít want to throw the ball, it should be game over for Fournetteís fantasy value unless Bortles drastically improves.

4) Unless you believe the change to Mitchell Trubisky at quarterback is Chicagoís solution to winning, Jordan Howardís fantasy value is going to be severely limited.

In 20 games over two seasons, Howard has averaged 24.37 FPts/G in four Bearsí wins and 9.66
in 16 Chicago losses. Thatís too great a variation to be a coincidence.

5) Perhaps Marshawn Lynch should have stayed retired.
True. Other than opening day, Lynch has seen a dozen or less carries. And heís done little with them. After averaging 4.2 ypc in Tennessee, heís averaging 3.02 ypc over the next four games. Meanwhile, backup Jalen Richard is averaging 5.9 ypc and saw nine rushing attempts last weekend. Lynch canít make up the loss of touches in the passing games having caught just one ball in four of five games.
Lies

ďA lie is like a cat: you need to stop it before it gets out the door or itís really hard to catch.Ē Ė Charles M. Blowill

1) Party time is over for Rams quarterback Jared Goff.
Not necessarily. Yes, heíll probably struggle in Week 6 against Jacksonville, but then he has three favorable games against Arizona, New York Giants and Houston. Certainly, you must sit him this Sunday, but heís still a viable low-end option during these bye weeks.
2) Ed Dickson has magically become a fantasy stud overnight.

Not overnight, but he is in the right place at the right time. When given an opportunity in 2011 while playing for Baltimore, Dickson caught 54 balls for 528 yards and five scores. Cam Newton has always used his tight end and with Greg Olsen sidelined for a while, Dickson is the guy to take over. No, he will probably never catch 175 yards worth of passes in a game again, but he is a viable low-end fantasy starter Ö at least until Olsen returns from IR around Week 9.

3) Adrian Peterson is a viable option now that heís been installed as the Cardinals starting tailback.

False. Unless AP can make theArizona offensive linemen in front of him a lot better, heís going to struggle like the rest of the Cardinalsí running backs. To date, Arizona is averaging 2.6 ypc on 100 attempts. Thatís enough to tell me it isnít the backs at fault, but a line that canít open holes. Peterson was averaging 3.0 ypc in 27 attempts for the Saints. While the 2017 version of AP is better than the 2017 version of Chris Johnson, I donít believe Peterson will return to anything close to Pro Bowl form.
4) Ben Roethlisberger is still a fantasy-worthy starter.

Sorry, no. During the summer there were numerous stories about the home/road splits, but this season even Roethlisbergerís work in Heinz Field is mediocre. Heís yet to produce 21 fantasy points in any game this season Ė at home or on the road. With games at KC and home against No. 5 Cincinnati, Ben should be riding your bench for the immediate future.
5) Frank Gore is still a viable low-end RB2.
Heís about as viable as Latavius Murray. Both aging veterans are about to find out what a youth movement looks like. Actually, Murray found out this April when the Vikings drafted Dalvin Cook and the rookie ran circles around him. Gore has been the starter for the first five games, but has produced just 3.2 ypc on 75 rushes. Youngster Marlon Mack showed last week why Goreís retirement party planners should be hard at work. The 21-year-old Mack, from South Florida, ran for 91 yards and a score last weekend and pumped life into the Colts offense. He can catch the ball too. Is he still available in your league?


---
Steve Schwarz served as the fantasy sports editor of The Sports Network and is the 2014 FSWA Football Writer of the Year.