Injuries continue to destroy strategies. This time itís Aaron Rodgers long-term. Perhaps fantasy owners should start carrying a rabbitís foot.

Just two teams are on bye this week (Detroit and Houston), but fantasy owners should be preparing for a tough "six-team bye week" in Week 8 (Arizona, Green Bay, Jacksonville, Los Angeles Rams, New York Giants and Tennessee).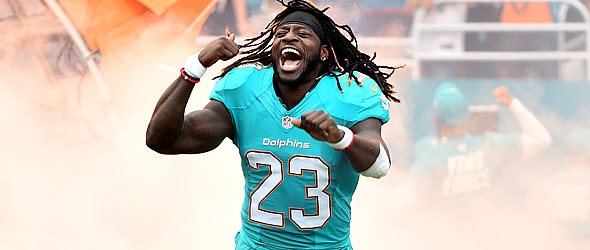 With 51 carries the last two weeks, Ajayi's workload is starting to stabilize. Don't give up on him yet.

Truths

"Men occasionally stumble over the truth, but most of them pick themselves up and hurry off as if nothing ever happened." - Winston Churchill

1) Brett Hundley can, and will, do better than his Sunday line of 18-of-33 for 157 yards, 1 TD and 3 INTs.

He didnít look very good in Minnesota despite all the talent the Packers have at receiver but it seemed more indicative of a guy who hadnít been under center since August 31st and playing a strong Vikingsí defense. Heís no Aaron Rodgers, but with a week of practice and a game-plan crafted for his strengths, he could be a viable low-end option against New Orleans in Week 7 and Detroit after the bye.

2) The squeaky wheel gets the grease.

Frequently, particularly in Pittsburgh. Antonio Brown beat up a Gatorade cooler and posted 312 yards the next two games. LeíVeon Bell says to an ESPN reporter ďI think just over the course of the season youíll see the teams that run the ball heavy win games.Ē Next thing you know he carried the ball 32 times against the Chiefs and the Steelers knocked off previously undefeated Kansas City behind his 179 yards rushing. The next time you see a thoroughbred complain about his lack of contribution, jump on the bandwagon and enjoy the ride.

3) Eagles wide receiver Nelson Agholor has found a home in the slot.

The player on the field this season is a far cry from the guy who needed a week off last season to get his head straight after dropping too many targets. Agholor can release off the line much easier from the slot and get separation. Carson Wentz is targeting him more frequently of late and heís racked up back-to-back double-digit fantasy totals. He ranks 14th among wideouts who have played at least three games and has benefited from Alshon Jeffery pulling attention to his side of the field. As long as Jeffery stays on the field, Agholor should produce WR2 value.

4) Donít quit on Jay Ajayi just because he has yet to reach the end zone.

While heís averaging just 8.3 FPts/G (28th among backs with at least three games), heís still getting plenty of opportunities. He carried the ball 26 times on Sunday for 130 yards. Heís seventh in rushing attempts (102). He faces two of the worse rushing defenses in the Jets (21.8 FPts to opposing RBs) and Ravens (20.9) in upcoming weeks and it was in Week 6 and 7 last season that he posted back-to-back 200-yard games.

5) Itís time to admit that Dak Prescott is the real deal.

Last year many said he was playing behind the best offensive line in the league, had the best running back in the NFL and didnít need to force the issue. In 2017 his offensive line lost two of their five starters, Ezekiel Elliott hasnít been near as good and heís been forced to carry more of the load. All heís done is average 4.4 more fantasy points, raising his average to 25.6 FPts/G which is more than Tom Brady, Alex Smith and Wentz. Heís ranked second behind rookie Deshaun Watson. With Elliott sidelined (probably, maybe) at some point this season, heíll be asked to do a lot more. I think heís ready.
Lies

ďThe visionary lies to himself, the liar only to others.Ē - Friedrich Nietzsche

1) AP will continue what he started in Week 6 against Arizona (134 yards rushing, 2 TDs).

Iíll be the first to admit I didnít think Adrian Peterson could produce 25.4 fantasy points. I also donít believe itís repeatable although he faces the leagueís most generous team in the Rams in Week 7 (26.5 FPts/G). The adrenaline of the first game with a new team is gone. The surprise factor is gone.

2) Will Fullerís first three games is indicative of his season-long value.

False. He currently leads all wide receivers in FPts/G (15.4), but heís been extremely touchdown dependent. Heís scored five times in three games, but is averaging just under 53 yards per game, which ranks as 40th-best overall. Since no receiver can continue at a 1.67 TDs per game pace, his trade value will never be higher.

3) Carr, currently ranked 29th among quarterbacks, will turn it around any day now.

Derek Carr certainly didnít look 100% recovered from his back injury in throwing for just 171 yards in a loss against the Chargers and it doesnít get a lot easier with Kansas City, Buffalo and Miami the next three teams on the Raiders schedule.

4) The emergence of Fuller as a touchdown maker hurts Hopkinsí value.

False. Despite Fullerís five touchdowns in three games, DeAndre Hopkins has matched that total and his six scores in 2017 have surpassed last seasonís total for 16 games. Behold, the benefits of finding a franchise quarterback. Hopkins has yet to score less than seven fantasy points this season after failing to reach that mark eight times last season primarily due to inferior quarterback play. Just a guess, but Iím betting the Browns wish they hadnít passed on Watson Ö or Wentz Ö or Prescott Ö or Jared Goff.

5) Everyone expected the No. 3 fantasy tight end to be Cameron Brate.

Absolutely not. I certainly didnít expect it, particularly after the team used their first-round pick (19th overall) on Alabamaís O.J. Howard. Yet Brate is currently ranked third with almost three times as many targets as Howard. Brate has scored in four consecutive games and posted 60-plus yards in three straight. Keep riding the Harvard man.

---
Steve Schwarz served as the fantasy sports editor of The Sports Network and is the 2014 FSWA Football Writer of the Year.