Week 9 is the last of the "big" bye weeks for 2017 with Chicago, Cleveland, Los Angeles Chargers, Minnesota, New England and Pittsburgh sitting down this weekend. Get through this week and it should be smooth sailing to the playoffs. In fact, after this week I suggest a strategy of "selling off" depth to put out the best starting lineup you can for the final sprint to the playoffs.
Weather should not be a major factor with only the Rams-Giants game expected to see rain and windy conditions.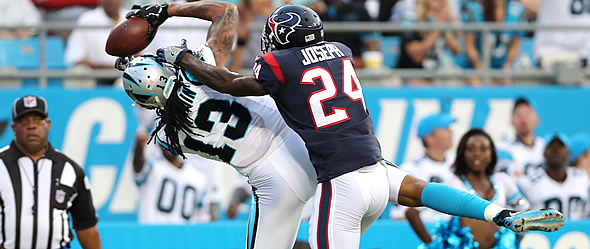 Kelvin Benjamin's move to Buffalo won't immediately improve his fantasy value. He remains a WR3.

Truths

"The truth is like salt. Men want to taste a little, but too much makes everyone sick." – Joe Abercrombie

1) Over the past five weeks, four "big name" quarterbacks have not played at a starter-worthy level – Carr, Ryan, Roethlisberger and Mariota.
None of the group is ranked higher than No. 15 (Carr) or averaging more than 19.4 FPts/G (at least two games). Ryan, last year's MVP, is averaging 18.8, "Big Ben" comes in at 17.1 and Mariota, without his running ability due to a leg injury, is posting just 17 points a game. Start checking the matchups for these guys. In Week 9 Mariota faces a tough Ravens' pass defense (No. 3 vs QBs), Ryan goes up against Carolina (No. 5) and Carr plays against Miami (No. 11). None has a favorable matchup. You certainly might need to use them because of bye weekends, but they are no longer "plug and play" quarterbacks.
2) Deshaun Watson is more than three points better than No.2 ranked Carson Wentz for the season and six points better than anyone since Week 4.

Fact. Watson's "worst" game was against lowly Cleveland when he threw "just" three touchdown passes. He has one of the best matchups possible in Week 9, facing the 28th-ranked Indianapolis Colts' who are yielding, on average, 290 yards passing and have given up at least one passing touchdown in every game.
3) This will be a particularly tough week for running back production.
Sitting on the sidelines in Week 9 are Ezekiel Elliott (I assume), Le'Veon Bell, Melvin Gordon, Jordan Howard, Isaiah Crowell and Jerick McKinnon. Over the past three weekends, they represent four of the top-10 and six of the top-20 fantasy backs.
4) It might be time to jump back on the Adrian Peterson bandwagon, at least for this week.
With the aforementioned dearth at running back, "AP" at San Francisco, who own the league's worst defense against opposing running backs (27.5 FPts/G) would seem to be a good value. Also worth a shot could be Orleans Darkwa vs. Los Angeles Rams, who rank 28th (20.7 FPts/G) and Ameer Abdullah in Green Bay as the Packers yield 22.3 points to opposing running backs.
5) The Cleveland Browns front office is completely inept.
Absolutely. Here's an example. The Browns wanted Bengals backup quarterback AJ McCarron. The Bengals were willing to trade the former Alabama star and they came to an agreement on compensation. The Bengals notified the NFL before the deadline, but the Browns found a way to screw the deal up by notifying the league after the deadline. Add this to their inability to find a starting quarterback over the past two seasons and a trend becomes clear. They don't know how to run a football team in Cleveland and fantasy owners should avoid all Browns players until someone is brought in who does. Hey, maybe Bo knows how to manage a team.
Lies

"The most dangerous of all falsehoods is a slightly distorted truth." – Georg Christoph Lichtenberg

1) Houston's tight end have benefited from Deshaun Watson's fantastic play.
Sorry, no. While DeAndre Hopkins and Will Fuller are posting monster numbers and have scored 13 times, neither Stephen Anderson nor Ryan Griffin have reached the end zone and they have caught a combined total of 15 passes all season (216 yards). I'll bet a tight end gets called for the Texans on Draft Day 2018. Imagine what a third pass-catching weapon for Watson would do to their offense. Maybe Mike Gesicki from Penn State where head coach Bill O'Brien once hung out.
2) Jimmy Garoppolo will be fantasy-worthy this season.
The magic eight ball says no. In San Francisco, Garoppolo won't be surrounded by New England Patriots. He won't have Bill Belichick. He won't have Rob Gronkowski. He won't even have Joe Staley (fractured orbital bone) to protect his blind side for a while and right tackle is also a question mark. He's a long-term stash in a keeper league, but in single-season leagues I'd let someone else pick him up.
3) Speaking of waiver claims, don't go overboard on Kenyon Drake or Damien Williams.
Drake and Williams are the two running backs who will inherit the role of ball carriers in Miami. Despite the complaints from head coach Adam Gase, Jay Ajayi was better than either of them and he couldn't produce. What makes anyone think Drake and Williams will be any better? They will still be running behind a weak offensive line. They will still have inconsistent quarterback play. If you must claim one of them, Drake should get the first shot at success.
4) Just traded Kelvin Benjamin should provide better numbers than just traded Ajayi.
While it would seem that Benjamin has an easier path to being No.1 at his position than Ajayi, I don't believe that will translate to better production. Benjamin will have no time to develop a relationship with quarterback Tyrod Taylor as the team has already had their bye. So he'll have to work on learning the plays as the team navigates through the season and develop a rapport with his QB in the offseason. He'll be a fine decoy, however. Ajayi goes to a team which has shown balance on offense and wants to preserve aging LeGarrette Blount. Ajayi is also a better pass blocker than Blount (not really a high bar to beat) and the name of the game in Philadelphia is protect Wentz. Ajayi should see double-digit rushing attempts after their Week 10 bye.
5) Martavis Bryant is the "Terrell Owens" of 2017.
Although both whined so much they lost their starting jobs while playing for a team in Pennsylvania, Bryant can't be T.O., because at least T.O. produced at an All-Pro level for many seasons before whining himself out of a uniform. Bryant has never cracked 800 yards receiving in a season or double digit touchdowns and his modicum of success was because other teams always double-teamed Antonio Brown. Owens cracks 1,000 yards nine time, 10 touchdowns in a season eight times and was a five-time All-Pro.

---
Steve Schwarz served as the fantasy sports editor of The Sports Network and is the 2014 FSWA Football Writer of the Year.