With fantasy drafts fast approaching, we continue our position-by-position analysis of overvalued and undervalued players, this time taking a look at the running back position.



Undervalued





Early Rounds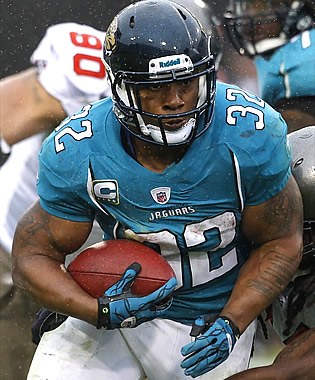 Injury concern has shaken MJD's fantasy value.

Maurice Jones-Drew, JAX


ADP: 2.06





The Case For Jones-Drew Being Undervalued:

He's a dual threat as runner and receiver, scored 10 or more touchdowns in five of his seven seasons, and has been relatively healthy for all but one season in his career.



The Case Against Jones-Drew Being Undervalued:

That one season he suffered an injury was last year, and he's still easing into things.



Verdict:

For all the worry about MJD's short stature hurting his durability throughout his career, he's played in at least 14 games in every season save 2012, when a foot injury knocked him out halfway through the campaign. But there's no arguing his numbers—MJD ran for 1,300-plus yards in each season from 2009 to 2011 and is a touchdown machine. We realize he has less-than-explosive weapons around him, but that's never stopped him from being extremely productive before. He's the 15th running back being taken on average, but he deserves to be taken sooner.



Middle Rounds



Ahmad Bradshaw, Colts


ADP: 5.05





The Case For Bradshaw Being Undervalued:

He has speed, power and the ability to make plays as a receiver, and he doesn't have elite competition for carries in the Colts' backfield.



The Case Against Bradshaw Being Undervalued:

He's played a full 16 games in a season only once and is coming off of a foot injury.



Verdict:

Bradshaw's talent is obvious—just look at his career average of 4.6 yards per carry. He has had some fumbling issues, but he's one of those rare backs who can break huge runs but also line up and pound it in short-yardage situations. Bradshaw probably won't be seeing 20 or more carries per game, but if he's relatively healthy, there's no way he won't get the majority of the snaps out of Indy's backfield. His competition is Donald Brown, who has not capitalized on any of his opportunities to be the back the Colts though they were getting when the selected him in the first round, and Vick Ballard, who is steady but lacks any kind of explosiveness. We'd gladly take Bradshaw ahead of a number of the 26 backs who have a higher ADP.



Late Rounds



Kendall Hunter, 49ers


ADP: 13.12





The Case For Hunter Being Undervalued:

5.2 yards per carry last season and was the clear backup to Frank Gore. The run-first offense in San Francisco offers good upside if Gore goes down with an injury.



The Case Against Hunter Being Undervalued:

Suffered an Achilles injury in October and just got off the PUP list yesterday.



Verdict:

Despite drafting LaMichael James in 2012, Hunter was firmly entrenched as the backup to Frank Gore before an Achilles injury robbed him of the final six games last season. Hunter is quick and elusive, a perfect compliment to the more powerful Gore and has carved out a niche as an 8-10 touch guy in the 49ers offense. Only Seattle and Washington ran the ball more than the 49ers did last season and with the loss of Crabtree (Achilles), that run-first philisophy isn't going to change. Hunter has the overall talent to be a top back in this league, and while we acknowledge the legitimate concerns fantasy owners have over his injury history, he's the 60th back being taken on average, and even if he plays only 10 or 12 games this year, we're confident he'll rank higher than that among RBs in fantasy scoring.



Overvalued





Early Rounds



Stevan Ridley, Patriots


ADP: 2.05





The Case For Ridley Being Overvalued:

There are other backs with the Patriots who could eat into his snaps, and he adds nothing as a receiver.



The Case Against Ridley Being Overvalued:

He scores touchdowns and should be the ball carrier who gets the most touches for the Patriots.



Verdict:

To be clear, this isn't a condemnation of Ridley—anything but. He'll be a solid fantasy contributor for whoever drafts him. Yet he had just six receptions last season, has had some ball-security issues, and Shane Vereen figures to be a bigger part of the mix this year. We also have some worry (albeit small) about LeGarrette Blount stealing a few of his carries near the goal line, where Ridley excelled last season. But mostly his place on our list is about there being better all-around options so early in fantasy drafts.



Middle Rounds



Rashard Mendenhall, Cardinals


ADP: 6.01





The Case For Mendenhall Being Overvalued:

He's missed big chunks of two of his five seasons in the league, and even when healthy his production has been underwhelming.



The Case Against Mendenhall Being Overvalued:

He is the No. 1 back for the Cardinals at the moment and is solid near the goal line.



Verdict:

As evidenced by our earlier look at Ryan Williams, you can probably discern how we feel about Mendenhall. He may be the team's top back at the moment, but we don't expect that to last throughout the season. Even at his best, Mendenhall didn't pack much of a punch, having rushed for less than four yards per carry in three of his five NFL seasons. The 30 touchdowns he scored from 2009 through 2011 is impressive, but that was with the Steelers, and the Cardinals have a loooonnggg way to go before their offense can get near the goal line as often as Pittsburgh's did then. Even with Carson Palmer at quarterback, we aren't confident the Cardinals (especially in such a rugged division) will see their offense turn things totally around, which will damage Mendenhall's already iffy fantasy value.



Late Rounds



Knowshon Moreno, Broncos


ADP: 13.08





The Case For Moreno Being Overvalued:

He's third on the Broncos' depth chart (and a distant third at that) and has never come close to justifying his first-round draft status.



The Case Against Moreno Being Overvalued:

Being picked in the 13th round means there is little risk, and he had some solid moments in 2012.



Verdict:

Moreno has been a disappointment through most of his tenure with the Broncos, and he is now nothing more than an occasional third-down back. Montee Ball and Ronnie Hillman are the top two backs in Denver, leaving little room for Moreno to contribute. Fantasy owners likely took him late in drafts after recalling his pair of 100-yard games last season but forgetting that the other nine games he played in (including the postseason), he ran for more than 3.7 yards per carry just twice. Moreno isn't being drafted high, but he shouldn't be drafted at all.