With fantasy drafts fast approaching, we continue our position-by-position analysis of overvalued and undervalued players, this time taking a look at the quarterback position.



Undervalued





Early Rounds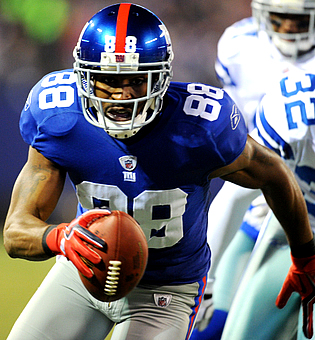 Injury concerns have Nicks' ADP hovering in Round 5.

Hakeem Nicks, Giants


ADP: 5.02





The Case For Nicks Being Undervalued:

He's had a productive first three seasons in the league, and he plays in an offense geared toward his strengths.



The Case Against Nicks Being Undervalued:

Injuries are a constant concern, as he's never played a full 16-game schedule.



Verdict:

After tallying consecutive 1000-yard seasons and catching a total of 24 touchdowns in his first three years in the NFL, Nicks battled injuries throughout 2012 and caught only 53 passes for 692 yards and three scores. Fantasy owners are certain to have last year's disappointment fresh in their minds, which is why he's the 19th wideout being selected in drafts. But with reasonable health he should easily outperform that status and get back to being one of the more productive receivers in football. Nicks has a unique combination of size, hands and body control—not to mention a perfect complement in fellow wideout Victor Cruz—that should help him re-attain his perch in the upper echelon of fantasy receivers.



Middle Rounds



Mike Williams, Buccaneers


ADP: 9.01





The Case For Williams Being Undervalued:

Touchdowns, touchdowns and more touchdowns! He has 23 of them in three NFL seasons.



The Case Against Williams Being Undervalued:

He's failed to register 1,000 receiving yards in a single season and had a curious sophomore slump.



Verdict:

Williams had a prolific rookie season in 2010, catching 65 passes for 964 yards and 11 touchdowns. With expectations through the roof, he came up well short of those totals in 2011, and fantasy owners have held a grudge ever since. Even though Williams bounced back with 63 receptions for 996 yards and nine scores opposite Vincent Jackson last season, finishing 18th in fantasy scoring at his position, fantasy owners are still making him the 39th wideout selected. We realize Williams has never caught more than 65 passes and hasn't quite reached that magic 1000-yard total, but he does the one thing that fantasy owners rely on the most to win—score touchdowns.



Late Rounds



Malcom Floyd, Chargers


ADP: 14.01





The Case For Floyd Being Undervalued:

He has caught at least five touchdowns and gained more than 700 yards in each of the last three seasons.



The Case Against Floyd Being Undervalued:

He's never quite lived up to the promise that he has shown, and the Chargers have a plethora of younger options.



Verdict:

At 6'5", 225 pounds with speed to burn, Floyd looks the part of the star wideout but never reached that expectation. It seems as if fantasy owners have been waiting for him to breakout for eons, but at age 31, Floyd's chances of posting a sudden statistical eruption have come and gone. That said, he's not the drag on fantasy owners that some may believe. Floyd has attained 800 receiving yards in the past two seasons and 700 in the last four, while catching 16 touchdowns over the last three years. He's certainly not a star or a starting-caliber fantasy receiver, but at the end of the season there won't be 61 receivers with better numbers than him, even though fantasy owners have drafted 61 other wideouts before selecting Floyd this year.



Overvalued





Early Rounds



Andre Johnson, Texans


ADP: 3.12





The Case For Johnson Being Overvalued:

Injuries have slowed him down in recent seasons, and Houston is far more likely to run the ball when they even sniff the goal line.



The Case Against Johnson Being Overvalued:

He was second in the league in receiving yards last season and should catch around 100 passes again this year.



Verdict:

It's not that we think Johnson is going to be a bust, but the facts are these: he's 32 years old, was previously plagued by injuries, and the Texans aren't keen on tossing the football to score their points. He's scored six times over his last 23 games, despite catching 143 passes during that time. Johnson will continue to be a productive receiver in 2013—of that we have no doubt. But this early in fantasy drafts, owners need to try to get more bang for their buck.



Middle Rounds



Danario Alexander, Chargers


ADP: 8.02





The Case For Alexander Being Overvalued:

His knees. They're basically held together with Silly String.



The Case Against Alexander Being Overvalued:

Production. He scored seven times in 10 games with the Chargers after walking in off the street.



Verdict:

Alexander is 6'5" with speed and a knack for making big plays, which he has done since his college days at Missouri. Yet the five knee surgeries he's undergone have sullied any traction he could get in a pro career. He was released by the Rams before last season because he simply couldn't get on the practice field, and after being signed by the Chargers, he immediately starred. That says something about both DX and the San Diego wideouts, but mostly about Alexander. He's a talent, to be sure, but he won't be playing 16 games this year, and even hitting double digits is questionable.



Late Rounds



Ryan Broyles, Lions


ADP: 11.07





The Case For Broyles Being Overvalued:

He's torn up both knees and has yet to accomplish much of anything in the NFL.



The Case Against Broyles Being Overvalued:

He set records while at Oklahoma and there is a spot open for a Lions wideout to break through.



Verdict:

No player in the history of FBS football has caught more passes than Broyles did as a Sooner. Unfortunately, his college career was cut short by an ACL tear. After rehabbing, he made his debut with the Lions in the middle of last year and had some impact before tearing the ACL in his other knee. Broyles is practicing, but he's still less than a year from his second ACL tear, and the Lions may hold him back a bit, at least in the beginning of the process. Fantasy owners are drafting him with the thinking that the Lions throw the ball more than any other team in the NFL, and that they have to find somebody other than Calvin Johnson to throw to. While this is true, the Lions have a cluster of options at wideout, and Reggie Bush should also make contributions in this area. So if we were going to take a chance later in the draft on a wideout, we'd take one who isn't making his second straight rehab from a torn ACL.