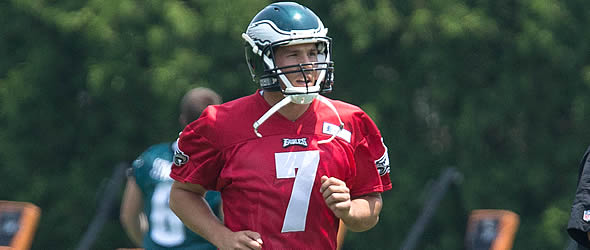 Daily bargain hunters may like Bradford's price tag. His mathcup against the Falcons is a tasty one.


The exponential growth in the daily fantasy sports marketplace and subsequent increase in competition between Fanduel, Draftkings, and relative newcomers Yahoo and USA Today, has created an excellent opportunity for fantasy owners looking for an edge in Week 1 play.

Not to be outdone by their competition, all of the major players released Week 1 values early in the preseason in hopes of drumming up early activity in lucrative large guaranteed prize pool games.

The early valuation of players creates an opportunity for savvy owners to identify undervalued players who are currently priced at a discount due to injuries and roster changes that occur during training camp and preseason games.

One obvious player who's value increased dramatically due to injury is wide receiver Davante Adams of the Green Bay Packers, as Adams will be thrust into a primary role now that Jordy Nelson is out for the year with a torn ACL in his knee.

Considering the fact that Nelson was ranked as the fifth-most expensive wide receiver at a salary of $8600 prior to his unfortunate injury, Adam's meager price of $5500 makes him a bargain play that all owners should consider.

Using similar principles to identify early valuation players, the following is a list of targets who are currently undervalued based off of their early season price tags. The first few names on this list are well known players that will be owned on a high percentage of rosters, while the last three are upside picks currently valued at the minimum salary.

Note: Referenced prices are from FanDuel

QB Sam Bradford $7,500

A quarterback competition with Mark Sanchez and uncertainty surrounding whether or not he would be ready Week 1 after suffering a second season-ending knee injury caused Sam Bradford to be seriously undervalued for his Week 1 matchup against the Falcons.

His $7,500 Fanduel price tag is less than risky picks like Colin Kaepernick ($7,900) and Jay Cutler ($7,900), yet his matchup against a poor Falcons defense in what could be a high scoring game makes him very attractive as a high-upside, low-cost quarterback. Add in the fact that he and the Eagles offense appears to be clicking at all cylinders, and you have an excellent value play for opening weekend.

RB Alfred Blue $5,800

A severe groin injury to starter Arian Foster in the preseason has opened the door for Alfred Blue to assume the starting role for the Texans as they take on the Chiefs in Houston. The Chiefs are a decent defense and Blue is nowhere near the talent of Foster, however, his $5800 salary based on the fact that he is a backup makes him a nice No.2 running back play for owners who spend heavy on the quarterback and wide receiver position.

WR Leonard Hankerson $4,500

A former player under offensive coordinator Kyle Shanahan in Washington, Hankerson has impressed the coaching staff on the Falcons this preseason while Roddy White has been limited with an elbow and knee injuries.

Harry Douglas has moved on and an aging Devin Hester is not a big red zone threat like the 6'2 Hankerson. If White is still limited by injury, Hankerson at the bargain bottom price of $4,500 could be a nice early season play in what has the makings of a shootout between the Falcons and the Eagles.

WR Marvin Jones $4,500

Jones missed all of 2014 with an injury after posting an impressive 51-712-10 line in 2013 opposite of A.J. Green. The former Cal Bear has played well in preseason and looks to have passed Mohamad Sanu on the depth chart. He will be active in three WR sets in what appears to be a solid matchup against the Raiders.

With an early valuation of the minimum salary of $4,500 based on missing last season, Jones is a nice third WR option for owners looking for TD upside from a player who has proven in the past to be a red zone threat for Andy Dalton.

TE Ben Watson $4,500

The void left by Jimmy Graham in the New Orleans passing game was thought to be filled by Josh Hill. After failing to impress in minicamp and preseason games this summer, Hill appears to have failed to secure the starting role despite having a hefty $5,200 price tag.

Veteran tight end Ben Watson, a favorite of Drew Brees and an accomplished run blocking tight end, won the starting role at the start of the season. At the minimum salary of $4,500, Watson is an excellent value as the Saints take on the Cardinals - a defense that gave up the most yards (1,085) to tight ends last season.