Christmas came a few days early for the 3% of DraftKings players who were brave enough to make the contrarian play of Antonio Brown against the Broncos. It was a bold move considering the hefty $8700 price tag and the difficult matchup against Aqib Talib and the Broncos secondary, and Brown did not disappoint with 16 catches for 189 yards and two touchdowns.

On the surface it would appear as those 3% of folks were stupid and lucky for starting Brown over less expensive players playing against easier pass defenses like Jeremy Maclin vs. the Ravens or Tyler Lockett/Doug Baldwin against the Browns. But closer consideration reveals a smart move by these owners, especially in large GPP games, and an excellent learning point for all DFS owners going forward.

In nearly every season going back to 2000, there has been at least one player who performs at a level, head shoulders above his competition, regardless of the difficulty of the match up or weather conditions. Like Priest Holmes in 2003, LaDainian Tomlinson in 2006, and Randy Moss in 2007, Antonio Brown and Ben Roethlisberger and playing at a level that is unmatched by their peers, even in a passing friendly NFL like todayís game.

It took them a few games to get into a groove and Benís nagging injuries in the middle of the season derailed what could have been a record-setting season. Even with Ben only managing to play in ten games, the two players have put up ridiculous receiving numbers, including an NFL record two 16-plus receiving games in one year.

Going forward I hope to have learned two new things from what we witnessed from Brown and Big Ben on Sunday. First, a wide receiver and quarterback connecting on a ridiculous pace like those two is worthy of a play regardless of the opponent. And second, I want to try to take advantage of a situation like that in future GPP games so I can have an edge on those 97% of people who missed the opportunity to cash in on an excellent contrarian play.

To win a GPP tournament you need to make bold choices for your roster. Kudos to those 3% who were better DFS players than I last week.

The following is a lineup review of a head-to-head cash game roster from DraftKings.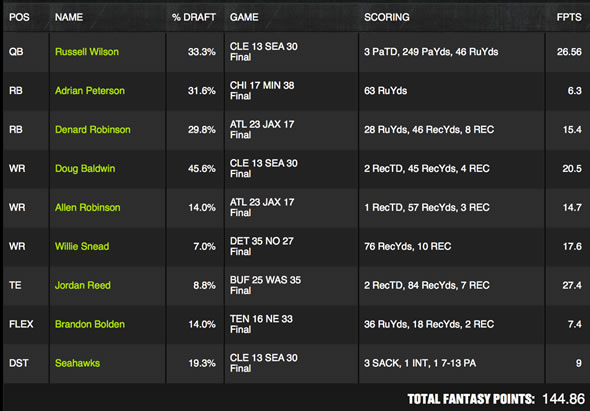 Quarterback: Russell Wilson
Points: 26.56
Grade: A
Wilson entered the week white hot, with three consecutive 30-plus performances for a Seahawks team gelling on offense. With the emergence of Doug Baldwin and Tyler Lockett, and the addition by subtraction of Jimmy Graham leaving the offense due to a torn patella, Wilson is playing the best football of his career and looked like a sure bet to deliver another strong performance against the Browns at home.
In this head-to-head matchup I wanted to focus on making sure I did not miss out on critical points from my quarterback. My first two choices were Cam Newton and Russell Wilson, with the latter earning the start on my team based on the fact that I thought his floor was higher. Newton would have been the best play here, but I was a bit worried that the Giants would step up their game defensively in hopes of ending the Panthers run for a perfect season.
Newtonís 5 TD game would have been a nice boost to this roster, but fortunately for me, I scored just enough points to win despite other QBís like Cousins, Bridgewater and Osweiler delivering better performances. I was correct with my theory that Wilson would give me a high floor, and 26.56 from my QB was just enough to get me over the top.

Running Backs: Adrian Peterson & Denard Robinson
Combined Points: 21.7
Grade: F
My recent struggles at picking a solid pair of running backs continued this week with the selection of AD and Robinson. Peterson against the Bears in a must-win game for the Vikings to keep pace in the NFC North appeared to have the makings of a big game.
I also chose Peterson because my opponent in my most important season-long league played AD against me in the first round of the playoffs. If Peterson was going to thrash me in my beloved AFFL league, at least I could hedge my bet and win some money off him in DFS.
An injury-shorted game with a mere 6.3 points was a huge disappointment, but my hedged bet paid off in the long run as I won my playoff matchup.
With an ownership level of nearly 30%, Robinson was a popular inexpensive play for many owners this week on DraftKings and other DFS sites. Robinson struggled against what was a terrible Atlanta rush defense to the tune of 28 yards on 14 carries. Luckily he did post eight catches for 46 yards to salvage the day.
Not my best day for picking running backs, and it only gets worse with my poor choice for flex below.
Wide Receivers: Doug Baldwin, Allen Robinson, Willie Snead
Combined Points: 52.8
Grade: B-
Riding the Doug Baldwin train for another week seemed like the no-brainer play at wide receiver, and 45.6% of players agreed with me on that logic. Although Baldwin only caught 4 balls for 45 yards, he did hit pay dirt twice to give him an impressive 13 receiving touchdowns on the season.
Allen Robinson leads the league in plays over 20 yards and he has been a consistent TD producer with three straight games of scoring a touchdown. Consistency is key in a head-to-head game, and Robinson has been one of the most consistent performers over the past month.
Snead was my boom or bust play with the hope of Drew Brees continuing to be a dominant player at home in primetime games. Snead turned out to be the volume play I was hoping for with 10 catches of 76 yards. He didnít score a TD, but the 17.6 points from a $4600 third receiver was a great play.
Tight End: Jordan Reed
Points: 27.4
Grade: A
I went against my own advice this week by starting a tight end named other than Julius Thomas. Thomas was going to be my play, but a gut feeling of Reed building off his 30-point game against the Bears in week 14 seemed to be the better option.
With Reed there is always the risk of injury and the threat that he may give you a goose egg, but you cannot deny the recent volume of targets he is receiving from Cousins as the Skins fight for a playoff berth. Reed ended up being the best tight end play of the week and saved my team with 27.4 points.
Flex: Brandon Bolden
Points: 7.4
Grade: F-
I should force myself to wear a dunce hat for the rest of the week for trusting Bill Belichick and the Patriots rushing attack. At $3200 Bolden seemed like a great value play, as the Pats would no-doubt blow out the Titans and cruise in the second half with tons of carries for Bolden. Of course Bolden only received 12 touches for 50 total yards, as Joey Iosefa was used as the workhorse back in the second half of the blowout.
I hate the Patriots and I hate Belichick.
Defense: Seattle
Points 9
Grade: C
Seattle proved to be a smart head-to-head play because they provided a comfortable floor with the possible upside of a defensive touchdown. I felt pretty certain that I would not get a zero from the Seahawks at home against Johnny Football, and they did not disappoint with 9 points on three sacks and one interception.