In the early stages of researching players and building my draft board for season-long leagues, I try to look identify players on offenses that appear to be primed for a breakout season based on a small set of criteria.

The first thing I look at is the continuity of coaches, with the notion that teams that carry over the same coaches from the previous season have a better shot of repeating and improving on the previous season.

Second, I look at any improvement or regression to key positions on the offensive line and skill positions. Does the quarterback have the same options to throw the ball and does he have a solid run game to take pressure off the pass and open the play-action game? Is the offensive line better or worse than the previous season? These questions are important when trying to find that next breakout quarterback.

Lastly, I look at the age of the quarterback to see if he is in his prime playing years (25-35) and trending up in terms of his TD-to-INT ratio and overall fantasy production. I donít want to get caught looking in the rear-view mirror on stats, as even the best quarterbacks can fall off the earth quickly, like Peyton Manning and Dan Marino.

In 2014, I used these three rules to identify the Dallas Cowboys as an offense primed to explode, with the offensive line additions and the emergence of DeMarco Murray as a pro bowl caliber bell cow. I was able to use this knowledge to land Tony Romo late and Dez Bryant in the second round last season, giving me a nice core for my season-long roster.

In 2015, I identified the Pittsburgh Steelers as the breakout offense to target and Big Ben as a QB who could end the season as the top fantasy producer. Injuries derailed my prediction, as Big Ben missed significant time with knee and foot ailments and LeíVeon Bell suffered season-ending ligament damage to his knee.

But despite all of the injuries, the Steelers proved in the final quarter of the season to be one of the most potent offenses in the league, with Big Ben being very much the top tier QB I hoped he could be back in August. The one thing that made me nervous about investing too much in the Steelers was their difficult strength of schedule, including what appeared to be a tough Week 15 matchup against the Broncos.

When Ben threw for nearly 400 yards and three scores last week against Aqib Talib and the vaunted Denver secondary, I decided to go back to my early August theory and go all in on Ben and the Steelers against a Baltimore team that has allowed the third most fantasy points to opposing wide receivers and the 12th most to opposing QBís. Ben seemed like a lock this week in cash games.

Whether it was a scheme by the Ravens to play light against the run and heavy against the pass, or the fact that the Steelers took Baltimore for granted after their emotional win over Denver, Ben delivered his worst game of the season with only 217 passing yards and two interceptions, while failing to score a touchdown.

His five points torpedoed what should have been a winning head-to-head game against an opponent who struggled as well. After the initial anger subsided and I was able to think objectively on the matter, I realize now that even the most choice matchup can turn out to be a turd in DFS. Which goes back to my theory on layering different cash games with different quarterbacks, as that one position can be the make or break part of any lineup.

The following is a review of the other players in addition to Big Ben that I selected in my head-to-head roster on DraftKings.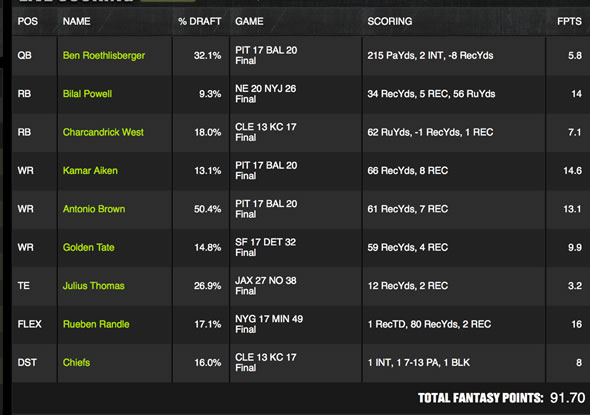 Quarterback: Ben Roethlisberger
Points: 5.8
Grade: F
With an ownership rate of 32.1%, I was clearly not the only one who thought Ben would have a good day on Sunday, especially considering the Steelers were very much in the playoff hunt and a win over the Ravens would be key for them to secure a wild card spot.
Credit to John Harbaugh and the Ravens coaching staff for playing back and forcing the Steelers to run the ball instead of making big plays downfield in the passing game. Not only did the strategy shorten the game and make it a low-scoring affair that favored Baltimore, it caused Ben to uncharacteristically force the ball when he did throw, opening the door for the two turnovers in costly moments.
The New Orleans/Jacksonville matchup was another game that I wanted to exploit this week, with Blake Bortles looking like a solid play against the Saints. But instead I relied on my gut feeling from my analysis to identify Ben as the better play, and it cost me $10 in what could have been an easy head-to-head win.
Running Back: Bilal Powell & Charcandrick West
Combined Points: 21.1
Grade: D-
Powell entered the game averaging 21 points over his three previous contests, 20.9 points against the Cowboys Week 15. He clearly has become the back to own in New York, and his work in the passing game has proven to be fantasy gold in PPR formats like DraftKings.
With 90 total yards and 5 catches, Powell lived up to his $3,400 price tag with 14 points. However, failing to reach the end zone and surpassing the anticipated 20 points was somewhat of a disappointment.
Speaking of disappointing me, West managing seven points at home against the terrible Cleveland Browns rushing defense was a big surprise. The Browns had given up the 10th most points to opposing running backs on the season, and the wet conditions in KC led me to think West would be used early and often.

Wide Receiver: Kamar Aiken, Antonio Brown, and Golden Tate
Combined Points: 37.3
Grade: D-
I opted to stack Brown along with Big Ben with the assumption that Brown would have a floor of about 6 catches for 60 yards, and a ceiling higher than any other receiver on the board. If he could drop 16 catches for 189 yards and 2 scores against Denver, I felt like he had a sky-high ceiling in this game as well.
With the goal of not sounding too repetitive, Big Ben stunk and the game was a huge disappointment. Brown met my floor expectations, which doesnít really help in a cash game when your QB gets 5 points.
The selection of Aiken was based on the fact that I thought the Steelers would score at will and the Ravens would be forced to pass often to keep pace. In addition, Aiken had scored double digit points in seven-straight games. Aiken did give me eight catches for 66 yards, but like his opponent on the Steelers, he failed to score a TD.
Tate was a wild card play for me based on the assumption the 49ers would double team Megatron in what could be his last home game with Detroit. While many people were on Calvin this week, I went the contrarian play of Tate.
Tight End: Julius Thomas
Points: 3.2
Grade: F
Julius Thomasí struggles this week against New Orleans was mind boggling, as the Saints entered the game as the worst defense against the tight end, and Blake Bortles had peppered his tight end with 11 catches for over 100 yards in his previous two games.
This contest had the makings of a shootout and a big opportunity for Thomas to deliver. The former proved to be true with the Saints and Jags combining for 65 points. The latter proved to be false and devastating to my DFS team to the tune of two measly catches for 12 yards. Is it possible to give an F minus or a G?
Flex: Rueben Randle
Points: 16
Grade: A-
The OBJ suspension opened the door for Randle to assume the role as the number one receiver in New York. Although I donít believe in his talent and the Giants are a dumpster fire with nothing to play for, I thought Randle and his $3,500 salary was worthy of an upside flex play.
He proved to be a solid option with 80 yards and a touchdown against the Vikings on Sunday night. Nothing great, but it was more than I anticipated from my flex.
Defense: Kansas City
Points: 8
Grade: C
I was lucky enough to have the Cardinals defense carry me to a championship in my Steak Night league, but I did not have the same fortune with the Chiefs in DFS. The Chiefs at home against Johnny Manziel in bad weather seemed to be like a winning formula.
Evidently a crappy Packers offensive line and a wide receiving corps that would struggle to get open in a pickup flag football game against the Cardinals was the way to go.
Conclusion
Although the pathetic 91.70 points scored on this roster was one of my worst DFS performances in the last two seasons, I thought I would include it in this weekís article as a learning point for my logic on playing Big Ben.
Not only can a skilled NFL quarterback playing at the pinnacle of his game drop a terrible performance in what had the makings of a solid matchup, a DFS writer who spends way too much of his time analyzing stats and video can look like a fool as well.
On to week 17.