The unpredictably of the NFL on display for DFS players

When you really break it down, fantasy football is a game of making educated guesses on what is going to happen in the future based on a wide variety of things, like opponent defensive strength, schemes, recent trends, injuries, and numerous other variables.

We can do our best to mitigate risk with players we think will give us the highest probably of scoring points, but once the whistle is blown and the opening kickoff floats across the field, we are all at the mercy of a certain amount of luck and uncertainty.

Take for example players like Brandin Cooks, Antonio Gates, and Eric Ebron, all of whom failed to log a single fantasy point this week, despite all having ownership and start percentages well over 50% in Yahoo leagues.

Or fantasy stalwarts like Amari Cooper, Allen Robinson, Larry Fitzgerald, Thomas Rawls, Frank Gore, and Lamar Miller, all combining for less fantasy points this week than Tyreek Hill against the vaunted Denver defense.

The owners of those players had everything in their favor for big games based on matchup strength, recent trends, and all of the other variables we use to come up with picks on a given week, while Hill had nearly everything working against him for producing a number one WR DFS week.

Does that mean this is all a crapshoot and we should forgo the analysis and throw sticky darts at your computer screen? Of course not, but it should be a reminder than despite our best efforts, the unpredictable nature of the game of football makes it one of the most exciting sports to watch, while at the same time one of the most infuriating things for fantasy owners.

As you might image based on my melancholic opening, my DFS lineups did not fair very well last week.

The following losing lineup is from a cash game on DraftKings. Fair warning, it is a bit ugly and you may want to swallow your coffee before continuing this article. I would hate for a perfectly good computer to go to waste as a result of my poor DFS picks.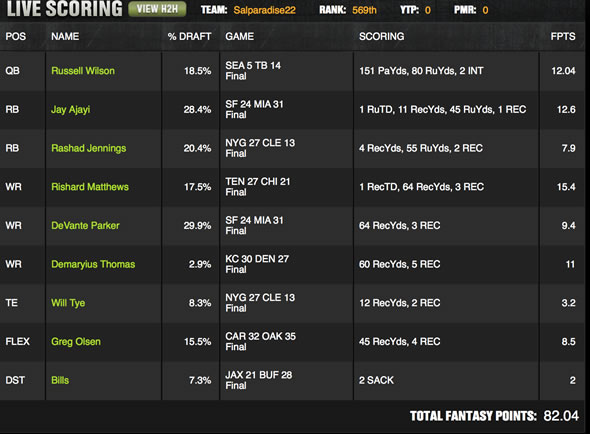 Quarterback: Russell Wilson vs. Tampa Bay
Fantasy Points: 12.04
Grade: F
Wilson was my cash game quarterback start of the week based on the fact that he appears to be back to full health and the offense was successful in three of the previous weeks leading up to the matchup against the Bucs.
Although Tampa entered the game on a high from beating Kansas City at Arrowhead, I anticipated that Wilson would put together a four-consecutive game of at least 25 fantasy points, with a high ceiling based on his ability to score rushing touchdowns.
Wilson somewhat saved his dismal day with a team-leading 80 yards (looking right at you Thomas Rawls), but it was not enough to keep me in my matchup.
I chalk this up as a fluky game and will plan on using Wilson going forward, but the sting of his one will bug me all week.
Running Back: Jay Ajayi, Rashad Jennings
Combined Fantasy Points: 20.5
Grade: D
I anticipated that Ajayi would be able to overcome injuries to Pouncey, Albert, and Tunsil on the offensive line, simply because the Niners have been terrible against the run (league-worst 1648 yards and 14 TDs).
Those injuries proved to be more than Ajayi could overcome, as the former Boise State Bronco rushed for a season-worst 2.5 yards per carry. A touchdown salvaged his day somewhat, but 45 yards on 18 carries was a big surprise at home against that defensive front.
Jennings was a volume play based on a choice matchup against the Browns and the fact that his usage saw a huge uptick over the past two weeks (36 carries and 12 targets in wins over Chicago and Cincinnati).
The value was there again with 15 carries and two catches, but he was unable to turn those touches into meaningful fantasy production.
Wide Receivers: Rishard Matthews, DeVante Parker, & Demaryius Thomas
Combined Fantasy Points: 35.8
Grade: C-
Matthews continued his excellent play with three catches for 64 yards and an impressive touchdown catch against the Bears. He has been producing low-end number one wide receiver points but his salary has yet to keep up with his uptick in production. I will definitely consider using him going forward if his salary continues to stay south of $6,000.
Parker nearly produced identical points as Matthews, save for the fact that he was unable to get both feet down on a touchdown pass against the 49ers.
Thomas on the other hand was second fiddle to Emmanuel Sanders, who delivered his best yardage game of the year. It was the first time since Week 6 that Thomas failed to reach double digits in targets, as Kansas City and Marcus Peters did a nice job of shutting him down.
Tight End: Will Tye vs. Cleveland
Fantasy Points: 3.2
Grade: F
This is an excellent example of why you shouldn't listen to coaches and quarterbacks when they talk about other players in the offense, as in many cases it is just a mirage and a way to throw off the other team.
Tye had 13 targets over the past two weeks, receiving praise from both Eli Manning and McAdoo about how well he played and how much of a vital role he had in the offense.
With a matchup against Cleveland and their second-worst defense against the tight end, Tye had all the makings of a low-cost, high reward tight end play Week 12.
Instead he was a low-cost, high-bust play that received the fewest targets of the season in route to a whopping two-catch, 12-yard game.
Moving on.
Flex: Greg Olsen vs. Oakland
Fantasy Points: 8.5
Grade: C
I am not a proponent of starting two tight ends in a PPR format like DraftKings, simply because you want a flex that will maximize PPR scoring, and most tight ends are touchdown dependent.
One of two tight ends that is not dependent on touchdowns is usually Greg Olsen, as he has delivered an average of 78 catches per season over the last three years.
That consistency had been off over the past three weeks, leading me to believe that Cam Newton and offensive coordinator Mike Shula would work at getting Olsen back in the offense.
That did not work as planned, and Olsen dropped a would be score that would have made this a nice play.
Defense: Buffalo
Fantasy Points: 2
Grade: F-
Yes, I know that there is no such thing as an F-minus, but I was so disgusted with this pick that I wanted to dock myself even more.
Terrible quarterback that leads the NFL in interceptions, while allowing a pick-six in his last two games. Check.
A defense that leads the NFL in sacks and is tough against even good offenses at home. Check.
Cold weather conditions for a warm weather opponent from Florida. Check.
21 points allowed, only two sacks, and no turnovers? Thank goodness this was only a $5 ticket.