The NFL is in the midst of a running back renaissance with young players like Ezekiel Elliott, David Johnson and LeíVeon Bell leading the way.

Just one year removed from only seven running backs reaching the 1000-yard mark - the lowest total in well over two decades, nine tailbacks have already reached that plateau this season, with three more likely to follow.

With two games to play and 831 rushing yards on the season, Jeremy Hill is one back that has the chance to reach the century mark in 2016. Say what you want about his plodding style and his lack of flashiness, there is no doubting the fact that the former LSU tiger has been a productive fantasy commodity for each of his three NFL seasons.

Since 2014, Hill leads the league in rushing touchdowns with 29, highlighted by a stellar rookie season where he rushed for 1,124 yards and nine touchdowns in shared time with Giovani Bernard.

A touchdown dependent running back who has managed to top 100 yards in only seven of his 46 games, Hill has bailed out fantasy owners with the ability to consistently reach pay dirt, despite having less than stellar yardage totals.

Prior to Sundayís mediocre 20/44/1 line against the Steelers, one team that Hill had never managed to score against was Pittsburgh. In five games against his division rival, Hill averaged less than three yards per carry and never scored a touchdown despite having numerous goal line carries.

The Steelers appeared to have his number, and a certain daily fantasy owner decided to bench him in favor of Thomas Rawls at home against the Rams.

Of course Rawls went on to deliver even more of a Jeremy Hill-like game with 34 yards on 21 carries, while Hill scored his first career TD against the Steelers on my bench.

Starting Hill, even though all of the numbers at my disposal pointed me in a different direction, cost me a chance to defeat my bitter rival in my season-long league of record and advance to the final.

I share this story not as a pity party, as the fantasy world is filled with stories just like mine. But rather, as another example of why I prefer playing DFS over traditional season-long leagues.

With DFS, you donít need to worry about having to choose between two similarly ranked players. If you canít decide, spend your budget elsewhere on other players and use the inherent flexibility of DFS to your advantage.

For this week's lineup review, I decided to examine a winning $5 double-up ticket on DraftKings.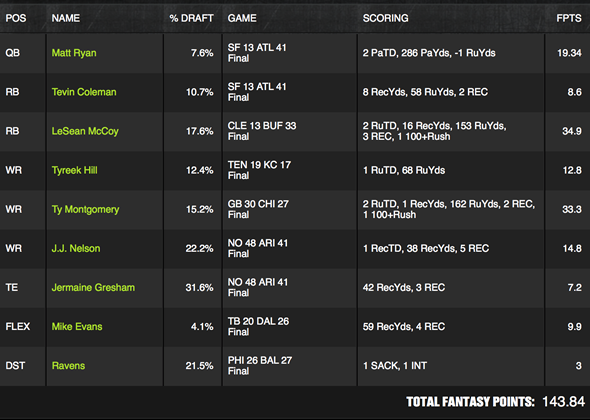 Quarterback: Matt Ryan
DraftKings Points: 19.34
Grade: B
In a week where only two minimally owned quarterbacks (Drew Brees on the road against Arizona and Matt Moore on the road against the Jets) had monster games, I was pleased with the production that I received from Ryan.
The cake matchup against the 49ers gave me a large margin of safety for a high floor, but a negative game script of defensive scores and the Falcons running game stealing touchdowns limited Ryanís ceiling.
Fortunately, only one of the two limiting factors held true, as Devonta Freeman and the ground attack gashed the Niners for three scores, but the defense did not have another massive game like they did Week 14 against the Rams.
My target was 20 fantasy points from 300 yards and two scores. Ryan was able to get the two scores, but he just missed the yardage mark to give me the 20 points.
Running Backs: LeSean McCoy and Tevin Coleman
Combined DraftKings Points: 43.5
Grade: B
McCoy against the Browns was the start of the week in my book regardless of DFS format, as his production in the passing and running game make him nearly as deadly as Leíveon Bell, who just torched the Browns for 53 fantasy points.
My logic on Coleman was sound, as I anticipated the Falcons would have little trouble running against the worst run defense in San Francisco 49er team history. But the play backfired with Freeman getting all three rushing touchdowns, with Coleman managing just 66 total yards and no score.
In large tournaments like this one with a few thousand other players, I like to pair my running backs with the one who I feel has the highest floor with massive upside (McCoy), and a player who may be risky but could deliver a monster game (Coleman).
One worked out and one did not, but the net of the two was enough to help me place 212 out of 2228 entries.
Wide Receivers: Tyreek Hill, Ty Montgomery and J.J. Nelson
Combined DraftKings Points: 60.9
Grade: B
At just $5,700 despite the fact that he posted five-consecutive double digit points entering Sundayís game, Hill continues to be a bargain for DFS players. He is a threat to score in three ways, and luckily for me, he scored a 68-yard touchdown on his one touch of the game. This could have been a disaster play, but that is the risk you take when you go for home run hitting players.
With an ownership level of only 15.2%, DFS owners clearly were not buying into Montgomery acting as the main tailback for the Packers, even after receiving 9 carries for 41 yards and a score Week 14 against Seattle.
This is clearly where I was able to gain a massive advantage over my opponents. I was able to convert Montgomery and his mere $4,800 into 33.3 fantasy points, while the majority of my competition failed to see the upside of a running back playing in subzero temperatures in Chicago.
Nelson was a boom or bust play based on the fact that Michael Floyd is no longer on the team and the Cardinals would need to score a ton of points to keep up with the Saints. The assumption proved to be correct, with Nelson catching five balls for 38 yards and a much needed TD. Not great yardage, but I was bailed out with a late touchdown.
Tight End - Jermaine Gresham
DraftKings Points: 7.2
Grade: D
I doubled down on my love for Gresham and came out with a bloody lip. The targets and yards were there, but he failed to reach the end zone for the third straight week.
A down week across the board for tight ends allowed me the ability to weather the storm on missing with Gresham. Aside from Charles Clay and Cameron Brate, no other tight end with double digit ownership managed to have a monster game.
If Greg Olsen would have scored a touchdown on Monday Night, I likely would have had a much more difficult time landing in the green.
Flex - Mike Evans
DraftKings Points: 9.9
Grade: F
What is the old saying? Fool me once, shame on you. Fool me twice, shame on me. I hope I got that right.
I hated myself last week for forking out $8,900 on Evans in what had all the makings of a solid game against the Saints. Of course, he dropped a deuce to the tune of 4 for 42 yards and no scores.
It was the second straight terrible game for Evans, leading me to believe he would bounce back with a vengeance in prime time against the Cowboys.
The targets were there, but Evans and Winston were unable to connect and the former Aggie killed my team once again. Can he go with four bad games in a row? Who knows, but I do know that I will not be fooled a third time.
Defense - Baltimore
DraftKings Points: 3
Grade: F
I have made it a habit lately of picking terrible defenses in DFS. In a must-win game at home against a rookie quarterback that has struggled on the road, the Ravens barely squeaked out a 27-26 victory against Philly.
Credit Carson Wentz with protecting the ball and limiting mistakes and shame on the Ravens for not making the rook uncomfortable in the pocket and careless with the ball.