Years ago I gave up making New Year's resolutions for the simple fact that I was unable to keep up with them - even the simplest ones like keeping my office clean or walking the dog more often.

Understanding one's abilities and limitations is one small step toward inner peace and happiness, and luckily for me, I realized years ago that I am a weak man of habit and making a silly resolution because the calendar changed to a new year is not going to change me.

However, for the sake of this article, I am going to break my tradition and share three fantasy football resolutions for the new year. One pertains to season long leagues, while the other two I will plan on using in my DFS lineups in 2017.

With regards to drafting in season-long leagues, I resolve to not draft players in the first five rounds who sustained knee or foot injuries in the previous season, regardless of how well that player looks in the off season and preseason games.

Players like Sammy Watkins who have loads of talent and possible top 12 upside will not be on my 2017 roster, unless for some reason they are an obscene value after the fifth round. Julio Jones and his foot burned me before and Watkins nearly cost me a repeat championship in my league of record.

Never again.

For DFS purposes, I want to spend less time considering unproven and incalculable arguments like "he is due for a big game, or "it is his final game so the team will pepper him with targets." Yes, that second one is a direct quote from me in regards to my Week 17 prediction on Steve Smith, one that burned me dearly in the fantasy recap to follow.

Identifying trends, watching tape, and reviewing roster changes are tools that fantasy writers use to discern between studs and duds on a given week. But at times I let my gut get in the way and I buy into false narratives that turn out to be quite untrue.

And finally, I will make a conscious effort to not fall victim to the temptress that is the millionaire maker GPP games, where the allure of winning a million bucks clouds the logical side of my brain. I have written about this in previous articles, yet I must admit that I have played a few this year despite my calls for my readers to avoid them.

What can I say, I am human too.

Happy New Year to you and yours. I hope 2017 is a fun and prosperous time for all of my readers, and I look forward to sharing a bit of DFS knowledge and insight with you next season.

I decided to review a winning lineup from this past week that netted only $6 in a small tournament. I share this with you not because it was a winning ticket, but because of the fact that I left money on the table by missing on what appeared to be solid plays.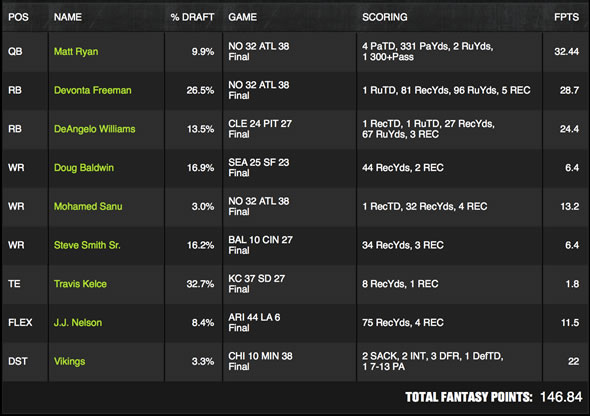 Quarterback: Matt Ryan
Fantasy Points: 32.44
Grade: A
With the Falcons in need of a win to lock up the second seed in the NFC playoffs and a bye week, I targeted Matt Ryan, Devonta Freeman and Mohamed Sanu as a triple stack for this tournament.
A MVP candidate in the midst of his best year as a pro, Ryan entered the game averaging over 23 points per game, while not throwing an interception since Week 13 against the Chiefs.
Ryan came up big with his third 4-touchdown game of the season, while completing 75 percent of his passes for 331 yards against a poor New Orleans pass defense.
My logic on spending the premium on Ryan centered on the assumption that the Saints would like to play spoiler for the division rival, thus forcing the Falcons to actively score in what could be a high scoring game. This proved to be correct, as both teams combined for 70 points in the highest scoring game of the week.
Running Backs: Devonta Freeman & DeAngelo Williams
Combined Fantasy Points: 53.1
Grade: A
In my preview piece for the week I wrote about how teams sitting starters presents an opportunity for DFS owners to start discounted replacement players like DeAngelo Williams and Darren McFadden.
For this ticket I decided to go with one Week 17 replacement running back and one top tier RB with plus matchup. I went back and forth on Williams and McFadden, and luckily for me, I made the right choice as Williams went for 100 total yards and two scores, while McFadden managed just 6.7 points on 50 combined yards.
The double dip on Freeman with Ryan might have been a risk with Tevin Coleman eating into Freeman's value in the passing game, but Freeman came through with a 70-yard TD scamper and 80 receiving yards.
My running back and quarterback selections were the primary reason why I was able to finish 283rd out of 963 teams, while the WR and tight end selections to follow nearly sunk this lineup.
Wide Receivers: Doug Baldwin, Steve Smith & Mohamed Sanu
Combined Fantasy Points: 26
Grade: F
The assumption that Steve Smith would be peppered with targets in his final game in the NFL proved to be drastically wrong, as Smith would finish the game against the Bengals with a pedestrian three catches for 34 yards.
In a game where neither team had anything to gain, it seemed logical to me that the Ravens would give the veteran every chance to go out with a final big performance. Not only did the Ravens lose, but they didn't given Smith the going away party that I expected. Perhaps I should have given more consideration to the fact that it was an away game against a division foe.
Mohamed Sanu made sense for this ticket based on the fact that I already allocated most of my budget on other positions like quarterback, tight end, and running back. I searched for low cost wide receivers in games that had the makings of high scoring affairs, and the possibility of double dipping with Ryan was appealing in a tournament format.
Baldwin posted a ridiculous 19 targets in Week 16's loss against the Cardinals, leading me to believe that he would once again receive a large percentage of targets with Tyler Lockett on IR with a broken foot. When you add in that fact mixed with an easy matchup against a division foe in a game they need to win, Baldwin had gold written all over him. Two catches for 42 yards later, and I am feeling as if that prediction was really fool's gold.
Tight End: Travis Kelce
Fantasy Points: 1.8
Grade: F
The Chiefs have yet to explain why Kelce, the top tight end over the second half of the season and the team's leading receiver, was absent over the first drive of the game. For the 32 percent of owners on draft kings like myself who invested $5k in the tight end, his absence from that drive and the entirety of the remainder of the game is still a mystery.
An average performance based on his yearly totals would have given me 15 more fantasy points on this ticket, moving me up two payment tiers to $25. It is beyond frustrating to have one of your sure bet players drop a turd and cost you money.
Flex: J.J. Nelson
Fantasy Points: 11.5
Grade: B-
I went back a forth a few times on my grade for Nelson between B- and C based on the fact that at $4,600 wide receiver giving over ten points is a decent outcome. But when you consider my prediction that Nelson would receive over ten targets (12 in the game), and he was unable to reach 100 yards or a score with those targets, it is hard not to be a bit underwhelmed.
Defense: Minnesota
Fantasy Points: 22
Grade: A
I had arguably my best defensive week of the year with both of my defenses for the week, Minnesota and Tennessee, getting defensive scores.
The Vikings and home in a meaningless game against the Bears and Matt Barkley looked like a possible game where a defensive score might occur. Luckily for me the Vikings were able to see past the silliness of the protestors hanging from the rafters to post three sacks, two interceptions and that coveted defensive score.