Around ten years ago my brother-in-law and I made a friendly bet between two passionate 49ers and Cowboys fans longing for a return to glory for two once-proud franchises.

The accord was simple. The fan of the first team to join the Steelers with six Lombardi trophies would be given the right force the other to wear a jersey of their choice for an entire day, regardless of the occasion (Weddings and Funerals excluded).

With the Cowboys locked in as the number one seed in the NFC playoffs and a clear path to Super Bowl LI, I was convinced that my brother-in-law (affectionately and accurately known as El Cunado) would take great pleasure in watching me wear a Michael Irvin jersey at our Tuesday night bowling league.

For those that have not picked up on my subtle and no so subtle hints throughout the last two seasons, I am not a fan of the Cowboys. In fact, the Cowboys are my least favorite team by a large margin, and Irvin is the poster boy of everything that I despise about that franchise.

To make matters worse, my beloved 49ers are once again the laughing stock of the league after coming up three yards short and a phantom non-pass interference call from winning sweet number six.

A bet is a bet, and I am a man of my word. I was resigned to the fact that I would walk into the alley wearing that putrid jersey amid laughs and whistles from a crowded room full of actual Cowboy fans.

But something magical happened on Sunday afternoon. With a depleted secondary on defense and no Jordy Nelson on the outside, Aaron Rodgers and the Packers pulled off the upset and beat the number one seed in front of 100k stunned fans at Jerryís World.

When Mason Crosby nailed the game-winning field goal as time expired, I pointed to the sky and thanked the football gods for sparing me at least one more year. Then I pulled out my phone to see how many points Dez Bryant and Ezekiel Elliott scored for my DraftKings team.

What can I say? I hate the Cowboys, but I am not above hedging my bet in hopes of easing my pain with a little cash.

Dez proved to be an excellent play with 37.2 points from nine catches for 132 yards and two touchdowns, the centerpiece of a $30 winning ticket on a small 10 person tournament.

Here are the other plays that helped me close out the year on a high note.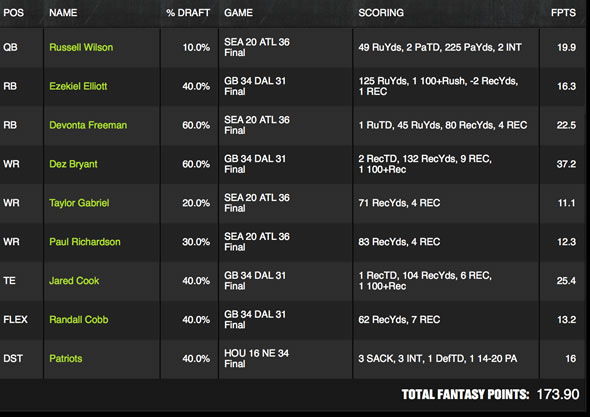 Quarterback: Russell Wilson
Fantasy Points 19.9
Grade: C
I identified Wilson was the least expensive quarterback with the highest floor based on what appear to be a high-scoring game against the Falcons and Wilsonís late-season improvements.
As projected, the game turned out to be a high scoring contest with both teams combining for 56 points. Wilson was solid and ended up outperforming Brady, Smith, and Big Ben, but he was outpaced by Dak Prescott, Matt Ryan, and Aaron Rodgers, all of whom were heavily owned in my small tournament.
For that reason, I decided to award myself a C and not a higher grade. Wilson did not kill my chances of winning and he gave me the high floor I expected, but his pedestrian passing yards and two interceptions limited him from being the 20-25 point QB I envisioned.
Running Backs: Ezekiel Elliott and Devonta Freeman
Combined Fantasy Points 38.8
Grade: B-
With Freeman as one of my picks this week on my projection piece, I was sweating it a bit when he started off to a slow start and Tevin Coleman went against his historical numbers by scoring touchdowns at home.
But when the final whistle blew and the Falcons left the Georgia Dome for what looked like the last time, Freeman put together another solid game with 125 total yards and a score.
A negative game script forced on the Cowboys from Rodgers and the Packers taking a large early lead killed Elliottís value in this game. That was my one concern when I invested $8,500 in the rookie, as I felt confident that he would reach the 100-yard mark but a high-scoring game would limit his game-closing appeal should the Cowboys trail.
16 points from a running back that does not score a touchdown is not too shabby. But it does limit your team when you invested a 17% of your budget that player. Luckily his teammate picked me up and led me to the cash.
Wide Receiver: Dez Bryant, Taylor Gabriel, and Paul Richardson
Combined Fantasy Points 60.6
Grade: A
At $6,600, Dez Bryant seemed like a logical play on this ticket for two reasons. First, I anticipated a high-scoring game against the Packers with the Cowboys needed to score at least 28 points to keep pace.
If Elliott didnít have a big game and failed to reach the end zone, the probability that Dez would score at least one TD was high.
Secondly, I did not believe that Antonio Brown or Julio Jones, the most expensive wide receivers available for the contests, would score exceedingly well due to their matchups. Also, Dez entered the game red-hot after his two-touchdown game against the Lions in Week 16 and would have revenge on his mind for the teamís loss two years ago in the playoffs at Lambeau.
Gabriel and Richardson rounded out my ticket as inexpensive home run players. Each player gave me double-digit points to round out my roster, but neither reached pay dirt or received large target shares.
Tight End: Jared Cook
Fantasy Points 25.4
Grade: A+
I wrote about Cookís recent role increase in my preview piece and the fact that he clearly has earned the trust of Rodgers, for those two reasons I felt like Cook at $3,900 was the best value for tight ends.
Did I think he would be the main scorer for the Packers, including a career-highlight catch at the end of regulation to put Green Bay in field goal range? Not exactly.
Cook has always been talented, but he needed the right quarterback and the right situation to blossom into a viable fantasy option. I think he found both in Green Bay and will be a mainstay on DFS lineups next year.
Flex: Randall Cobb
Fantasy Points 13.2
Grade: C
Perhaps I had blinders on when I invested $5,700 in Cobb to be my flex player this week, focusing too much on the fact that he entered the game on the heels of a season-best 37.6 point performance against the Giants.
I did not expect three touchdowns, yet a score and 100 yards seemed like attainable numbers. He did catch seven balls on the day, but he failed to reach the end zone or the century mark, making him a bit of a disappointment.
D/ST: New England
Fantasy Points 16
Grade: A
I received a bit of flak for stating that Brock Osweiler and the Texans had zero chance of beating the Patriots in Foxboro. My prediction was correct and the Pats did pull out with a big win, but the Texans kept the game quite a bit closer than most people anticipated due to a nice defensive performance.
I stand by my comments on Osweiler, who reminds me of a cross between Robert Pattison from Twilight and Tim Couch. Not what you want from your $37 million quarterback if you are the Texans.