The "fantasy gods were against you" is a term that gets thrown around by my buddies and I when we joke about our misfortunes regarding the poor play of our respective teams on a given week.

After a week of researching our lineups, reviewing injuries and prior performance history, and double checking weather reports to make sure all of our players have advantageous matchups, the unpredictable nature of fantasy of fantasy football kicks in and Julio Jones gives you one darn catch for 16 yards.

Sure you could argue that from a real life football perspective avoiding Jones made sense for Matt Ryan and the Falcons, with the Saints opting to use blanket coverage with a linebacker and safety on Jones' side of the field.

And you could also have pointed out that despite multiple large yardage games in the past, Jones has managed only two receiving touchdowns against the Saints in his six years in the league.

But was it that crazy to expect Jones, a matchup freak for any defense, let alone a terrible one like New Orleans, to score at least one TD last night in a shootout on MNF?

The answer is no, and the only explanation that I can come up with, albeit a ludicrous and non-scientific one, is that the Fantasy Gods were against Julio Jones owners last night and there was nothing his owners could do about it.

You just have to tip your hat, whine like a baby for a few hours until your wife has had enough, and move on to Week 4.

For this week's lineup review, I have decided to examine a winning cash game lineup that netted a small double up for me despite the fact that it was my least favorite ticket for the week, and then one I felt had the lowest probability of winning.

Go figure. The Fantasy Gods were with me on this one.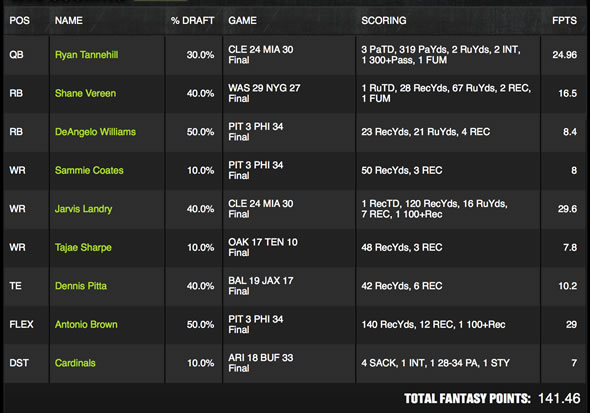 Quarterback: Ryan Tannehill
Fantasy Points: 24.96 on DraftKings
Grade: B-
For this lineup I went with a double stack of multiple Dolphins and Steelers based on what I perceived to be advantageous matchups. Of the two QBs, I went with the cheaper of the two in Tannehill, despite the fact that I think he is a below average QB and I doubt whether or not he is the future for Miami.
At a salary of just $6,200, Tannehill at home against an already terrible Cleveland secondary that was without Joe Hayden seemed like a nice play.
The former Texans A&M star responded with 24.96 points on 319 passing yards and three touchdowns, but a few knucklehead plays that led to three turnovers negated what could have been a solid game.
In hindsight I made the right decision here, as Big Ben managed to deliver only 8.98 points and would have dropped me out of the second to last paying position in the double up. The reason why I chose the Steelers stack in addition to the Dolphins was I had a feeling the Eagles defense was not as good as people thought, based on the fact that they had only played two poor offenses in Cleveland and Chicago.
Of course I was wrong on this and it negatively impacted two of my other players, but not enough to cost me cashing.
Running Backs: Shane Vereen, DeAngelo Williams
Combined Points: 24.9
Grade: D+
The breaking news Sunday morning that Rashad Jennings would be inactive motivated me to play Vereen at home against the Redskins. The move looked like a solid play in the first half, as Vereen scored a rushing touchdown and was active in the passing game.
Of course the fantasy gods would chime in and Vereen played sparingly after losing a critical fumble.
In hindsight, the play of Williams against the Eagles was a tilt move wanting to capitalize on prior performances. Heck, the ageless wonder scored 38.1 and 23.2 points in his first two games, so my logic was why couldn't he deliver one more 20 point game before the return of Bell?
Another stupid move on my part was to play him based on hedging my bet for my season long team, as my opponent that week was playing DeAngelo against me. If he was going to be the reason why I would lose in my league of record, why not hedge my bet and get some positive points for my DFS team.
Instead of hedging my bet, Williams stunk to the tune of 2.6 yards per carry and only four catches for 23 yards. To add insult to injury, I lost my season long matchup anyway, with Jeremy Hill and his two touchdowns laughing at me on my bench in a two-point loss.
Once again, I am as surprised as you are that this ticket actually won, considering my Steelers blunder continues with my wide receivers and flex plays.
Wide Receivers: Jarvis Landry, Sammie Coates, Tajae Sharpe
Combined Points: 45.4
Grade: D
Death, taxes, and Jarvis Landry scoring well in PPR formats. Those are three things that fantasy football fans can count on.
Landry continues to be an undervalued and excellent play in DK formats, as he has received at least 10 targets in all three games this season. His 29.6 points this week came one seven catches for 120 yards and a score, making my double up with Tannehill a game-winning play for me despite my stupidity of playing three Steelers.
As long as Landry continues to be priced at a discount, I will continue to place him in my lineup. His sub $7,000 price tag continues to be a value, as other owners overpay of A.J. Green, Dez Bryant, and other blue chip wideouts.
The Coates play was based primarily on the fact that I was banking on him breaking down the Eagles secondary for a deep bomb and score. The deep bomb was there and he did manage 50 yards, but the lack of a TD made him a waste of $3,800.
My blind love for Sharpe nearly bit me in the rear end this week after my failed personal narrative that Sharpe was due for a breakout at home against the Raiders came crashing down. The targets were there once again, but the production was not. Sharpe will not be on any of my tickets going forward, unless he has a Christine Michael-esq awakening.
Tight End: Dennis Pitta
Fantasy Points 10.2
Grade: B-
With tight end play up in the air this year I have made a plan to spend my money on inexpensive players who receive more than 6 targets a game. Pitta fits that mold and he did deliver a decent game of 42 yards on six passes (8 targets), but he failed to reach the end zone for the third-straight week.
When he cost only $2,800, Pitta was a great play at 22 points of production, but his current salary of $3,400 is negating his value. If his price goes up much more, I will need to find a new inexpensive, high-target tight end play going forward.
Flex: Antonio Brown
Fantasy Points: 29
Grade: A
The game-saving play for this ticket came in the name of Antonio Brown and his bounce back performance against the Eagles. Fantasy owners were burned when Brown posted only 39 yards on four catches last week against the Bengals.
Although he cost a whopping $9,600, the fact that he is the closest thing to guaranteed points led me to believe he was worth the price. Luckily I was correct and he did just enough to get me in the black.
Some readers may wonder why I tend to have an expensive play in my flex position and not in one of the standard skill position slots. The reason for this is I build my lineup first looking for value plays in WR and then fill in with expensive foundation players at the end with my remaining balance. I find that it allows me to focus on advantageous cheaper players first without worrying to fill in the gaps when most of my money is spent on expensive WRs and RBs.
I suggest giving it a try on your next contest. There is a great deal of satisfaction building a lineup that you think can score points and still have $9,700 left over to spend on a blue chip guy like Brown.
Defense: Arizona
Fantasy Points: 7
Grade: D
My daily fantasy platform of choice is DraftKings, primarily due to the fact that their game does not include kickers. It is my opinion that Kickers are the worst thing about real life football and should be banished from all forms of fantasy. They are unpredictable and can change the course of an entire week due to the amount of points they can put on a given game.
I feel somewhat the same about fantasy defenses and I wish I could find a DFS format that does not include them. Until that day happens, I will continue to pick the wrong defense like I did this week.