Sunday's 6-6 debacle between the Seahawks and Cardinals was a fitting end to a difficult day for the NFL.

After a week that included reports or poor TV viewership numbers and the subpar handling of the alleged domestic violence reports on kicker Josh Brown, Kevin Draper of deadspin.com reported that DFS giants DraftKings and Fanduel are purging money, and are months behind on payments to vendors.

According to Draper, the two companies are in talks with New York state attorney general Eric T. Schneiderman to reach a settlement between $8 mil & $10 mil to pay for complaints of false advertising.

Per Draper, "More intriguing than this relatively small settlement, however, is the reporting that the two companies have asked to pay it in installments, and are facing massive financial difficulties."

One of the interesting complaints filed in the false advertising claim is that the two companies promoted their services as an easy way to win money playing fantasy sports, when in reality "the vast majority of players—approaching 90 percent in 2013–14 on DraftKings, for instance—lost money."

As a proponent of cash games, these numbers do not surprise me, as I have been writing for well over a year now that playing in large tournaments with astronomical odds against you is relative to throwing your money out the window.

While GPPs meet the risk tolerance of some, and the rush of the possibly turning $20 into $1 million is too intoxicating for others to avoid, I bring up this report as a solemn reminder to think of the odds of winning when entering DFS games each weak.

Sure, part of that estimated 90% encompasses cash game losers, but no doubt the majority of the losers each day are those poor fools seduced by the riches of large GPP's, only to be disappointed when the games end on Monday.

I recommend sticking to cash games and small multipliers where you are going against one person or a small group of people. It may not result in a big payday, but you will have more fun and you can slowly build your bankroll.

The following winning cash game roster was utilized in a head-to-head matchup on DraftKings.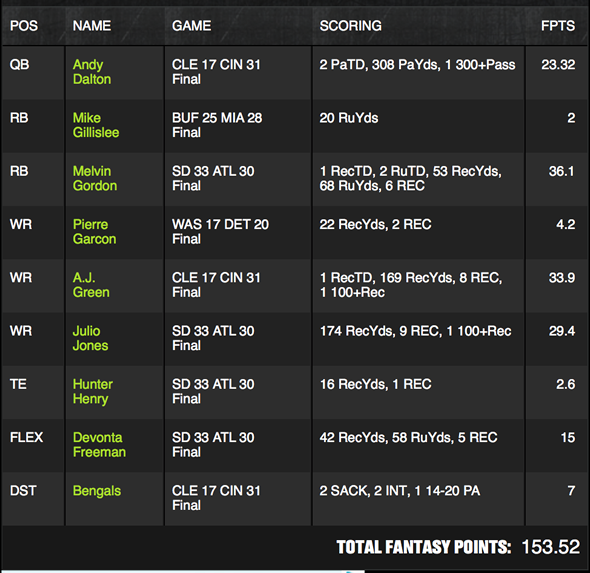 Quarterback: Andy Dalton
DraftKings Points: 23.32
Grade: A-
In my Week 7 preview, I wrote about the cash game value of Andy Dalton and how the Red Rocket has been one of the most consistent fantasy quarterbacks over the past two seasons.
After a slow start, Dalton led the Bengals to victory over the Browns with 308 passing yards and two touchdowns, including a stat-padding Hail Mary TD pass to A.J. Green to close out the first half.
The stack of Dalton to Green proved to be lucrative for this ticket, as the two players combined for 37% of my 153.52 points for the day.
Dalton was not the top options for the week, as Brees, Luck, Rodgers, Taylor, Cousins, and Winston all scored more that the Bengals signal caller. But he did give me exactly what I expected, and that is worth its weight in gold for cash games.
Running Backs: Melvin Gordon, Mike Gillislee
DraftKings Points: 38.1
Grade: B
Hitting on the number one running back of the week in Gordon, and his 121/3 line against the Falcons, helped ease the pain of falling victim to the hype of Mike Gillislee against the Dolphins. Gordon was my cash game play of the week on my preview, so his solid game against Atlanta was a nice result as an owner and writer.
Gillislee and his 20 rushing yards against his old team was not what I was expecting, as I anticipated a blowout game for Buffalo and numerous second half carries for Gillislee. The conflicting reports on the health of starter LeSean McCoy gave me some concern on whether or not Gillislee would get enough carries, but his $3000 salary was hard to replace after building my lineup.
My goal in cash games is to have at least one high floor running back and two high floor wide receivers, with a few boom or bust supporting players to round out the card. Unfortunately for me, this boom or bust player went bust.
Wide Receivers: A.J. Green, Julio Jones, Pierre Garcon
DraftKings Points: 67.5
Grade: B+
A majority of my budget this week was allocated to wide receivers A.J. Green and Julio Jones, with the goal of having the wide receiver with the projected highest floor in Jones and a nice compliment play for a cash stack in Green.
Green connected with Dalton for 169 yards and a score, while Jones scored nearly 30 points on his 174-yard day against the Chargers. When you spend $17,800 on two wide receivers, you need them to come through or your cash roster will likely underperform. Luckily for me both players exceeded their 25 point expectation, while making up for my blunder of choosing Pierre Garcon against the Lions.
In my defense, Garcon did receive 18 targets in his previous two games with Jordan Reed out of the lineup, including 11 targets Week 6 at home against the Eagles. The Week 7 matchup against the Lions seemed like a nice opportunity to continue his recent trend of usage, as the Lions were one of the worst teams against the pass entering the game.
My assumption of usage was correct, however, it went to another possession receiver on the Redskins in Jamison Crowder, and not Garcon.
Tight End: Hunter Henry
DraftKings Points: 2.6
Grade: F
It appears as though I rode the Hunter Henry train one too many times, as the rookie from Arkansas came crashing down with one reception for 16 yards on just three targets.
Henry nearly saved his game on an out and up wheel route for a touchdown in the second half, but failed to get both feet in bounds. Philip Rivers went back to his old reliable Antonio Gates this game, leaving Henry fantasy owners out to dry.
Although he is one of my favorite new young players, and someone whom I will targets in season long leagues next year, Henry will not be on any of my cash game tickets unless Gates gets hurt again.
Flex: Devonta Freeman
DraftKings Points: 15.0
Grade: B-
The emergence of Tevin Coleman and the subsequent lackluster performance by Devonta Freeman to start the year reduced Freeman's salary $1,000 from Week 1 to Week 7. Betting on the fact that the game would be high scoring, that discount seemed like a nice payoff for DFS owners, as the Chargers were the 5th worst against opposing defenses.
Freeman struggled to start the game, but managed to deliver 100 total yards on 20 touches for 15 fantasy points. Not exactly what I was expecting, but 15 points from your flex play is respectable in cash games.
Defense: Bengals
DraftKings Points: 7
Grade: C
Seven points from your defense isn't the end of the world, but it is a disappointment when that defense is playing against the Browns at home. Two sacks and two turnovers made up for the fact that the Bengals gave up 17 points to two rookie quarterbacks.
Credit Hue Jackson for thinking outside the box and utilizing rookie QB Kevin Hogan in the running game out of the backfield. The Bengals clearly were not ready for that play, and the Browns capitalized on two touchdowns from the speedy QB.