As I sit down at my desk to write my DFS preview for the week, I take a quick peek at my iPhone to see if there are any news updates on the playing status of Sammy Watkins for Thursday Night Football against the Jets.

Will he play or wonít he? If he does play will he be effective on a short week, with a hobbled foot, against an aging but still talented Darrelle Revis?

Is it safer to go with a less attractive wide receiver like Phillip Dorsett against the Broncos, or should I target a waiver wire option to fill in for my third wide receiver spot?

Perhaps the best question, is why the heck did I pass over C.J. Anderson for Sammy Watkins in the first place!

I share this little anecdote for two reasons.

First, I assume that I am not alone in this decision, as thousands of other season-long fantasy owners across the world are dealing with the exact same dilemma on Thursday.

And secondly, my perilous state reminds me of one of the best things about daily fantasy, and why for some people (myself included), it is becoming the primary game of choice each week.

With DFS, these silly ďdo I play a guyĒ moments for ancillary variables like short week, injuries, and weather can all be avoided because we are not tied to the team we drafted or the players available on the waiver wire.

The absence of the unknowns related to these issues can be mitigated somewhat with DFS because we can avoid players like Watkins all together, and allocate our resources to other players who are not dealing with injuries entering their contests.

For season-long players reading this article who have yet to get their feet wet in DFS, think about this concept the next time you are faced with a similar dilemma like mine.

Sure, you may not have the issue of Watkins this week, but you will without a doubt be forced to make a tough injury related decision for your team that will bring you stress and consternation. And when you do, you will think to yourself that maybe, just maybe, weekly DFS may be the way to go when it comes to playing fantasy football.

For those already on the wagon, here are a few DFS plays and picks for Week 2.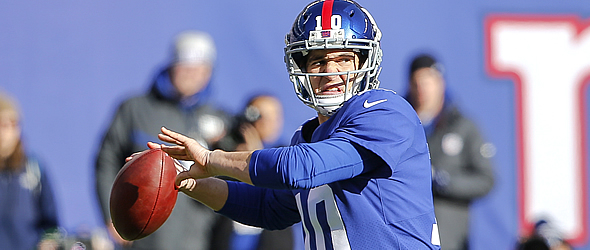 A home matchup against a terrible Saints defense should make Eli Manning a chalky pick in Week 2.
Quarterbacks
H2H/Cash - Eli Manning vs. New Orleans ($7,600 on DraftKings)
After posting a 19.3 game Week 1 against the Cowboys in which he threw for 207 yards and three touchdowns, Manning isnít the sexiest Week 2 pick in DFS.
But a home matchup against a terrible Saints defense that became the first team in NFL history to have a quarterback (Brees) throw for over 420 yards and 4 touchdowns in a loss, is a matchup that fantasy owners should certainly target Week 2.
The Saints potent offense will likely score points in bunches against the Giants (although the Giants defense is significantly better than the Raiders and the Saints are much better at home than on the road), and Eli and his skill position players will need to put points on the board to keep pace and win the game.
GPP - Joe Flacco @ Cleveland ($6,500 on DraftKings)
Flacco and the Ravens travel to Cleveland to take on a Browns defense that made rookie Carson Wentz look like Joe Montana and Jordan Matthews the second coming of Jerry Rice. The Browns look primed to once again finish in the bottom five in points allowed to opposing quarterbacks, after finishing fourth last year behind only the Saints, Eagles and Giants.
Although the fantasy community as a whole was not very high on Ravensí skill position players, Flacco has a nice balance of receivers with Mike Wallace as a deep threat, Kamar Aiken and Steve Smith in intermediate routes, and the return of tight end Dennis Pitta in the middle.
At just $6,500 on DK, Flacco is a nice, inexpensive home run play for owners looking for an edge in GPP games.
Fade - Andrew Luck @ Denver ($7,700 on DraftKings)
The Broncos limited opposing quarterbacks to a league fewest 3544 yards and only 19 touchdowns in 16 games in 2015. When you compare that to 45 passing TDs allowed by the Saints in the same period, you can see why Denver went on to win the Super Bowl last season.
Luck scored the most fantasy points in week one and some fantasy owners might look at this as a contrarian option in GPP formats. It is a contrarian play in the sense that his ownership levels will be low, however, I canít imagine Luck producing enough fantasy points to justify his salary.
Running Backs
Head to Head Ė C.J. Anderson vs. Indianapolis ($6,800 on DraftKings)
Fresh off an impressive two touchdown, 139-yard game against the Panthers on Thursday Night Football, Anderson has an excellent matchup for head-to-head owners this week against the Colts.
The Colts gave up the most fantasy points to opposing running backs as Ameer Abdullah and Theo Riddick exposed Ted Monachinoís defense on the ground and in the air. Anderson is an excellent runner who should excel this week behind Denverís revamped offensive line, and I anticipate he will have similar success as a receiver out of the backfield.
He is the perfect H2H matchup as he is a safe play with a nice salary relative to other running backs this week. His ownership levels will approach 50%, so GPP players looking to differentiate may want to look elsewhere.
GPP - LeGarrette Blount vs. Miami ($4,000 on DraftKings)
Blount managed 70 yards and a touchdown on 22 carries against a tough Cardinals run defense Week 1, which was only the fourth time in 34 regular season games in which the bruising back received more than 20 carries.
I expect a similar game script for Blount, but 20-plus carries at home against a Dolphins line that is formidable, but riddled with injuries and not as dominant as the Cardinals. I also think that Jimmy Garappolo will be able to move the ball easier this week against the Phins, which could lead to a positive game script for Blount and more close out carries in the fourth quarter.
Fade - Todd Gurley vs. Seattle ($7,500 on DraftKings)
Gurley continues to garner a high salary based on his immense talent, despite the fact that his offensive line is terrible and quarterback Case Keenum does not throw the ball downfield enough to force opposing defenses to respect the pass.
I would recommend trying to trade for Gurley after this week in season-long leagues, as owners of Gurley may be open to selling the stud running back for 75 cents on the dollar. But in DFS this week and for the near future, I am avoiding Gurley until the passing offense improves and the opponent across the line up scrimmage becomes easier for the former Georgia Bulldog.
Wide Receivers
Head-to-Head - DeSean Jackson vs. Dallas ($6,300 on DraftKings)
Jackson looked impressive in his Week 1 performance against the Steelers, with six catches for 102 yards and a touchdown on 10 targets. I expect a similar amount of targets and production this week at home against the Cowboys, with a decent shot of Jackson reaching the end zone.
With just over 300 yards and three touchdowns in his last four games against the Cowboys, Jackson has a history of success against a suspect secondary in Dallas, and should do well for owners this week in all formats.
I especially like him in head-to-head formats due to a high floor and high ceiling at a reasonable $6,300 price tag.
GPP - Victor Cruz vs. New Orleans ($4,300 on DraftKings)
GPP owners looking for an upside home run play should consider investing in Cruz this week against a New Orleans secondary that allowed 15 receptions for nearly 300 yards and a score last week against Oakland.
For similar reasons why I like Manning against the Saints, Cruz is the most inexpensive option of the Giants receivers and could see another red zone target this week for a salsa dance for the home crowd at MetLife Stadium.
Fade - Dez Bryant @ Washington ($8,400 on DraftKings)
I like the narrative for GPP players that Dak Prescott will target Dez heavily this week after Bryant posted just one catch for eight yards on five targets. But the fact that Dez has had such poor success with quarterbacks not named Tony Romo and I anticipate Josh Norman will be guarding him on most plays, I just donít think his $8,400 price tag is worth it.
Tight Ends
Head-to-Head - Antonio Gates vs. Jacksonville ($4,500 on DraftKings)
The injury to Keenan Allen dramatically changed the season-long and DFS outlook for all skill position players for the Chargers. We will need to wait and see who will step up and where will Allenís targets be distributed now that Philip Rivers is without his favorite wide receiver target for the last three years.
My money is betting on Riversí favorite tight end target in Antonio Gates, especially this week at home against a team that Gates torched for four catches for 53 yards and two touchdowns last season.
GPP - Dennis Pitta @ Cleveland ($2,800 on DraftKings)
A favorite breakout candidate for the previous few seasons, Pitta and his Mr. Glass hips is once again back in the fantasy fold with the Ravens. With a salary of only $2,800 on DK an a matchup against a terrible defense that allowed ten receiving TDs to opposing tight ends last season.
Looking for a cheap GPP stack this week? I would seriously consider Flacco and Pitta.
Fade - Travis Kelce @ Houston ($5,000 on DraftKings)
Kelce had the biggest game of his career on the road against Houston in 2015. The 6í5, 260 pound freak from Cincinnati caught six passes for 106 yards and two touchdowns in that game, supplanting himself as a top 5 tight end option in fantasy circles.
Although I think he might prove me wrong, I donít think Kelce will have similar success this week against J.J. Watt and Jadeveon Clowney, and I certainly donít like his price tag in DK.
Defense/Special Teams
Head-to-Head - Carolina vs. San Francisco ($3,900 on DraftKings)
The relative cost of top defenses compared to lower end options tends to allow me to focus on sure-fire plays in head-to-head games. Put simply, the cost of the top defense this week is only $900 more than the last option I would choose in the Ravens vs. Browns.
The 49ers are going get smoked by an angry and rested defense that lost Week 1 against the Broncos. The niners traveling across the country on a short week to play an early game on Sunday is another red flag.
GPP - Detroit vs. Tennessee ($2,800 on DraftKings)
With an over/under of 47 points by Vegas odds-makers, the sharps at sports books think this is going to be shootout between the Lions and Titans. I also think this could be a high scoring game, but with at least one touchdown for the Lions coming from a Titans team that allowed two defensive TDís to the Vikings in Week 1.
Winning GPP defensive plays tend to be uncommon choices that most people would not consider. The Lions currently have an ownership percentage of 5% in Yahoo season long leagues, leading me to believe that their ownership level this week in DFS will be low as well.
Fade - Arizona vs. Tampa Bay ($3,500 on DraftKings)
I am a believer in Jameis Winston and the Tampa Bay offense, and I am not as impressed with the Arizona defense after Garappolo and the Pats went into University of Phoenix Stadium and beat the Cardinals last week.
Sure, the narrative that the Cardinals are hungry and could bounce back is possible. But Iíd rather avoid the matchup considering the price.