I am somewhat embarrassed to admit that I spent the last two hours combing over kicker stats and advanced NFL team stat matrices trying to identify trends and variables that lead to successful performances for kickers in fantasy football.

With a critical Week 11 game against my brother in my season-long league of record, I believe my team will need a huge kicker and defensive play to combat his stacked lineup.

I was able to pick up my defensive play of the week with the Dolphins playing rookie Jared Goff and the Rams, but I can't seem to decide on a kicker who will give me at least 10 fantasy points.

It is a deep 12-team league with large benches, giving owners the roster flexibility to keep more than more than one kicker, thus reducing the waiver wire to a barren wasteland of mediocre former soccer players.

So I am left with Graham Gano against the Saints and his unimpressive stat line of 1,6,15,6, and 6 fantasy points over the past five weeks, or Ryan Succop and his line of 4,10,11,5,and 13 points in the same period.

On face value Succop looks like the better play with three double-digit games, but he mixed in two stinkers and the Colts may allow Murray to run all over them, resulting in no field goals

Gano has been one of the most inconsistent kickers this season with seven of his nine games under seven fantasy points. The one caveat, is that he did score 17 and 15 points in to home games in which Carolina was forced to score at least 30 points to win.

With the Saints playing on Thursday Night in Charlotte, chances are it will be a high scoring game, but will that equate to field goals or a bunch of useless extra points?

Weather conditions, game script, opponent third down success rate, offensive third down success rate from the 30-yard line in, and many other variables play into the decision of picking a kicker.

But flipping a coin would be almost a better option, as evident by the fact that only one kicker (Matt Bryant) has been the number one kicker in fantasy more than once in a week this year.

If I had my way, kickers would not be included in fantasy football, as it is a crapshoot and most fantasy leagues give way too many points to kickers. In fact, I wrote a piece a few years back promoting the idea of the NFL getting rid of kickers all together, forcing teams to always go for it on fourth down or punt.

Needless to say the article did not get much traction, despite the many logical points (at least I thought they were logical) presented in the piece.

Now, you might ask yourself, why am I spending so much time in my intro talking about kickers when I just admitted that almost no amount of time studying them will lead to a more educated guess?

The answer is simple, it is a recommendation to my fellow DFS owners who hate kickers as much as I do to stop playing sites like FanDuel that include kickers and focus on more progressive sites like DraftKings.

Perhaps a movement away from sites that have kickers will convince their founders to move on to a better format.

I will now step down from soap box and move onto my picks for the week.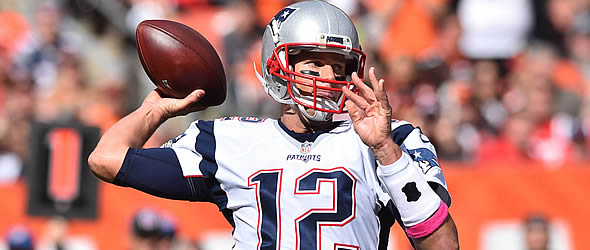 Going back to the well: Look for Brady to bounce back after his zero-TD performance in Week 10.
Quarterbacks
H2H/Cash - Tom Brady vs. San Francisco ($7,800 on DraftKings)
When facing off against a team that boasts the leagues worst rush defense, it may sound counter intuitive to recommend the quarterback in that matchup, especially when said quarterback is the most expensive play at $7,800.
There are two reasons why I like Brady in this game. First, the passing offense was stymied last week against the Seahawks and Belichick will use this as an opportunity to get Brady and the passing game back on track.
And second, Brady is going home to play against his favorite boyhood team for the first time in his storied career.
Sure, Blount is going to get his points and will dominate the 49ers on the ground, but I think Brady will have a stellar game with three TDs and 300 yards.
Other options to consider - Aaron Rodgers @ Washington, Eli Manning vs. Bears
GPP - Marcus Mariota ($6,700 on DraftKings)
No longer a value play, Mariotaís recent tear of 31.92 and 27.8 points in Weeks 9 and 10 respectively has increased his salary a whopping $1,000 from last week.
The Titans offense is on a tear, averaging 386.1 yards and 26.4 points per game after a slow start to the season, while the Colts have allowed the fourth-most points to opposing quarterbacks.
Mariota is my start of the week in all formats, but his high ceiling and the chance of another 30-point game makes him a great play is GPPs.
Other options to consider - Tyrod Taylor @ Cincinnati & Colin Kaepernick vs. New England
Fade - Ben Roethlisberger @ Cleveland ($7,500 on DraftKings)
Fading Big Ben this week against the Browns might seem like a crazy play, especially after a monster 31.42 point game last week against the Cowboys.
I am a bit worried about this pick, however, as I have documented Big Benís crazy home/away splits and the weather in Cleveland on Sunday looks to be windy and cold, with a chance of snow.
Running Backs
H2H/Cash - LeGarrette Blount vs. San Francisco ($7,800 on DraftKings)
For cash game owners that choose not to go with Brady as their quarterback, Blount is one of the safest plays this week and an excellent choice for cash game tickets.
I do think Brady will have a big game, but that does not discount the fact that Blount will also be active, with at least one rushing touchdown and 70 yards on the ground.
For some reason the salary makers at DK have not adjusted Blountís salary to the type of stats his produces, especially when you consider the fact that he leads the league in rushing TDs.
Other options to consider - LeíVeon Bell @ Cleveland & Frank Gore vs. Tennessee
GPP - Theo Riddick vs. Jacksonville ($5,100 on DraftKings)
Although he is questionable with a calf injury, I believe Riddick will play this week in what might be a shootout at home against the Jags.
When on the field, Riddick has been a PPR monster with 27 points in two of his last three games, including 27.3 points against Houston Week 8.
There is a bit of concern in that the Jags are one of only eight teams that have not given up a receiving touchdown this year to opposing running backs, but Staffordís heavy reliance on Riddick in the passing game makes me feel comfortable using Riddick in GPPs this week.
Other options to consider Ė C.J. Prosise vs. Philly and Spencer Ware vs. Tampa Bay
Fade - Doug Martin @ Kansas City ($5,400 on DraftKings)
Martin is still trying to get his legs back after an extended absence with a hamstring injury, and the Chiefs defense is getting healthy with Justin Houston back to help the pass rush.
I donít see this being a high scoring game and I wouldnít be surprised to see Winston struggle on the road at Arrowhead. There are too many favorable matchups for other running backs this week to risk playing Martin.
Wide Receivers
H2H/Cash - Jamison Crowder vs. Green Bay ($7,800 on DraftKings)
Crowder has quietly been one of the most consistent fantasy wide receivers this season, scoring double digit points in every week except Week 4 against Cleveland.
The second-year player from Duke has clearly become one of Kirk Cousinís most trusted target, and should receive multiple targets and catches against a Green Bay team that has given up the third-most points to opposing wide receivers.
With 28 targets and 20 catches over his last three games, Crowder might be the best mid-level value at WR this week for owners looking to get at least 13 points from a $5,400 wide receiver.
Other options to consider - Odell Beckham Jr. vs. Chicago & Donte Moncrief vs. Tennessee
GPP - Tyreek Hill ($4,500 on DraftKings)
Iím going back to the well on Hill this week due to the fact that he has been an absolute target monster over the past three weeks (24 targets) and Jeremy Maclin will likely miss this game.
It doesnít hurt that Tampa Bay is second to last in points allowed to wide receivers, and Hill continues to look like a future WR starter in KC.
Other options to consider - Rishard Matthews @ Indy & Davante Adams @ Washington
Fade - Stephon Diggs vs. Arizona ($5,400 on DraftKings)
Diggs has been nothing short of amazing in fantasy over the past three weeks with 34 catches and 320 yards.
But despite this amazing run, I think he comes back down a bit due to the fact that the Cardinals pass rush is going to give Sam Bradford fits and Patrick Peterson will be shadowing Diggs.
He will still get some catches, but I doubt he continues his streak of double-digit grabs.
Tight Ends
H2H/Cash - Delanie Walker vs. Indy ($5,700 on DraftKings)
Walker has been one of the beneficiaries of the Titans offensive surge over the past four weeks, with double-digit points in six of his last seven games, including 30.4 points last week against Green Bay.
While I donít anticipate Walker having a monster game last week and the probability of him throwing another TD pass is slim, there is no doubting the volume of targets and receptions he garners in the passing game.
Indy has struggled against tight ends this year, with Eric Erbron, C.J. Fiedorowicz, Travis Kelce and Walker all reaching paydirt. Look for Walker to reach the end zone again this week in what could be a high scoring game.
Other options to consider - Travis Kelce vs. Tampa Bay & Jordan Reed vs Green Bay
GPP - Vernon Davis ($2,800 on DraftKings)
Clearly in the twilight of his career, Davis did well in reserve of Reed earlier this year when Reed was limited with concussion symptoms.
Although Reed has returned to action, Davis has continued to be a factor in the offense with double digit fantasy points in four consecutive games.
The targets are not exactly what you would want for a GPP play with an average of only 5 per game, but he has made the most of them, catching 17 of his last 18 passes.
Other options to consider - Will Tye vs. Chicago & Ladarius Green @ Cleveland
Fade - Kyle Rudolph vs. Arizona ($3,900 on DraftKings)
With five touchdowns on the year and the only viable receiving threat on the Vikings not named Diggs, Rudolph has been a solid fantasy performer this season when given advantageous matchups.
The Week 11 tilt against Arizona Cardinals would not fit into that category, as the Cardinals have been the stingiest team against opposing tight ends this year.
Defense/Special Teams
Miami Dolphins @ Los Angeles ($2,900 on DraftKings)
The Jared Goff era in Los Angeles kicks off this week, which is perfect timing for the Dolphins DST that has scored 17 and 13 points respectively in their last two weeks.
The Rams may run a conservative offense to limit Goff's mistakes, but I still like the chance of getting at least three sacks and a one turnover.