With a player pool of only eight teams to choose from (six if you wisely choose to avoid Raiders and Texans), and only a few advantageous matchups to exploit, Wildcard Weekend of the NFL playoffs presents an interesting and fun challenge for DFS players.

Owners who typically like to diversify their rosters by not having multiple players from the same team will likely need to alter their strategy as scarcity of players creates the need to stack, while players in GPP formats who like to target minimally owned players may have more difficulty finding that diamond in the rough.

Fewer players to choose from leads to a higher probability that your opponent in cash games with have similar players on your ticket, making it imperative you hit on can't miss high dollar/high floor guys.

I tend to stick to cash games during the first two rounds of the playoffs, with a philosophy of not worrying too much about having multiple players from the same team and the same game.

My strategy this week is to avoid the Houston/Oakland and Detroit/Seattle matchups for most offensive players while focusing on building my roster with picks from the other two games.

To win a large GPP game this week someone will likely need to hit on the breakout player from those two games. I am not comfortable picking who that player might be, so I am going to stay the course with my cash game plan.

Here are a few players I am targeting this weekend and a few that I am going to avoid like the plague.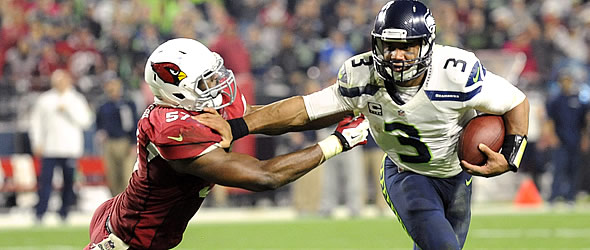 Russell Wilson, Roethlisberger and Rodgers will be popular DFS plays in both cash and GPPs.
Quarterbacks
H2H/Cash - Russell Wilson vs. Detroit ($7,000 on DraftKings)
Last week's 14.72 point game against the Niners in what turned out to be a much closer game than anticipated is still a head scratcher to me. With the Niners defense a dumpster fire, it sur-prised me that Wilson was unable to get the passing game going against a unit that allowed the 10th most points to opposing QB's.
One thing that is not surprising is Wilson's success at home as of late, with seven touchdowns and one interception in his last two games at CenturyLink Field, including 37.6 points Week 16 against Arizona.
The Lions backed their way into the playoffs with three straight losses to NFC playoff teams, while allowing Dak Prescott, Aaron Rodgers, and Eli Manning to throw for a combined nine touchdowns and 713 yards without an interception.
With a nice matchup at home against a struggling defense, Wilson is the quarterback that I feel will give the highest floor this weekend.
Other options to consider – Ben Roethlisberger vs. Miami and Aaron Rodgers vs. New York Giants
GPP - Matt Moore vs. Pittsburgh ($6,000 on DraftKings)
Moore has averaged a surprising 18.62 fantasy points per game since taking over for an injured Ryan Tannehill. During that span, he has produced more fantasy points that Big Ben, Eli Manning, and Matt Stafford, while giving a floor of at least 15 fantasy points in all three of his starts.
Although statistically, he has been pretty consistent this year, I still view him as a boom or bust play for GPP players based on the fact that I am uneasy on how he will play on the road in a playoff game.
I anticipate this will be a high scoring game, with Moore and the passing game forced to score at least 28 points to keep pace with the Steelers. The question is how well the veteran quarterback will play in his first career playoff start. For that reason, I would feel more comfortable playing him as a homerun play in a large tournament.
Other options to consider - Eli Manning @ Green Bay
Fade - Matthew Stafford @ Seattle ($5,700 on DraftKings)
Statistically speaking Stafford is having a down year compared to the type of numbers he put up earlier in his career with Calvin Johnson. But from a real life football perspective, Stafford is having arguably his best year in terms of efficiency and not turning the ball over (career low 10 picks).
That is great news for Lions fans, and the former first-round pick from Georgia is a big reason why they are in the playoffs. Yet for fantasy owners, Stafford's pedestrian numbers have been a disappointment, with only two 20-plus fantasy point performances in his last ten games.
I am not sure I would recommend playing Stafford at home against the Seahawks.

Running Backs
H2H/Cash - Le'Veon Bell vs. Miami ($10,300 on DraftKings)
Forking out over a fifth of your budget for one player seems like a silly thing to do, as it will limit your ability to fill out other roster spots with viable options. The only way you can justify making an expensive move like that is if the player is guaranteed a ridiculous amount of touches in a high-scoring offense.
Bell has averaged 26 touches per game since Week 11, highlighted by a record-setting 42 touch, 298 total yards, and three score game against Buffalo Week 14.

Now I am not anticipating that type of workload or production, but barring injury Bell is a lock for 25 touches and has yet to score less than 13 fantasy points in a game this year.
Other options to consider - Lamar Miller vs. Oakland & Rashad Jennings @ Green Bay
GPP - Zach Zenner vs. Seattle ($4,500 on DraftKings)
The vaunted Seattle defense that has dominated the league is not quite the same unit as in years past, as evident by the fact that they have allowed five rushing touchdowns in their last two games to David Johnson and Shaun Draughn.
Seattle ranks in the middle of the pack this season in points allowed to running backs, something they excelled at in recent seasons.
Zenner has been a nice surprise for Lions fans in the final two games of the season with three touchdowns and just over 200 combined yards. The thing that I find most appealing about Zenner is his usage in the passing game during that span, with six catches for 66 yards.
This is somewhat of a contrarian play, as many owners will avoid this game and focus on other upside plays with better matchups. The perfect type of play of GPP owners looking or a single digit ownership type of play.
Other options to consider - Alex Collins vs. Detroit & Kenyan Drake @ Pittsburgh
Fade - Latavius Murray @ Houston ($5,000 on DraftKings)
Single-digit performances in his last three games with a sub-three yard per carry average against Denver and Indy, two teams not known for great run defense.
The Houston defense will not respect the passing game of rookie quarterback Connor Cook by putting eight-man fronts to shut down the Oakland run game.
Add in the fact that Oakland does not commit to Murray (only 33 carries combined in his last three games), and you have the recipe for a bad game for Latavius.
Wide Receivers
H2H/Cash - Odell Beckham Jr. @ Green Bay ($9,100 on DraftKings)
Although Beckham finished the year with career lows in touchdowns, yards per game, and yards per attempt, he turned it on in the second half of the season to give fantasy owners a return on the top three pick capital required to draft the former LSU star.
For DFS purposes, Beckham has scored 19 or more fantasy points in eight of his final eleven games, highlighted by a 44-point game against Baltimore Week 6.
The Packers have a depleted secondary that will struggle to matchup against Beckham, even if Dom Capers ops to try to double team with a safety or linebacker.
Of the three top wide receivers this weekend, Beckham, Nelson, and Brown, the former is the one I feel most confident in spending a sizable amount of my budget on, as he has the most ad-vantageous matchup and high floor.
Other options to consider - Antonio Brown vs. Miami & Doug Baldwin vs. Detroit
GPP - Paul Richardson ($3,400 on DraftKings)
This one might be a bit of a stretch considering Richardson posted four games this year without a single catch. Owners looking for a cheap wide receiver to round out their ticket may want to consider Richardson, a seldom used wide receiver who has 12 targets in the last two games since Tyler Lockett left with a broken leg.
Darius Slay is the only cornerback on the Lions who presents a matchup problem for opposing wide receivers and will likely cover Doug Baldwin most of the game. The Seahawks have proven over the past few weeks that they cannot run the ball and will need to move it through the air to beat Detroit.
Richardson could be the breakout player of the week or he could be a complete dud. Not the type of player who will be on my cash ticket, but GPP owners searching for that diamond in the rough may want to consider him.
Other options to consider – Jarvis Landry @ Pittsburgh & DeVante Parker @ Pittsburgh
Fade - Jordy Nelson vs. New York Giants ($8,000 on DraftKings)
Janoris Jenkins has done an excellent job shutting down the top WR option for opposing offenses this year and will likely be matched up against Jordy for most of the game. With Davante Adams, Randall Cobb/Geronimo Allison, and Jared Cook as other options in the passing game, it seems reasonable to me that the Packers will not try to force the ball to their leading receiver.
Nelson may score a touchdown, but the chance of a big game against a Giants team that has allowed only four receiving touchdowns since Week 13 is not likely.
Tight Ends
H2H/Cash - Jimmy Graham vs. Detroit ($10,300 on DraftKings)
The emergence of Tyler Lockett in Weeks 14 and 15 reduced Graham's role significantly, with two catches for 46 yards combined against the Rams and Packers.
With Lockett on IR, Graham once again became a focal point of the offense with a combined six catches for 107 yards and a score against Arizona and San Francisco to close out the season.
Other options to consider - Will Tye @ Green Bay & C.J. Fiedorowicz vs. Oakland
GPP - Jared Cook vs. NY Giants ($3,400 on DraftKings)
With only one touchdown catch on the season and 80 percent of his games resulting in less than ten fantasy points, Cook has been a below average fantasy option this season.
Despite this fact, the recent trend of an increase in usage over the past three games (8,5,8 tar-gets), Cook appears to be gaining the trust of Rodgers and continues to be more of a focus of the Green Bay offense.
I referenced in my Jordy Nelson fade that the Giants have been tough as of late against opposing wide receivers, leading me to believe that Rodgers will use Richard Rodgers and Jared Cook to attack the New York defense.
Other options to consider – Jesse James vs. Miami
Fade - Eric Ebron vs. Seattle ($3,900 on DraftKings)
Only three tight ends have scored a touchdown this year against Seattle, with only Martellus Bennett topping the century mark in yardage.
Ebron has seen a huge increase in usage with 18 targets over the past two games, converting those looks into 14 catches for 154 yards. Despite this fact, I think the Seahawks will make a point to shut him down while forcing Matthew Stafford to beat them outside with Marvin Jones and Golden Tate.

Defensive Play of the Week
Houston vs. Oakland ($3,800 on DraftKings)
The fact that rookie Connor Cook will be forced to make his first start in the NFL on the road against a stingy Houston team makes the Texans the most attractive DST play this week.
The Texans have not been a high scoring DST for fantasy purposes, with only two defensive touchdowns and no games over 20 fantasy points. That fact might change this week as Cook will be put to the test with complex blitzes and coverage schemes.