After moping around the house for an hour after the end of the afternoon games on Sunday with a dejected look on my face, I tried to engage my wife in conversation to make me feel better about the silly move I made on my DFS millionaire maker ticket earlier that day. Instead of trusting my gut and sticking with Brady and a less expensive complimentary wide receiver, I overthought things and decided to go with Russell Wilson and Doug Baldwin at home in what I thought would be a get-right game for the Seahawks.

I explained to my better half that if I had just followed my advice (see my Week 2 preview piece), I would have won $250 in the GPP contest instead of just $50. Instead of making me feel better for my bonehead move, she scolded me for not being happy for making $50 on something as stupid as fantasy football.

After all, with everything bad going on in the world and so many people in need, how could I be so shallow about missing out on $200 from a fantasy football game? In the grand scheme of things, she is right, and the pain and frustration we all feel when we lose in a trivial game like fantasy football pales in comparison to what many deal with on a daily basis. But it doesnít change the fact that I felt like an idiot for a few hours on Sunday evening.

I learned two things that day. First, trust your gut, because often you are right and it wonít hurt as bad to lose if you go with what you believe. And second, under no circumstances will I talk to my wife about losing in fantasy football.

The following lineup is from a $70 winning ticket in the DraftKings millionaire maker GPP.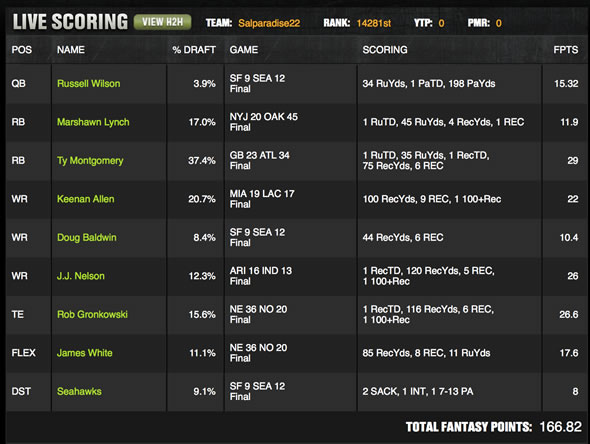 Quarterback: Russell Wilson
DraftKings Points: 15.32
Grade: C
My last-minute move to change from Brady to Wilson had more to do with the fact that I wanted the Seahawk stack of Wilson and Doug Baldwin. Baldwin torched the Niners for 10/164/1 in Seattle Week 3 of 2016, and I anticipated that Wilson would force feed his No.1 wideout after a disappointing game against Green Bay Week 1.
I expected that Brady would outscore Wilson, but I was not able to get the lineup to work with Bradyís higher salary. That decision proved to be a killer, with Brady throwing for over 400 yards and three scores, and Wilson had a pedestrian 198 yards and a score.
The Seattle offensive line continues to be dreadful, even against a mediocre defensive line like San Francisco, making Wilson a risky start until the team gets things turned around.
Running Backs: Marshawn Lynch & Ty Montgomery
Combined DraftKings Points: 40.9
Grade: A
In my preview piece, I wrote about the likelihood of Beastmode scoring at least one rushing touchdown in front of his home crowd in Oakland and the probability that he would not receive more than 20 touches in what would be a blowout. I was correct about the rushing touchdown (it could have been two had David Carr handed him the ball on the goal line instead of throwing a fade to Michael Crabtree), but Lynch was even more limited than I anticipated with only 12 carries. In a cash game Lynch makes sense, but in a GPP where I am looking for home run plays, this was not the best move.
At just $5,800, TY Montgomery was one of the best values on DraftKings because he is a dual rushing and receiving threat on a potent Packer offense. Monty came through big time for my team, with 110 combined yards, two touchdowns, and six receptions, making him one of the best plays of the week. I like Montgomery going forward, but he is no longer a steal at his current salary of $6,900.
Running Backs: Doug Baldwin, Keenan Allen & J.J. Nelson
Combined DraftKings Points: 56.4
Grade: A
How ironic that the one wide receiver that I wanted the most and the reason why I moved away from Tom Brady to Russell Wilson, would be the most expensive and least productive member of my receiving corps.
At $5,800, Keenan Allen looked like a great play for double-digit targets against a Miami secondary that looked terrible in the preseason. I anticipated that Rivers would target Gates heavily in the red zone as the team was clear in their goal of getting Gates the TD record, but that didnít scare me away from a volume player like Allen in a PPR format.
The absence of John Brown and David Johnson made J.J. Nelson and his $3,800 a must-start in GPP games, as the Cardinals cannot run the ball and you can pass on the Colts. It did not start off well, but Nelson finished the day with five catches for 120 yards and a touchdown. Not too shabby for a near bottom basement priced wideout.
The squeaky wheel narrative on Baldwin getting fed targets after just four in Week 1 proved to be correct, but Wilson was erratic on a rainy afternoon in Seattle and Baldwin managed just 44 yards on six catches.
Tight End: Rob Gronkowski
DraftKings Points: 26.6
Grade: A
There are times that it is worth it to pay up for the best tight end in the league, even if that means paying almost $7,000 for a position filled with viable options for half the price. A bounce-back game against the Saints on turf is one such time, and Gronk did not disappoint with six catches for 116 yards and a touchdown (Very easily could have been two TDs).
Flex: James White
DraftKings Points: 17.6
Grade: A-
When left with $4,000 or less for my flex play, I like to target inexpensive wide receivers or running backs who will see a large number of targets in proportion to their salary. White playing against the Saints in what I anticipated to be a high-scoring game fit that bill, and the shifty pass-catching back for the Patriots came through with 8 catches for 85 yards.
Defense/Special Teams: Seattle
DraftKings Points: 8
Grade: C
There appeared to be much to like about the Seahawks at home against the 49ers this week, with Seattle looking to bounce back after a lopsided loss to Green Bay. The weather looked sloppy, and the 49ers offense appeared anemic at best. Seattle did manage two sacks and a pick, but they did not deliver the defensive score that I anticipated.