I have a confession to make to all of my readers, and it is something that quite frankly, I am a bit embarrassed to admit considering the fact of just how poorly this player has played over the first two weeks of the NFL season. I am not usually a proponent of late-round quarterback, and I tend to be an owner who likes to secure one of the top quarterbacks in the draft, even if it means giving up a late second or early third round pick.

My plan on taking Rodgers or Brady relatively early in my draft was foiled by two owners selecting those players even higher than I anticipated, leaving me no other option but to go with a late round QB strategy and target a few interchangeable QBís in the later rounds to plug and play throughout the year.

Now here comes the confession: Andy Dalton was one of my targets based on the fact that he has loads of skill position talent surrounding him, including a healthy A.J. Green who was the most dominant wide receiver in terms of points per game before going down with a leg injury in 2016. What I didnít anticipate, is the fact that Dalton would regress to a historically bad level, leading his team to eight quarters of touchdown-less football over the first two games of the year.

Perhaps the loss of his two starting tackles has taken away Daltonís confidence, and he is jumpy in the pocket. Perhaps Dalton isnít that good, and the few times he has finished as a No.1 quarterback were really mirages. Regardless of the reason(s) for the early struggles of the Red Rifle, I was fortuitous in that someone else took Dalton ahead of me, and I was able to land Jameis Winston and Philip Rivers.

I didnít share this admission to point out that I was lucky for the path not taken in my draft, but rather, to highlight once again one aspect of DFS that trumps season-long fantasy football. In DFS, if you make a mistake on starting a player like Dalton, you can wipe the slate clean and start fresh next week. Whereas in my season-long league, the Dalton owner is now forced to look for a replacement player in a deep league with few options on the waiver wire.

Here are a few DFS plays that I am targeting in Week 2 of the NFL season. Hopefully, none of these players will go the route of Andy Dalton and drop a goose egg on my DraftKings lineup.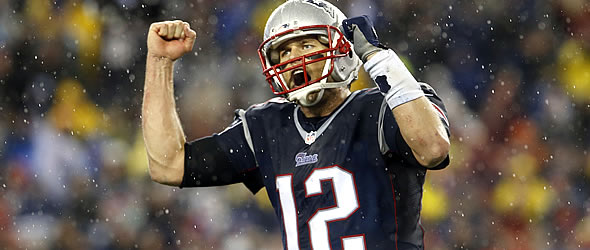 A matchup against the Saints with an over/under in the 50s makes Brady a strong DFS consideration.
Quarterbacks
H2H/Cash - Tom Brady vs. New Orleans ($7,900 on DraftKings)
It may sound crazy to recommend playing the most expensive quarterback after Brady failed to throw a touchdown in the opening night debacle against the Chiefs. But there are more than a few factors in play that make me believe that Brady is destined for a huge game this week, making him an excellent play in all formats and worthy of the high cost.
First, the Saints defense looked terrible despite getting ďrevampedĒ over the offseason, with Sam Bradford posting arguably the best game of his career against the unit on MNF. With ten days to prepare, Brady and the Patriots passing offense should have little issue moving the ball against the Saints in what could be a track meet in what could be a high-scoring game.
That brings me to my second point, as both teams have potent offenses and struggling defenses, and both teams will look avoid starting the season 0-2. Brady is a lock for 276 yards and three scores this weekend, and stacking him with Gronk could be an unstoppable (albeit expensive) duo Week 2.
Other options to consider - Aaron Rodgers @ Atlanta & Matt Ryan vs. Green Bay
GPP - Philip Rivers vs. Miami ($5,800 on DraftKings)
Rivers is an attractive, inexpensive GPP play this week at home against a Miami secondary that struggled against the pass this preseason. With a healthy Keenan Allen and a talented collection of skill position players, Rivers managed to put up three touchdowns on the road against the vaunted Denver Bronco secondary on Monday Night Football. If he was able to do that against a much better defense, I anticipate that Rivers could have a big day against the Phins on Sunday. The only concern for Rivers is a monster day on the ground from Melvin Gordon, who could limit the number of passing touchdowns from the offense.
Other options to consider - Russell Wilson vs. San Francisco & Carson Palmer @ Indy
Fade - Ben Roethlisberger vs. Minnesota ($6,700 on DraftKings)
I may regret this pick as Big Ben has been so much better at home than on the road over the past four seasons, averaging just over 10 more fantasy points in front of the home crowd at Heinz Field.
But it doesnít make sense to invest 1200 more on a player like Roethlisberger over Rivers when the Steelers offense looked out of sync last week, and the Vikings defense is healthy and shut down New Orleans. I could be dead wrong on this one, but there are just too many other good options for the same amount of money or less than to go with Ben this week.
Running Backs
H2H/Cash - Marshawn Lynch vs. New York Jets ($7,900 on DraftKings)
The Sheldon Richardson-less Jets looked anemic against the Bills last week, allowing nearly 200 yards rushing to Shady McCoy and Mike Tolbert (not a typo on Tolbert). In his first game back on the field since coming out of retirement, Beastmode looked quite beastly against the Titans and will run wild against the hapless Jets.
I donít expect him to get more than 20 carries in this game, but I do expect him to be efficient with those touches, and I anticipate him scoring a rushing touchdown in front of the home crowd. I donít like buying into narratives, but I am buying into the homecoming narrative for the Oakland native, with Lynch having a big game on Sunday.
Other options to consider - Ty Montgomery @ Atlanta & Melvin Gordon vs. Miami
GPP - Alvin Kamara vs. New England ($3,500 on DraftKings)
This pick is based on the fact that I anticipate a negative game script for the Saints, forcing Brees to pass the ball more than they would like, giving Kamara a chance to catch at between five and eight passes out of the backfield. It is also based on the fact that he is an inexpensive player with a high ceiling and a low floor, who could have a big game in what appears to be a shootout (The highest over/under this week at 56 combined points).
Other options to consider - James White @ New Orleans & Kerwynn Williams @ Indy
Fade - DeMarco Murray @ Jax ($6,300 on DraftKings)
Murray looked mediocre in what should have been a choice matchup at home against the Raiders and could struggle on the road against a Jacksonville defense that laid the wood against Houston last week.
Wide Receivers
H2H/Cash - Doug Baldwin vs. San Francisco ($6,700 on DraftKings)
Baldwin posted 10 catches for 167 yards and a touchdown at home against the 49ers Week 3 last season. All but one of his big games last year came at home, and nearly 70% of his 1128 yards from 2016 came at Century Link field. This is a bounce-back game for Baldwin and QB Russell Wilson, assuming the team can somewhat address their offensive line woes.
Other options to consider - Keenan Allen vs. Miami & Randall Cobb @ Atlanta
GPP - J.J. Nelson vs. Indy ($3,800 on DraftKings)
Nelson is my inexpensive play in large tournaments this week with the Cardinals taking on an Indy defense that made Jared Goff look like a competent quarterback. Nelson caught five of his six targets for 43 yards and a score last week against the Lions and could put up similar numbers against the Colts. The loss of David Johnson will obviously hurt the Cardinal running game, forcing Palmer to move the ball more through the air. Look for a low ownership rate on Nelson, but a high ceiling perfect for GPPs.
Other options to consider - Martavis Bryant vs. Minnesota & DeSean Jackson vs. Chicago
Fade - Dez Bryant @ Denver ($6,300 on DraftKings)
I imagine that some owners might get cute and start Dez as a contrarian play against the Denver secondary, but it is not something that I will do this week. The Cowboys will run, and run, and run over the Broncos, while Dez will be blanketed by Talib and Harris.
Tight Ends
H2H/Cash - Rob Gronkowski @ New Orleans ($6,900 on DraftKings)
Paying up for tight end goes against the constitution of many DFS players, but in the case of Gronk against the Saints, he is worth it because he will be the nuts Week 2. He should be the foundation of all cash game lineups, as his floor against New Orleans is higher than any other tight end and he could have a Gronkonian monster game in this high-scoring matchup.
Other options to consider - Antonio Gates vs. Miami & Jimmy Graham vs. San Francisco
GPP - Martellus Bennett @ Atlanta ($3,900 on DraftKings)
Next to Gronk, Bennett might have the highest ceiling of any tight end play this week, and he is an excellent value at $3,900 on DK. Vegas sharps anticipate the second-highest point total of the week next to the Patriots/Saints game, and Bennett is a great way to get double-digit touchdown upside and a share of this game.
Other options to consider - Austin Hooper vs. Green Bay & Charles Clay @ Carolina
Fade - Hunter Henry vs. Miami ($3,600 on DraftKings)
Henry was one of my favorite plays entering the season based on his incredible efficiency last year. But if Week 1 is any indication of his usage (zero catches), efficiency means nothing if the player gets no targets. He is a fade until further notice.