My recent string of successful tickets in the DraftKings weekly millionaire contest came to an end this week after my Carson Wentz/Nelson Agholor Eagles stack failed to live up to expectations. After two 30-point performances in his last three games, including a four-touchdown game last week against Washington, Wentz struggled against the 49ers, one of the worst defensive units in the league.
Wentz and the matchup against the 49ers seemed like a no-brainer for fantasy points, with the Eagles dominating teams at home and San Francisco's struggles on the road. The second-year quarterback played well, with two passing touchdowns, 211 yards, and a two-point conversion for 18.14 points. But to win in GPP tournaments you need the top quarterback play of the week, not just a solid performance in a lopsided win against an inferior opponent.
Negative game script is a term that I have often used this season, yet I didn't heed my own advice and was bit in the butt. I should have anticipated that the Eagles defense would dominate rookie QB C.J. Beathard and limit the need for Wentz to put up elite fantasy production. It was a basic mistake that cost me the $20 entry fee, and something that I will hopefully learn from going forward.
The following losing ticket is from last Sunday's millionaire GPP on DraftKings.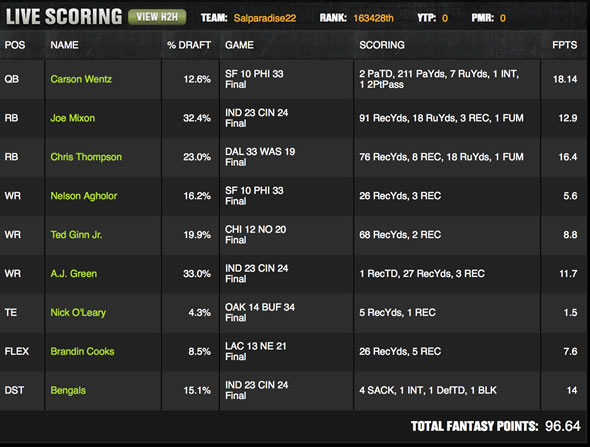 Quarterback: Carson Wentz
Fantasy Points: 18.14
Grade: C-
In hindsight, Wentz is the type of play you want to make it cash games and not large tournaments. I knew that the floor was there, but I had a gut feeling that he and wide receiver Nelson Agholor would take advantage of a suspect secondary that allowed huge games to wide receivers like Sammy Watkins, Robert Woods, and T.Y. Hilton.
But again, game script is key here, as the 49ers played the Rams and Colts tight in both of these matchups, forcing Jared Goff and Jacoby Brissett to attack in the air well into the fourth quarter. I am a fan of Wentz and will continue to use him in the future, but only against teams with defenses that can push the scoring envelope, like Dallas in two weeks.
Running Backs: Joe Mixon and Chris Thompson
Combined Fantasy Points: 29.3
Grade: C
This was my final stand this year with rookie Joe Mixon. After losing money on him in disappointing matchups earlier in the year, I waited patiently to reinsert him into my lineup for the choice home matchup against the Colts, a team that allows the third-most points to opposing running backs. I figured that if he couldn't get it done this week against the lowly Colts, he wouldn't be a player worthy of consideration going forward.
Needless to say, he did not get it done, with a 67-yard reception salvaging a pathetic 11/18 rushing stat line. To be fair it is not all Mixon's fault, with head coach Marvin Jones' (Jeff Fisher 2.0) terrible scheme and a piss-poor offensive line, it would be hard for any running back to have success. I just won't let it happen again on my dime.
Thompson continues to be a value at $5,800 as home run running back with a nice floor due to his work as the receiving back in Washington. With eight catches for 78 yards and an additional 18 yards on the ground, Thompson did exactly what I was hoping from a volume standpoint. Unfortunately, he fumbled and did not reach the end zone, which limited him to 16.4 fantasy points.

Wide Receivers: A.J. Green, Nelson Agholor, and Ted Ginn Jr.
Combined Fantasy Points: 26.1
Grade: F
I think I have doubled the size of the bald spot on my dome, scratching my head while trying to figure out how Green managed just three catches for 27 yards against the Colts. It is the second consecutive game for Green in which he caught just three passes from Andy Dalton and the third time in four games in which he was the recipient of fewer than ten targets. So much for the Bill Lazor effect.
I struggled between Alshon Jeffery and Agholor for my wide receiver stack with Wentz, opting in the end for the cheaper option. Of course Jeffery turned out to be the one to score, but in reality, neither player did enough to help this pathetic roster cash.
Ginn and Brees appear to be finding their rapport with the two connecting on a 40-plus reception in three of their last five games, including a 53-yard bomb this week against the Bears. Unfortunately for me, that catch was just one of two for Ginn in what turned out to be a disappointing day.
Tight End: Nick O'Leary
Fantasy Points: 1.5
Grade: F
There is not much to say about this pick other than I needed a cheap tight end to round out my roster and O'Leary at home against the Raiders seemed like a nice upside play. I anticipated either a monster Jack Doyle-esque game with a score and a ton of volume, or a dud in which O'Leary would get me next to nothing. In keeping with the theme of this dreadful ticket, the latter is what transpired.
Flex: Brandin Cooks
Fantasy Points: 7.6
Grade: D
My contrarian play of the week was Cooks against a stout Chargers secondary that has yet to allow a 100-yard receiver this season. Although Cooks is on pace for 1000 yards and six touchdowns, his salary on DraftKings has slowly dropped from a high Week 2 of $8,200 to just under 7k last week.
I was right on Cooks being a contrarian play (8.5%), but I was wrong in my prediction that he would have a big game at home.
D/ST: Bengals
Fantasy Points: 14
Grade: A
The two defensive units that made the most sense this week were the Bengals and Eagles, as both teams enjoyed home matchups against poor offenses that allow a ton of sacks. Although the Eagles posted more points in the week, the Bengals came through with a respectable 14 points on four sacks and a defensive score.