Before sitting down at my desk with a cup of coffee to write this article, I spent the last two hours hiking around the foothills of my town with my dog, trying to overcome my frustration from last nightís game between the Patriots and Bucs.

Sitting at 1-3 in my season long league of record, I needed Jameis Winston and Mike Evans to have big games in what is likely a must-win week for my team. It seemed like a matchup made in heaven, with the Bucs taking on a Patriots team that had given up the most fantasy points and at least 300 yards passing to all four opponents this season.

As luck would have it, Winston would continue his erratic ways, and Evans would be limited to five catches for 49 yards and no touchdowns. To make matters worse, my opponent started Doug Martin, who nearly matched the production of both Winston and Evans. Oh, I almost forgot, I got cute with my second flex (12-team league with large benches) and started Dwayne Allen with the hope of a flukey touchdown (zero targets).

We all know the saying in the industry that ďno one cares about your fantasy team,Ē and frankly, Iím sure most of you reading this are thinking the same thing about my pathetic story.

The reason I shared this with you is not to get sympathy, but rather, to remind all of you that this game is supposed to be fun, and it is beyond silly to ruin your evening over something as inconsequential as fantasy football. It took two hours of hiking for me to clear my head and gain a little perspective. On a positive note, at least I got some much-needed exercise and burned some calories.

Back to the task at hand. Here are a few DFS plays I am targeting this week: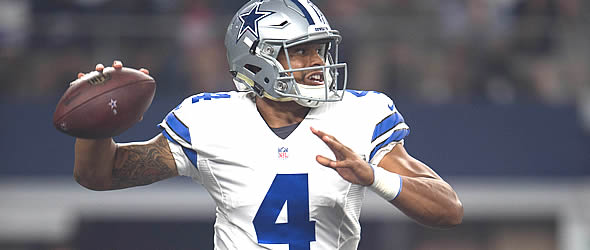 Dak Prescott ranks 3rd in our consistency rankings behind only Tom Brady and Aaron Rodgers.
Quarterbacks
H2H/Cash - Dak Prescott vs. Green Bay ($6,800 on DraftKings)
Prescott has been a model of consistency this season, scoring at least 17 points in all four of his matchups against challenging opponents. After a string of tough games that included matchups against the Giants, Cardinals, and Broncos, Dak and the Boys should feast on a Packers team that gave up 212 yards and two touchdowns on 21-of-27 passing to Andy Dalton. Donít be fooled by Green Bayís ranking of 29th-fewest points against opposing QBs; those numbers are skewed by Mike Glennon and Russell Wilsonís lousy opening week performance.
Other options to consider - Aaron Rodgers @ Dallas & Eli Manning vs. LA Chargers
GPP - Carson Palmer @ Philadelphia ($5,900 on DraftKings)
An inexpensive play who has thrown for over 325 yards in each of his last three games, highlighted by a 325, two-touchdown game against Dallas Week 3. Although no other quarterback has been sacked more than Palmer, the Eagles will once again be without Fletcher Cox and they are decimated with injuries in the secondary.
Other options to consider - Jay Cutler vs. Tennessee & Brian Hoyer @ Indianapolis
Fade - Philip Rivers @ NY Giants ($5,100 on DraftKings)
Rivers playing an early road game after a cross-country trip is a risky play, especially against a Giants team looking for their first win. If this game were played at home (A loose sense of the term for the Chargers), I would feel more comfortable.
Running Backs
H2H/Cash - Frank Gore vs. San Francisco ($4,400 on DraftKings)
At just $4,400, Frank Gore is an excellent RB2 option for cash game owners looking for a touchdown and 80 yards. Old man Gore will have a little extra pep in his step playing against his old team for the first time, and the Niners run defense has given up the most points to opposing RBís this year.
Other options to consider - LeíVeon Bell vs. Jacksonville & Leonard Fournette @ Pittsburgh
GPP - Bilal Powell @ Cleveland ($6,200 on DraftKings)
Powell was a GPP game changer last week against the Jags with Matt Forte out of the lineup with a toe injury. The Browns are not a pushover against the run like in years past (19th most points allowed in 2017), but four RBís have posted double-digit points against Cleveland this season, and the run game will continue to be an area of focus for the Jets.
Other options to consider - Thomas Rawls @ LA Rams & Aaron Jones @ Dallas
Wide Receivers
H2H/Cash -Dez Bryant vs. Green Bay ($6,500 on DraftKings)
The Dak/Dez stack (say that five times fast) will be a centerpiece on all of my cash games, and possibly some of my GPP tickets. Bryant is a $7500 wide receiver with a deflated salary based on average performances against difficult defenses. He is a lock for double-digit targets with high touchdown upside in what could be a very high scoring game.
Other options to consider - Jordy Nelson @ Dallas & Larry Fitzgerald @ Philly
GPP - Jaron Brown @ Philly ($4,500 on DraftKings)
In tournaments I like to use inexpensive players that receive sizable target share relative to their price. It is even more enticing when those players have attractive matchups against teams with poor secondaries like the Eagles. I anticipate Brown will have a high ownership amount based on his $4,500 salary and the fact that he has double-digit targets in two of his last three games, but he is still worth a play this week against the Eagles.
Other options to consider - Jermaine Kearse @ Cleveland & Pierre Garcon @ Indianapolis
Fade - Antonio Brown vs. Jacksonville ($8,400 on DraftKings)
It would not surprise me to see Brown come through with a big game at home after a regrettable 4/34 game last week at Baltimore. But with a matchup opposite Jalen Ramsay, I donít think Brown is worth the risk at $8,400.
Tight End
H2H/Cash - Evan Engram vs. L.A. Chargers ($4,000 on DraftKings)
Engram isnít the steal he was last week now that he entered the 4k plateau, but his volume and usage at a tricky position cannot be ignored. Although the Chargers have yet to allow a touchdown to an opposing tight end, Zack Ertzís 5/81 line from last week is not out of the possibility for Engram in Week 5.
Other options to consider - Austin Seferian-Jenkins @ Cleveland & Jesse James vs. Jacksonville
GPP - Hunter Henry ($3,800 on DraftKings)
With goose eggs in two of his first four games, Henry is the definition of a high risk, high reward play this week against a Giants team that has allowed a whopping five touchdowns this year. You are rolling the dice here, as there is a chance that Antonio Gates, and not Henry, has a big day against the G-Men. Iím betting on the younger and more talented TE.
Other options to consider - Tyler Kroft vs. Buffalo & Martellus Bennett @ Dallas
Fade - Delanie Walker @ Miami ($4,800 on DraftKings)
The health of Marcus Mariotta and the chance of him leaving the game early due to his strained hamstring makes Walker too risky this week, even in a nice matchup against Miami.

Defense & Special Teams
Giants vs. Chargers ($3,600)
Rivers tends to force bad passes on the road, and the New York defense is better than they have played so far this season. I will go with Pittsburgh over the Giants if Jason Pierre-Paul is ruled out before the game.