This weekly series will provide you with in-depth analysis of key injuries and their resultant implications on fantasy football. This information comes straight from my perspective as a Physical Therapist and collegiate Athletic Trainer of ten years. Over that time, I have seen and treated almost every injury that can occur in this violent sport. Hopefully this piece gives you a little more insight into the anatomy of an injury.
---
Player: Kurt Warner
Injury: Concussion
Healing Time: 1-2
Impact on the Field: Another week, another concussion. It seems like lately the only things I'm writing about are broken ribs or concussions. In Warner's case, he was unable to finish his game, which means he was dinged pretty good. I wouldn't be shocked to see him miss this week, considering his age and prior injury history,. Wait to see if he is cleared before starting him.
Player: Ladell Betts
Injury: MCL sprain/ACL tear
Healing Time: 2-4 weeks
Impact on the Field: Betts was dealt a blow to the outside of his knee causing a stress to the inner and outer ligaments. Unfortunately, he will be out for the rest of the year. This injury comes at a bad time since Clinton Portis is also out with concussion symptoms. The entire Redskins team is a mess, so forget about any backup running back having value. Stay away from the Washington offense for the rest of the season.
Player: Tony Romo
Injury: Bruised back
Healing Time: 1-3 weeks
Impact on the Field: Romo injured his back very early in last week's game. He was a bit shaken, but was able to come back to finish the game. He was noticeably affected as he seemed a bit wild with his throws, but I see no reason why he would miss this week's matchup. There is no question he'll be sore, but with the help of painkillers and medicine he should be able to suit up for Thanksgiving.
Player: Ben Roethlisberger
Injury: Concussion
Healing Time: 1-3 weeks
Impact on the Field: Here we go again. I'm not sure what to make of this injury. Big Ben was clearly injured early in the game, then returned to competition, then exited again with continuing symptoms. My best guess is that they clear him to play this week and that he is good to go. He's had a great year so far, and he will be highly motivated after coming off a loss. He should post good numbers once again.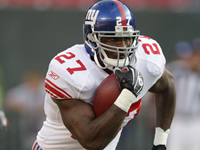 The injury bug bites Jacobs again.
Player: Brandon Jacobs
Injury: Knee sprain
Healing Time: 1-2 weeks
Impact on the Field: If you've read my column before, you know that I am not a big fan of Jacobs. He has some talent, but I believe he is more a product of a very good New York offensive line. If he were on a team like the Rams, he would not be nearly as good as Steven Jackson is. Jacobs runs to contact and he is a big man. Running backs are not meant to absorb that type of punishment consistently, and they won't last long if they keep that up. Jacobs injured his knee last Sunday and did not return to the game. It didn't look like a bad injury, but with his history of injuries, I wouldn't be surprised to see him sit out this week. Check the Thursday injury reports before you install him in your lineup.
Player: Matthew Stafford
Injury: Bruised left arm
Healing Time: 2-4 weeks
Impact on the Field: It's tough to tell exactly what type of arm injury Stafford has. He was driven into the ground, which can often cause a separated AC joint. But the injury is not listed that way. I 'm sticking with my gut reaction and guessing that he suffered a separated shoulder. These injuries are painful but rarely cause problems for more than a week. I anticipate Stafford missing this week and playing the following week. That means that Culpepper will start on Thanksgiving, and he should be able to lock onto Calvin Johnson for some long bombs. All you Johnson owners, enjoy the production this week with Al Harris now out for the year.
Player: Steven Jackson
Injury: Back strain
Healing Time: 2-4 weeks
Impact on the Field: Steven Jackson injured a muscle in his back and has been sore for the last few days. In most cases this is a non-issue, but with Jackson it is worth noting—he has never been the most durable player out there. I am speculating that he will play, but it may be at less than 100 percent. Back strains take time to heal, so it's not out of the question for him to be limited the next few weeks. I doubt he misses any time, however.
Player: Marshawn Lynch
Injury: Bruised shoulder/sprained shoulder
Healing Time: 1-3 weeks
Impact on the Field: Lynch was in so much pain after his injury that he was unable to continue playing. On Monday he was sent for an MRI, which came back negative. The mobility in his arm will be limited for at least a week and he will have some pain beyond that. This is a tough situation to assess. Lynch has not been very good this year and his backup has out-produced him. If Lynch has near-full motion in his shoulder, I expect him to play. But this will probably come down to a game-time decision. If Lynch sits, Jackson will be a very solid fill-in.
Player: Marc Bulger
Injury: Tibial plateau fracture
Healing Time: 8-12 weeks
Impact on the Field: Bulger got beat up pretty good last week. He strained his groin, bruised his hand, and, most importantly, suffered a tibial plateau fracture. That last injury affects the area where the top of the shin bones meets the upper leg bone, forming the knee joint. When a force to the foot drives the tibia upward, it can slam into the femur bone causing a fracture. Bulger is reported as being out 3-6 weeks, but there is no chance of such a quick return. He will be out for the rest of the year and you can downgrade every St. Louis skill position player because of it—not that the wide receivers were that useful anyway. Jackson also gets a slight downgrade since they won't be in scoring position as often with Kyle Boller at the helm.