This training camp series will provide you with in-depth analysis of key injuries and their resultant implications on a players draft value. This information comes straight from my perspective as a physical therapist and collegiate athletic trainer of ten years. Over that time, I have seen and treated almost every injury that can occur in this violent sport. Hopefully this piece gives you a little more insight into the anatomy of an injury.
---
Player: Peyton Manning
Injury: Disc excision, cervical spine
Healing time: 12-16 weeks
Impact on your cheatsheet: Down a couple of spots. Manning is a creature of habit, and not getting all those practice reps will have an impact through the first couple of games. I still believe he will be ready by the start of the season, but his final 2011 numbers could be affected. Iím dropping him behind Rivers and Brady on my cheatsheet.
Player: Ben Roethlisberger
Injury: Bruised hand and hip
Healing time: Day to day
Impact on your cheatsheet: No change. Roethlisberger is susceptible to contusions because of the style of football he plays. He was dinged up in his first preseason game Friday night and had ice on multiple body parts. He is fine and settles in somewhere between spots 7 and 10 in the QB rankings.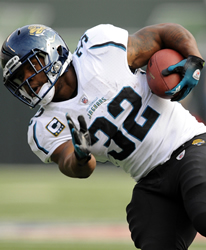 Concerns over MJD's knee are getting out of hand.
Player: Maurice Jones-Drew
Injury: Meniscectomy
Healing time: Day to day
Impact on your cheatsheet: Undervalued. This injury has gotten more pub without all the facts being there. Lots of players have bone-on-bone conditionsóif that is what Jones-Drew actually has. I think his value is dropping enough that he now becomes a value play. He will still get a ton of carries and Rashad Jennings remains just a handcuff.
Player: Arian Foster
Injury: Hamstring
Healing time: A few days
Impact on your cheatsheet: No Change. Foster is arguably the first pick in any redraft league, and while hamstring injuries vary in degrees of seriousness, there's no indication that this Grade 1 injury (the least severe) will keep the Texans running back out of training camp for an extended period of time. If Foster was the top back in your rankings before this injury, there's no reason to move him out of that spot unless the hamstring becomes an ongoing issue.
Player: Darren McFadden
Injury: Cracked orbital bone
Healing time: Two weeks+
Impact on your cheatsheet: No change. While itís never good to miss practice time, McFadden is familiar with the offense and this injury shouldnít have any lingering effect once he comes back. He remains a low-end first-round pick.
Player: Brandon Marshall
Injury: Multiple stabbings
Healing time: Healed
Impact on your cheatsheet: No change. This injury and Marshallís overall mental well-being are in question. Besides the stab wounds, he has been diagnosed with a personality disorder. His value is dropping enough, however, that heís becoming a good bargain. He will still be the main target for Chad Henne, and based on his ADP, I think he could have a bounce-back year. Touchdowns can be fluky. Targets for wide receivers are not.
Player: Jeremy Maclin
Injury: Unknown, mononucleosis
Healing time: Unknown
Impact on your cheatsheet: Red flag. Whether this is even the right diagnosis or not, the fact remains that Maclin is still not on the field and has lost a lot of weight. These things prevent a player from being successful at the beginning of the season. He might be perfectly fine towards the middle or later part of the year, but that doesnít help an owner drafting him now with hopes of a full year of production. And if you think the Eaglesí signing of Steve Smith wasnít a reaction to Maclinís health issues, think again. He is slipping down my draft board.
Player: Plaxico Burress
Injury: Sprained ankle
Healing time: 1 week
Impact on your cheatsheet: No change. Burressís ankle just needs a few days to get better. They keep trotting him out there at less than 100% and the ankle keeps swelling. Either way, swelling or no swelling, he will be fine.
Player: Mike Sims-Walker
Injury: Groin strain
Healing time: 2 weeks
Impact on your cheatsheet: Down a few spots. Once again, Sims-Walker is doubtful to play in his next game. This injury should take no more than two weeks to heal, but it makes me further question his durability. I donít like his missing valuable practice time with Bradford, either. He is a high risk, high reward pick.
Player: Calvin Johnson
Injury: Bruised shoulder
Healing time: Day to day
Impact on your cheatsheet: No change. The one thing to worry about with Calvin is that he gets dinged up a lot. I donít know if itís his body control or just the fact that he is so big, but he gets an inordinate amount of bumps and bruises after he catches the ball. I doubt he misses any time, but he does get injured a little more than I would like to see. I would anticipate his having a monster year though, if he can stay healthy.
Player: Chris Cooley
Injury: Knee
Healing time: 2 weeks+
Impact on your cheatsheet: Red flag. Cooley had off-season knee surgery and unfortunately is still not right. I usually like Shanahan tight ends, and Cooley is no exception, but heís still struggling with his rehab, which kicks him outside of the top 10 TEs. Furthermore, Shanahan would not confirm whether Cooley will be ready for Week 1.