Although there are many more things to consider in dynasty leagues compared to redraft leagues, there is a big similarity involving acquiring and trading away assets. In both formats you want to (normally) sell high and buy low. The great thing about dynasty leagues is you can choose to make moves like this in February and March when hardcore owners are doing everything they can to improve their teams.

I previously highlighted 5 players I was looking to buy in dynasty formats, so it only makes sense to look at the other side of the coin. While each of the following players may very well have a good season (or more) left, their current situation makes a great time to sell while you can still maximize value, and avoiding their likely decline in performance. Picture these players as being on or near the top of a steep mountain, about to go over the other side and tumble down the sharp decline.

1. QB Matthew Stafford, DET: Stafford was having a very solid, yet unspectacular fantasy year up until Week 17 (meaningless in most leagues), where he exploded for his second-best fantasy game of the season. This game vaulted him into the top 10 among fantasy QBs and thus, gives his owners a little more leverage when looking to shop him this off-season.

While I am a fan of Stafford's toughness and overall game, he has never been an elite fantasy asset, although he's had several years of top 10 production. This off-season represents perhaps the best value Stafford has had in years while the likelihood of him going anywhere but down is very low.

For the Detroit Lions, it has become painfully clear to just about everyone that the main ingredient the team is missing is a consistent run game. In 2017 the Lions were dead last in rushing yards and rushing yards per attempt while attempting the second fewest rushes in the NFL. On the flip side, they finished top 10 in pass attempts, as they have the past several years.

With a new defensive-minded coach coming in (Matt Patricia) it is unfathomable to think the Lions will simply continue their pass-heavy ways after such a lack of success with that formula. A more balanced attack may find a few more wins but the chances Stafford increases or even comes close to his fantasy production in 2017 is unlikely. Add in an uninspiring receiving corps that lacks a true No.1 wide receiver and an offensive line that got Stafford sacked a career-high 47 times last season and it appears Stafford's fantasy production is about to take a nose dive.

Depending on your league type and size, quarterbacks may not be valued highly but Stafford is still barely just 30 years old and coming off a very productive year so you certainly should have some suitors in your league. Stafford owners should look to trade down to a lesser QB for a draft pick or young player in return. For example, I've moved Stafford for Mitchell Trubisky and an early second round rookie draft pick in one league. Trading down at the QB position in order to acquire more valuable assets is a strategy I would advocate and it seems like the perfect time to employ this option with Stafford.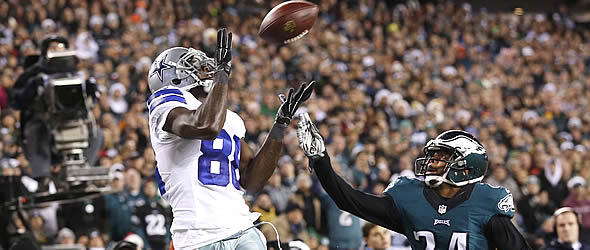 Bryant failed to record a 100-yard game and appears to have lost the ability to separate from DBs.
2. WR Dez Bryant, DAL: Unlike the other players on this list Bryant had a subpar season in 2017 so he's not exactly a sell-high candidate. Luckily Bryant carries enough history and name recognition in the dynasty community to still hold significant value.
The selling points on Bryant are his raw talent, his past performance as a top 10 fantasy receiver, and the fact that he is still just 29 years old. While you should certainly emphasize these points while trying to move him, Bryant is all but washed up and anywhere I own a share of him I'm trying to move him as soon as possible.
On paper, Dez was pretty awful this year. For a guy who got over 130 targets on the season, Bryant failed to record a 100-yard game and topped 75 yards just once despite playing in all 16 games. For the third year in a row, Bryant's catch percentage was under 55% and his yards per reception (12.1) were the lowest of his eight-year career. In standard leagues Bryant was barely a low-end WR2 and his output in PPR leagues was not much better.
Regardless of the stats, it was his play on the field that stood out to me and screamed "sell me ASAP". Bryant, while still bigger and stronger than most defensive backs, never seemed to separate from the most average of competition. Most of the catches Dez made were jump balls or plays where he had to muscle the ball away from opposing defenders. He was clearly no longer able to beat most defenses with speed or quickness and if I had to use one word to describe him I'd probably say he looked old.
On a team that was desperately lacking receiving talent, especially when Ezekiel Elliot was out, Bryant should have had 155+ targets but most games, Dak Prescott seemed hesitant to throw in Bryant's direction and I don't exactly blame him. When the defensive back is draped all over your receiver, I wouldn't be forcing many passes to him either.
Whether it was the results of past injuries or he simply just lost a step, Bryant looked like a very average NFL wide receiver in 2017. Throw in more rumblings of him being a distraction and you have the makings of a once elite receiver about to decline into the sunset. While you are certainly not going to get the return you could from trading him 1-2 years ago, there are still plenty of owners out there that will think 2017 was a fluke and be willing to pay high WR2 value for a player that has posted solid WR1 seasons in the past. I'd be more than happy to dump him at that price and am doing so wherever I can.
3. RB Lamar Miller, HOU: Similar to Bryant, Miller's 2017 was a subpar season, however unlike Bryant, Miller finished top 15 at his position in overall production, making for a great sell to owners not realizing how mediocre the Texans' running back season actually was.
Up through Week 13. Miller was actually having a good (not great), consistent fantasy year, averaging about 11.5 fantasy points per game (standard scoring), 6 total touchdowns, and contributing nicely in the passing game with 31 receptions. Then Week 14 came and Miller's production and usage both took massive hits, totaling just 195 yards and zero touchdowns in the final four games combined. It seems, the Texans coaches were giving up on Miller and it may be a sign of things to come.
On the year, Miller failed to run for 1,000 yards and his 3.7 yards per rushing attempt were the lowest of his career by a significant margin. While still just 27 years old (when next season starts), the book on Miller seems to be out. He is a solid talent that thrives as a part of a committee (as he was in Miami) but as a workhorse back, Miller's production drops dramatically and he simply does not have what it takes to be a 18+ touch a game player. The experiment of making Miller a workhorse, has been a relative failure and it is clear he is at his best when kept to a minimal workload. While Miller looks to be a potential 2018 cut candidate for the Texans, the landing spot probably will not matter too much, as he will most likely become a change-of-pace back rather than a bell-cow of any team.
With Miller ending the season as a top 15 fantasy back and being relatively young, there are still quite a few owners that see him as a top 20 dynasty back. While he may still have some juice left, I see him being much more valuable to an NFL team than he will be to a fantasy team going forward, with his best fantasy seasons already behind him. Cash in while you still can.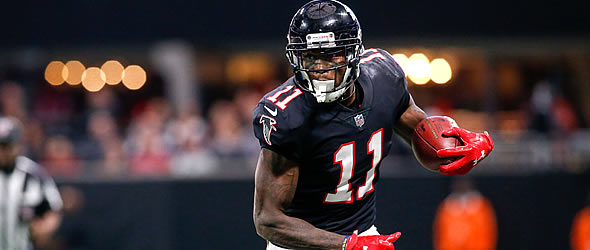 It might be painful, this could be the right to time to sell Julio in order to maximize his return value.
4. WR Julio Jones, ATL: I know this one won't be a very popular choice because Julio is beloved in the fantasy community, which he should be, but hear me out.
Jones is coming off an overall solid fantasy season and is still relatively young enough (29) to be considered a top 5 fantasy receiver in most, if not all, dynasty leagues. You can likely get quite the haul of picks and players for Julio without much effort. While I do not expect a complete, drastic decline right away, I do believe the time is right to sell Julio while you can still get maximum value in return.
While Julio has been productive every healthy year of his career, there are two things that stand out to me regarding his productivity.
First, for his size and talent, he has always been an underachiever in the touchdown area. He's posted just one year (2012) of double digit touchdowns (10), and just 3 touchdowns this past season, despite playing all 16 games. Whether this is the Atlanta scheme, defenses taking him away, or something else entirely, there are now seven seasons of evidence that shows Julio is simply not a touchdown machine for an elite receiver.
Secondly, while Julio normally gets consistent targets, he is more "streaky" than people might think. Take for example, in his best two games combined over the past two seasons Julio has accumulated 553 yards and 3 touchdowns. If you had him in your lineup those weeks, which you should have, he probably single-handedly won you those games. Looking at his other game logs is not quite as exciting, with just 4 other double digit fantasy point days in 2017 (standard scoring).
This is not to say Julio was not valuable, he certainly was, but many people look at him (in terms of production) as more of an Antonio Brown when I would argue he is closer to a Brandin Cooks. If you come to grips with the fact that you will probably miss out on one-two huge games in 2018, but also avoid four-five "dud" games, it may make it mentally easier for you to pull the trigger on trading him.
My last point is more speculation but something that does have some basis in history and fact. Julio has had a history of lower body injuries. He is also 6'3'', 220 pounds with a whole lot of power exerted and a whole lot of miles on his legs/ankles/feet etc. While he is not much past his prime, Julio has the type of body that is prone to break down earlier than smaller, lighter players at his position. While any player that receives as much work as Julio does has an increased chance of injury compared to others, the combination of volume, injury history, age, and body type lead me to believe the end may be several years closer than what many others may believe.
If you own a dynasty team that is likely 2-3 players away, or perhaps rebuilding a bit, Julio is a perfect centerpiece to trade away now while you can get several valuable players in return, at the same time alleviating some of the inherent risk he carries.
5. RB LeSean McCoy, BUF: For eight seasons now McCoy has been one of the most consistent players in all of fantasy football, rarely falling out of the top 8 fantasy backs in the game and often finishing in the top 5. 2017 was another great year for the Bills starting running back, finishing in the top 10 for the position in all scoring systems. While McCoy has not shown any major signs of slowing down, he did post a career-low in yards per attempt (4.0) and was not as consistent on a week-to-week basis.
While I'm still a big fan of "Shady" my logic in looking to move him this off-season is simple; this seems like the last time you'll be able to get max value for him and I'd rather be a year too early in predicting his decline than a year too late.
McCoy will turn 30 years old before Week 1 this coming season, and while there have been several backs to have successful seasons into their 30's, it's a relatively short list. With nearly 2700 total touches in his career, McCoy has a lot of mileage on his legs and while he hasn't missed a ton of games to injury, he does have a number of lower body injuries on his resume, especially in the foot and ankle.
Barring an unforeseen trade, McCoy will remain on the Bills at least another year and this too limits his upside as the team is in a state of flux at the quarterback position and will likely field an offensive line that performs below the league average, especially with the recent retirement of Center Eric Wood.
Holding onto 30 year-old running backs in a dynasty league is like gambling at a casino; you may win a couple hands here and there but in the end the house always wins. With a solid 2017 fantasy finish and great name value, McCoy is at a point where you can really maximize his value, especially to a fantasy owner that may be on the cusp of a title run and could use a veteran stud to shore up their roster.
While you should certainly not be giving him away for peanuts, I'd be happy to move McCoy at a low-to-mid-tier RB1 value sometime this off-season. All NFL RBs carry some risk but we've seen before that there can be a drastic and sudden decline in backs over 30. With this in mind, it's much better to get solid value for McCoy before it's too late.