With the NFL Draft a little more than a week away it's the time of year where dynasty owners really dig in on their rookie research before landing spots are fully determined. For this year's rookie class it is even more vital than recent years to get a deeper sense of the talent and shortcomings of these players because there is no real consensus on the top players.

More than any year in recent memory, rookie rankings all over the map. While there is no real consensus, this should not be mistaken for saying this is a weak class, because it is not. On the contrary, this could be an elite year for wide receivers and tight ends and there are bound to be a few running backs who grab starting jobs, making them relevant as well.

I will be doing a Version 2 of this mock after the NFL Draft so this list could very well change, perhaps dramatically. But for now, these are the players I think deserve to be first round rookie picks in standard dynasty leagues. For this exercise I am assuming traditional scoring and league setup (no super-flex, etc.) for a twelve-team league.


1.01 - N'Keal Harry, WR, Arizona State

Harry is my number one rookie and only a bad landing spot with poor draft capital could change my opinion. Harry offers both a high floor and a high ceiling as a receiver who can play all over the formation and offers the skillset of both a high volume target and a big play threat. Harry has excellent size (6'2'', 228) and tested very well at the combine (4.53 40, 38.5'' vertical, 122'' broad jump) for a player that many worried was athletically average for an NFL wideout. While Harry may not have many elite traits he is polished, has a proven track record of production, possesses great run after the catch ability, and can come up with the highlight reel play at any moment. Harry has the tools to be a team's number one receiver so landing spot could really vault him into a top 20 dynasty WR ranking immediately and could contribute as early as year one. Harry is an excellent choice at 1.01 for both conservative dynasty owners and those that prefer to aim for high upside.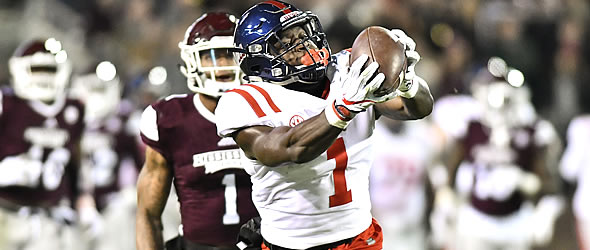 A.J. Brown can be a long term cornerstone to your dynasty team as a high-end WR2.
1.02 - A.J. Brown, WR, Ole Miss

Brown is one of the safest picks in this year's draft even if he may not possess the extreme upside as some of the other "freaks" in this class. As a natural big slot receiver, Brown should fit in right away with any NFL offense and could absolutely thrive if paired with the right quarterback. Much like Harry, I don't see truly elite traits with Brown but also very little weaknesses. Brown has the size (6', 225), speed (4.49), body control, quickness, instincts, and competitiveness to start right away in the league and type of game that translates well to the modern NFL. In the right system I could see Brown being a perennial 90+ catch threat as a safety blanket over the middle, especially if there are other weapons around him to take defensive attention away. Some people don't think Brown is a sexy pick this early I prefer to hit a safe double or triple rather than potentially strike out at this point in rookie drafts. Brown can be a long term cornerstone to your dynasty team as a high-end WR2 with low-end WR1 upside.

1.03 - Hakeem Butler, WR, Iowa State

At picks 3-6, we get to the "sexy but scary" section of the draft. Topping the list is Hakeem Butler who, on paper looks like a can't miss prospect at 6'5'', 227 pounds, enormous hands and wingspan, and runs a sub 4.5 forty. He has lined up all over the field, and finished top 10 in receiving yards and yards per reception last year so you have to wonder why he's not the consensus top pick this in rookie drafts? For starters, Butler dropped a whole lot of passes, especially for someone with such a big catch radius and size advantage. Secondly, for a receiver who played against average competition most of his college career why did Butler only have one productive season? Bottom line is, considering his natural physical gifts Butler probably should have showed a lot sooner and a lot bigger. While his upside is undeniable, we have seen quite a few receivers in recent years with similar profiles disappear quickly after getting drafted. If Butler breaks that trend he's probably a top 10 dynasty WR but the bust potential is concerning.

1.04 – D.K. Metcalf, WR, Ole Miss.

Possibly the most intriguing/controversial prospect in this year's class, DK Metcalf is a generational talent or a bust without much room for anything in between. At 6'3'', 228, with massive arms, power-lifter strength, and track athlete speed (4.33) and jumping ability (40.5 vert, 134'' broad), Metcalf is historically one of the biggest physical freak in NFL history. Similar to Butler, the question is why is he not a consensus first overall pick? Like Butler, Metcalf had limited college production and was not even the go-to receiver on his own college team (A.J. Brown was).

Unlike Butler, Metcalf also has another negative going for him, his extensive injury history which includes a broken foot and a season-ending neck injury last year. While Metcalf can out run or out muscle just about any opponent he will face, even at the NFL level, he is still unrefined as a receiver and must learn the finer points of the position if he wants to have any sort of production consistency. After running a limited route tree in college Metcalf will face a steep learning curve at the next level and landing spot will be crucial in the way his new team plans to use and develop him. While he should certainly make some splash plays as a rookie, we may have to wait a year or two to really see if Metcalf has staying power in the league or is just another elite athlete who flamed out as a result of not being able to hone his craft.

1.05 - Josh Jacobs, RB, Alabama

I do not love Jacobs as a prospect in general but he probably has the best chance of the running back group to be a legit fantasy factor and therefore I cannot see him slipping past this point in rookie drafts unless his landing spot is negative. Jacobs appears to be an average athlete on paper but looks the part of a three-down back when watching game tape. While splitting carries his entire college career at Alabama, Jacobs put up nice numbers in limited action but he also played with excellent blockers and skill position players around him, so that must be considered as well. In Jacobs favor was the fact that he was an excellent receiver out of the backfield, and even occasionally the slot position, yet also ran with power and violence up the middle, and burst to get to the outside as well. With excellent patience to let his blocks form, Jacobs seems to have that something special at the position which often can't be quantified on paper, yet when he gets the ball you can kind of just see it. With limited tread missing from his tires and the versatility to get a lot of playing time right away, Jacobs will likely be a top 50 pick in the NFL Draft and perhaps even go in the first round. With his skill set and probable draft capital, Jacobs should be a lock to be a top 5 pick in most rookie drafts and might go as high as pick one in the right circumstance.

1.06 - Miles Sanders, RB, Penn State

Sanders is a tough prospect to gauge but I tend to favor him more than most backs. Stuck behind Saquan Barkley for most of his career, Sanders finally got to show this past season and had a very good effort (1,274 rushing yards, 9 touchdowns) behind a sub-par offensive line. Like Jacobs, Sanders has low mileage and managed to mostly stay healthy in college. Also like Jacobs, Sanders has the look of a back that could develop into a three-down player at the next level, especially if drafted into a favorable situation. Unlike Jacobs, Sanders is an excellent athlete and proved himself at the combine with a 4.49 40, a 6.89 three-cone, and a 36 inch vertical jump. Possessing excellent agility and elusiveness with occasional power to match, Sanders must become more consistent to really become an impact player at the next level. He is the sexier pick at RB but Jacobs will likely have better draft capital and therefore might be a slightly safer dynasty choice, depending on landing spot of course.

1.07 - T.J. Hockenson, TE, Iowa

Hockenson is one of my very favorite prospects and might end up being a top 12 pick in the real NFL draft. Hockenson simply does it all. He is an elite blocker but also possesses elite receiving skills for the position as well. He is competitive, athletic (although not elite), and other than maybe needing to put on a few more pounds at the next level, a pretty flawless prospect. As the 2018 Mackey award-winner (top TE in nation), Hockenson won the award despite having to share the position with perhaps another NFL first round pick, Noah Fant. While it is true that tight ends typically take a couple years (or longer) to develop into consistent and productive fantasy players, Hockenson blocks at such a high level that getting snaps early in his career will not be a problem. His dual threat ability makes his landing spot less of a concern as it would be for others. I look for Hockenson to make an impact in year one and I would go as far as to say he is in my top 12 dynasty tight ends right now, even before he even gets drafted.

1.08 - Kyler Murray, QB, Oklahoma

The only quarterback worthy of a first round pick, you can make the argument for Murray being the first player selected in super-flex and two-QB dynasty league rookie drafts. Murray is widely believed to be the first player selected in the NFL Draft and will likely be the Week 1 starter for the Cardinals. Murray has elite athleticism for the position, much like Lamar Jackson who made a fantasy splash last season, but unlike Jackson, Murray has shown near elite accuracy and play-making with his arm as well. Murray will no doubt frustrate opposing defenses much like a guy he is often compared to, Russell Wilson. The main concern is his size, or lack thereof (5'10'', 207), but he seems (much like Wilson) to avoid the big hit and therefore preserve himself to fight another day. While critics will also knock him having just one productive college year, his extreme talent is just too unique to pass up on, both in NFL and dynasty circles. With undoubtedly high draft capital, a team (Arizona) will build around Murray and therefore he should be not only a solid long-term investment, but also an immediate impact player due to his athleticism. I look for Murray to crack the top 20 fantasy QB's in year one and be a valuable fantasy asset relatively quickly.

1.09 - Noah Fant, TE, Iowa

Fant is close to a polar opposite of his teammate T.J. Hockenson yet they will probably both go in the first round of the NFL and dynasty rookie drafts. Fant is nowhere near the blocker Hockenson is and will likely have to be put into an Evan Engram or Trey Burton role in order to make an impact in the NFL, but with today's creative play-callers and spread-type offenses, Fant should have no problem being a fantasy stud at the position. Also unlike Hockenson, Fant is a freak athlete for someone his size, absolutely crushing the combine, running a 4.5 40, jumping 39.5'', and clocking in at an astonishing 6.81 three-cone despite being 6'4'', 250 pounds. An ex-basketball player (I know, it's cliché by now), Fant has amazing agility, footwork, burst, and the jumping ability to be an endzone stud. Despite sharing the glory with Hockenson, Fant managed nice production in college and even broke out at an earlier age than his teammate. Landing spot will be important for Fant so I could see him climbing or dropping a few spots in a rookie draft, but his upside is certainly a top 5 player at his position.

1.10 - Kelvin Harmon, WR, NC State

Harmon is similar to A.J. Brown in that he is not necessarily a sexy pick but his floor appears so high that it is hard to rank him much lower in this year's class. Harmon is definitely not an elite athlete, which is why he should fall to the end of first rounds in rookie drafts, but he knows how to play the position, has good size (6'2'', 220), and has great toughness and competitiveness to make tough catches and be a target monster at the NFL level. While I don't think Harmon has the right skill set to be an NFL team's true alpha dog receiver, he could certainly lead a team in targets and receptions as part of a strong receiving corps that complements each other well.

A comparison I like is Keenan Allen. Both players are average athletically but have similar size and are productive because of their toughness and knowing the nuances of the position. Allen landed in an ideal spot as part of a high-volume passing attack where the team has just enough around him to take pressure off but not enough to limit his targets severely. I see Allen's career to this point as the ceiling for Harmon, which would be an excellent ceiling of course. If Harmon can land in a similar situation then I would boost him up this list, but if not I think end of the first in a dynasty rookie draft is more realistic.

1.11 - David Montgomery, RB, Iowa State

Several months ago when I was just getting started researching rookies I fell in love with Montgomery because of his production, tackle-breaking, and pass-catching ability - all of which are among the best in this class. Montgomery has great balance, patience, and the requisite size to be a three-down NFL back so his upside is relatively high in this draft class. What keeps Montgomery from being closer to the top of this mock is that he appears to be an average or even below average athlete by NFL standards. Montgomery doesn't have great burst, nor long speed, and looks to run a bit tight at times. While he is great at breaking tackles and moving in tight spaces, he does not have the ability to create many splash plays which limits his upside, especially for fantasy football. Add this to the fact that he has a ton of tread off his tires (well over 600 touches in college) and consistently seems to take big hits, and I could see Montgomery flaming out fast at the next level. Don't get me wrong, I still love what Montgomery can do on the field, as he could have a very productive (but perhaps shortened) career in the right spot, I just think his upside as a long-term dynasty asset is somewhat limited. For dynasty teams that are looking to compete now, Montgomery should be a great fit towards the end of the first round in rookie drafts.

1.12 - Marquise Brown, WR, Oklahoma

Brown is an interesting and perhaps polarizing prospect as a player who is at the extreme end (in a bad way) in terms of size (5'9'', 166) but on the other extreme (in a good way) in terms of explosion, speed, and play-making ability. Watching Brown on tape is a joy, as he seems to be a ball of non-stop energy who explodes on just about every play and challenges the best of defenses despite his short-comings (pun intended).

Brown's hype has been relatively quiet this year due to him having surgery to repair a lisfranc injury, forcing him to miss the combine where he likley would have dominated. Despite the injury and the current lack of hype, Brown is a lock to be drafted in the first 50 picks of the NFL draft and could even be a first round pick. The question to dynasty owners is will Brown turn out to be a DeSean Jackson + type player, who had several top 10 fantasy seasons or will he go more the John Ross route of a player that is over-drafted due to one elite skill and never manages to be relevant. As long as Brown doesn't creep into the early first round in rookie drafts I think the potential reward should outweigh the risk, but drafting him certainly isn't for the faint of heart.