One of the fun aspects of playing Dynasty fantasy football is speculation on value at different times of the year. Owners love to buy low and sell high based on what they THINK may happen if different scenarios play out.

One of the biggest events of the year that fuel this speculation is the NFL draft. This year was odd as there was no real consensus on who the top fantasy-relevant players were and where they would be drafted. The draft did not disappoint for those who like drama and surprises. For example, only one quarterback was drafted in the first round, after many thought at least three would be selected.

In the following piece I'd like to highlight 5 Losers after this past weekend's events. I'll also take the flip side of the coin and hit 5 winners. Use this information as possible reasons why you should try and buy or sell a particular player, or just to get a better macro-view of the current NFL landscape, post-draft.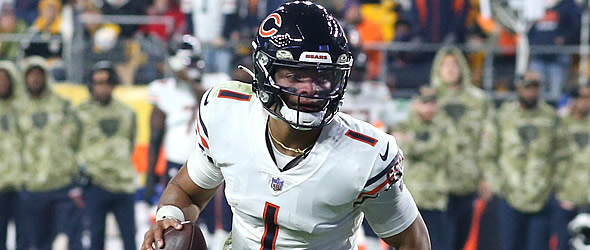 5 Losers Post-NFL Draft:
1. Justin Fields

Bearsí fans must be going nuts after having two top 50 picks in a strong wide receiver class, with the position being one of need and they only end up drafting one of the biggest reaches in memory at pick 71 in Velus Jones Jr. While other teams are going all-in to support their young quarterbacks (Jets with Wilson, Jags with Lawrence, etc.) the bears let Allen Robinson walk in the offseason and spend one mid-round draft pick on a 6th year (not a typo) college player who profiles as a backup or special teams ace. I guess if you want to look at the bright side, they did draft four offensive linemen, but none before pick 168 so itís possible none of them make a big impact right away.

The bottom line is the Bears are not setting up Fields for success which means unless he fully lives up to his potential on his own, his fantasy value has taken a significant hit. As a former first round pick, the team is likely committed to him for another couple years but anything can happen and if his current situation plays out as bad as it looks on paper, the Bears may even move on from Fields prematurely. If I am a dynasty owner of Fields, I am looking to sell if I can get anything close to fair value at this point, as it may get ugly pretty fast in the Windy City.

2. Tennessee Titansí Fans

I know some will argue with this take because their draft was not horrible but when you are one season removed from being the top seed in the AFC, with Derrick Henry still somehow in his prime and a young stud wideout on the roster, the last thing you do is trade that player, especially when you donít get an absolute haul for him.

Everyone knows A.J. Brown had to get paid and for the life of me I donít understand why you wouldnít just pay him, but if you trade him then you should be getting multiple first round picks or the equivalent in return. To get a mid-first and a third in a weaker draft year is straight up disrespectful to the Titans fanbase. This was a player the team and fans could have rallied around for another 5-plus years as one of the NFLís top receivers. Now they are stuck with Treylon Burks as their likely top target (at least long term), who many had plummeting down their draft boards thanks to suspect route running in addition to an awful combine.

With the AFC only getting stronger this offseason the Titans offense has taken a major hit in a year where there may be a lot of shootouts in the conference. As a dynasty owner I am hands-off for all Titans now, even Henry, who should attract even more defensive attention with the departure of Brown.

3. Dynasty Owners in Need of a Quarterback

The QB class overall this year was known to be weak but the GMs and coaches let us know exactly how weak it really was. Leading up to the draft some mocks had quarterbacks going as high as No.2 overall and even Vegas had it likely that there would be three quarterbacks selected in the first round.

Fast forward to the actual draft and many people were way off base. Only one quarterback was drafted in the first round (Kenny Pickett) and he lasted until pick No.20 to the Steelers, who had already signed Mitchell Trubisky this offseason.

Malik Willis, considered by many to be the top of the QB class, especially from a fantasy perspective, lasted all the way till late round 3 (Titans) after being mocked in the first round by many.

The remaining QBís that were ranked highest in this class did not fare well either, with Desmond Ridder lasting till the early 3rd to the Falcons, Matt Corral slipping to the late 3rd to the Panthers, and Sam Howell falling all the way to the Commanders in round 5. Carson Strong, considered by many to be a top 5 QB in this class went totally undrafted and had to sign as an UDFA.

The combination of the class being perceived as below average plus the poor draft capital by all but Pickett, means a whole lot of risk for dynasty owners that take a chance on one of these young QBs. With few, if any, guaranteed starting jobs for these rookies, combined with a likely much stronger QB class incoming next year, dynasty owners should proceed with extreme caution before spending any valuable capital on any of these rookie signal-callers.

4. Devin Singletary

This running back draft class was not heralded but did have 3-4 guys with the potential to disrupt the running back room on a few teams.

James Cook going to the Bills in the 2nd round was one such player and unfortunately, he probably kills any hope of Devin Singletary being anything close to an RB1, which is what he was for the final four games of the 2021 regular season and the first week of the NFL playoffs.

While questions remain on whether or not Cook can be a workhorse back, he is an excellent receiver out of the backfield and has real homerun ability in the open field. With a dynamic skillset, an impressive pedigree (Dalvin Cookís brother) and excellent draft capital for a running back, Cook is very likely to get significant touches as soon as Week 1.

While Singletary had an impressive close to the 2021 season, the Bills clearly think they needed help at the position as evidenced by their flirtation with J.D. McKissic in free agency. Dynasty owners who hung onto Singletary or acquired him this offseason are likely going to have to take the ďLĒ and move onto other possibilities at the position.

5. Mac Jones

While Jones had a better year than his rookie QB counterpart Justin Fields, he finds himself on the same list as Fields here as a post-draft loser thanks to the Patriots failing to add anything substantial to support him.

Despite having one of the leagueís most lackluster receiver depth charts, the Patriots decided to mostly take a pass despite it being a strong year for the position. I say mostly here because they did take Baylorís Tyquan Thornton, but most had him as day 3 pick or even UDFA, even though the Patriots reached all the way up to the 2nd for him. Thornton is more track star than football player as evidenced by his paltry 3.9 yards after the catch and just 11 broken tackles in his college career.

With the Patriots poor history of drafting receivers maybe they should have just passed on the position all together, but one would have thought they would have thrown multiple darts in this draft rather than counting on just one prospect, especially one as raw as Thornton.

Adding insult to injury, the Patriots actually drafted a quarterback, Western Kentuckyís Bailey Zappe, in the 4th round, rather than taking another shot at a weapon for Jones. While Zappe doesnít pose a threat to Jones as a starter, it seems like misused capital for a team that may be in some heavy shootouts with teams in their own division like the Bills and the newly heavily armed Jets and Dolphins.

While Dynasty owners who took a shot on Jones last year were handsomely rewarded, it is unlikely that Jonesí ceiling rises without better weapons and it looks like 2022 will not be that year. Iím a seller of Jones now and avoiding him in fantasy circles altogether if I donít already own him.