One of the fun aspects of playing Dynasty fantasy football is speculation on value at different times of the year. Owners love to buy low and sell high based on what they THINK may happen if different scenarios play out.

One of the biggest events of the year that fuel this speculation is the NFL draft. This year was odd as there was no real consensus on who the top fantasy-relevant players were and where they would be drafted. The draft did not disappoint for those who like drama and surprises. For example, only one quarterback was drafted in the first round, after many thought at least three would be selected.

In the following piece I'd like to highlight 5 winners after this past weekend's events. Tomorrow, I'll take the flip side of the coin and hit 5 losers. Use this information as possible reasons why you should try and buy or sell a particular player, or just to get a better macro-view of the current NFL landscape, post-draft.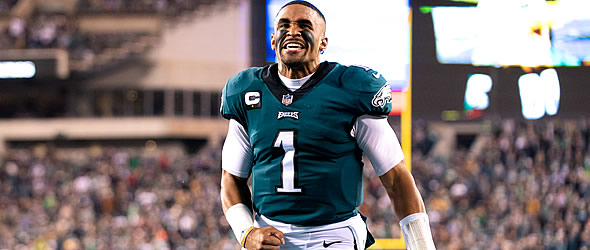 5 Winners Post-NFL Draft:
1. Jalen Hurts

Hurts may be the biggest individual winner after this draft for several reasons. First, while there were rumblings of the Eagles drafting a quarterback in the first two rounds, making dynasty owners nervous for Hurts' job stability, the Eagles did not draft a quarterback with any of their picks.

Second, with the Eagles dedicated to Hurts as the starter at least one more season the only question is what would they add around him. This questioned was answered fairly quickly Thursday night as they pulled off a mega trade with the Titans for A.J. Brown, who they quickly signed to a four- year contract. Not only is Brown young, talented and proven on the field, but he has a documented relationship as close friends with Hurts off the field. With Brown as an alpha, DeVonta Smith can operate where he will be more efficient as a number two option. Add Dallas Goedert in the mix and Hurts now has one of the league's best 1-2-3 options at pass-catcher.

Third, with the defense forced to respect the receiving corps, Hurts will have more running room and should certainly increase his fantasy production from last year, where he was already a solid QB1 option most weeks. It still remains to be seen if Hurts will be the starter after 2022 for the birds, but he certainly has everything in place around him to succeed this season.

2. Returning Starters for the Ravens

To be more specific I would boost TE Mark Andrews, WR Rashod Bateman, RB J.K. Dobbins, and even RB Gus Edwards.

Before the draft even started, Baltimore was done with both WR Sammy Watkins and WR Miles Boykin, but the real fireworks began Thursday when they traded last year's leading WR Marquise Brown to the Arizona Cardinals. With this move in place it was expected they would draft a receiver in this deep class but to many people's surprise they bypassed the position, instead loading up on defense and offensive line. For the passing game this mean both Andrews and Bateman should see an uptick in target, solidifying Andrews as a top 3 option at the position and Bateman as a possible breakout candidate.

Many would presume the Ravens are going to be even more run heavy than previous years and with the Ravens neglecting the position until round 6, both Dobbins and Edwards are likely headed for big workloads. While I would not say the draft did much to Lamar Jackson's value, it certainly boosted some of the main players around him so I would personally target all of them in drafts and as trade targets.

3. Kyler Murray

There has been a lot of drama in recent weeks surrounding Murray and the Arizona Cardinals regarding a contract extension. By the end of this draft, the Cardinals at least showed that they are committed to putting pieces in place around Murray, likely to further entice him to commit to the team long term.

The first huge move was to trade for Hollywood Brown, formerly of the Ravens. With Brown, Kyler finally gets a true proven deep threat who should open up what that the Cardinals like to do underneath with screens, slants and quick passes, as well as make for more running room for Kyler on the ground.

If trading for Brown wasn't enough, the Cardinals used their earliest pick on the draft's highest rated tight end, Trey McBride, who is a downfield threat and has great ball skills.

They also picked up a few offensive lineman in the draft, just to further protect their franchise quarterback and hopefully convince him to sign a long term deal with the team.

While Murray was already considered by most a top 8 dynasty Quarterback, the moves the team made last week solidified his spot and likely moved him up in most dynasty ranks. If you see any kind of opening to acquire Murray before he signs a long term deal this may be your last chance to get him at a discount.

4. New York Jets' Fans

It has been a long time coming but in my personal opinion this draft should kick off the most promising preseason the Jets have had in close to a decade, maybe more.

For Dynasty owners, the Jets players have been mostly a laughing stock in recent years but things could turn around as soon as this season, as the pieces seem to be coming together quite nicely.

I'm no scout or draft expert but I believe, and have read that many believe, the Jets had the best overall draft of 2022. The team needed a lot of pieces and they seemed to have filled several with some of the highest ranked guys at their respective positions. It is very possible that the Jets drafted the top defensive back (Ahmed Gardner), wide receiver (Garrett Wilson), and running back (Breece Hall) of this class with their first four picks. Add in one of the top edge rushers in the class (Jermaine Johnson) and Jets fans may finally have a reason to get excited for the future of their franchise.

From a fantasy perspective, this draft was fun because it finally made multiple Jets fantasy relevant. Zach Wilson gets a boost after adding two playmakers on the offense to go along with last year's rookie breakout Elijah Moore. Wilson has the skill set to fit any team, and while the Jets certainly were not his best landing spot, he should at least see a good amount of targets as a rookie, with little competition outside of the aforementioned Moore.

As for Hall, I have seen him ranked all over the map for dynasty purposes, as high as top 5 to as low as 15ish, but either way he will be a hot commodity and the likely 1.01 in all rookie draft formats.

Things don't always turn out the way people hope but at least on paper, this draft should have Jets' fans and fantasy football players excited for the future.

5. Jared Goff

Similar to Jalen Hurts, there was a lot of speculation surrounding this draft that the Lions would take a QB early, with some even projecting them to use the number 2 pick on the position. Instead, the team drafted zero quarterbacks and added weapons around Goff, making him, at least for 2022 a guaranteed starter in the NFL and an interesting fantasy asset.
With their second first-round pick (No.12), the Lions chose Alabama receiver Jameson Williams, an explosive playmaker who has elite speed and playmaking ability. If this wasn't enough, they also drafted a pass-catching tight end in James Mitchell who would have likely been taken earlier if not for tearing his ACL last season.

With possession receiver and last year's rookie breakout Amon-Ra St. Brown and uber-talented tight end T.J. Hockenson already in place, as well as running back De'Andre Swift all being above average pass-catchers, Goff has a full array of weapons at his disposal to go along with the confidence that the team believes in him for at least one more season.

While Goff is still a limited player in terms of upside, he likely went from a QB3 before the draft to a fairly safe QB2 post draft, in both redraft and dynasty leagues. I am personally throwing out offers for Goff, especially in 2 QB leagues, as his name is somewhat tarnished in fantasy circles, but the value you could be getting may well outperform the expectations, both in the NFL and in fantasy.