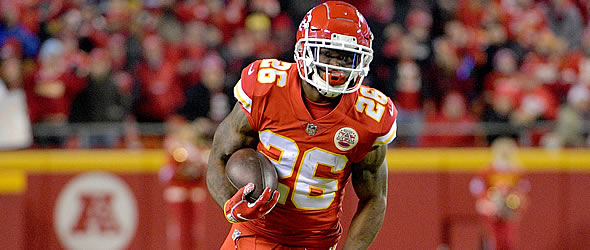 Damien Williams doesn't have the experience as a bell-cow RB but is going to get his chance in 2019.
QB Patrick Mahomes
(2018 QB Rank – No. 1, 30.9 FPts/G)
The reigning NFL Most Valuable Player, a case could be made that Patrick Mahomes was also the fantasy football MVP this past season as he racked up a ridiculous 50 touchdown passes on 5,097 yards passing, adding an additional two touchdowns as a runner.

Mahomes' average draft position in 2018 (10.09, QB15) is really what made him the value he was, though, as he wasn't even being selected as a QB1 in many leagues. This season he'll almost certainly be the highest-drafted quarterback in just about every league, which means that he'd need to replicate or at least come close to his production from a season ago to truly return value given his draft position.

There are reasons to be optimistic about Mahomes meeting or even exceeding his 2018 numbers here in 2019, however. Many expected that Tyreek Hill would miss some time but the league has now made it clear that Hill will not be suspended, which certainly helps the Kansas City offense. Tight end Travis Kelce will also be back, alongside Sammy Watkins who will now be entering his second season in the offense. The Chiefs also made a significant investment in their passing game when they drafted young speedster wide receiver Mecole Hardman in the second round of April's NFL Draft. Many viewed Hardman as an insurance policy for Hill should he miss significant time, but now the Chiefs will have the benefit of rostering two of the league's fastest players at wide receiver, potentially putting them on the field at the same time. Combine that with Mahomes' cannon of an arm and it's easy to see why experts are excited about this offense.

Certainly there is value in not having to spend waiver wire position or FAAB dollars on your quarterback position, but the value that even elite-level quarterbacks give over their peers is often not worth their opportunity cost of losing out on high quality starters at positions with fewer usable assets, specifically running back and wide receiver. Mahomes supporters will point to his 2018 numbers as a reason that he is an exception to the "rule" that most fantasy experts agree on, which is that quarterbacks are overdrafted in most leagues. If he can produce that kind of output again in 2019 then Mahomes will likely live up to his current ADP, but history tells us that replicating 50 touchdown seasons just does not happen. Even 40 touchdown seasons are extremely difficult to accomplish in back-to-back seasons. If there's anyone who can do it, though, it might just be Mahomes in this rocket-fueled Chiefs offense.

RB Damien Williams
(2018 RB Rank – No. 50, 7.8 FPts/G)
The Chiefs made the decision to move on from Kareem Hunt, which now leaves running back Damien Williams in line for some serious fantasy potential in 2019. Williams made a splash down the stretch in 2018, producing some huge fantasy games down the stretch that almost certainly secured many fantasy league championships. He came out of nowhere in the eyes of many fantasy owners but Williams is an athletically gifted player with elite speed and feature back size. He's simply never been given an opportunity to prove himself as a starting running back in the NFL.

There is some concern that the newly acquired Carlos Hyde will cut into Williams' touches, but the potential upside for a running back in this Kansas City offense makes Williams too tantalizing to pass on simply because we're worried about a veteran plodding running back like Hyde. Williams only started five games for the Chiefs, including in the playoffs, but he caught 24 passes in those contests. If he had played a 16-game season at that pace, he would've finished with 77 catches. That, in addition with his quality rushing ability, in an offense as high-powered as Kansas City's, could mean some seriously monster fantasy numbers this season.

Yes, there are concerns that Williams has never "done it before," but the running back position in the NFL is often a product of situation more than it is player ability. That could be the case with Williams. He may not be an elite-level player, but that certainly doesn't mean that he's incapable of producing elite-level fantasy production. Andy Reid offenses typically feature one back and it seems highly unlikely that it will be Hyde unless Williams goes down.

Williams' current ADP has him going in the middle-to-end of the second round in most leagues, which is a great value for a player who could potentially finish as a high-end RB1 and whose floor, if he remains healthy, should be no lower than a mid-level RB2.
RB Carlos Hyde
(2018 RB Rank – No. 43, 6.5 FPts/G)
There's nothing necessarily wrong with Carlos Hyde as a player, but it seems like he's given being given way too much credit as a potential hindrance to Damien Williams in the Kansas City offense this season. Hyde, despite playing in the league for five seasons, has never reached 250 carries, never hit the 1,000 rushing yard mark and he's averaged fewer than 25 receptions per season. In 2018 he played for two teams - the Browns and the Jaguars - and he rushed for an average of just 3.4 yards per carry in Cleveland and 3.3 yards per carry in Jacksonville. Yes, he's been more productive in the past and we shouldn't judge a running back solely based off of his yards per carry, but Hyde simply is not a special talent.

Make no mistake about it - Hyde will see some touches this season for the Chiefs, but even if he sees 30 percent of the team's carries, that still shouldn't be viewed as a huge hit to Williams. A 60/30/10 carry split between Williams/Hyde/others is certainly common in today's NFL, but the most important factor is that Williams is really the only player with proven pass catching ability in this backfield. Sure, Hyde once came completely out of nowhere in San Francisco when he caught 59 passes in a season, but his career 5.6 yards per reception is a pathetic number, even for a running back.

The prevailing belief among Hyde believers seems to be that he'll see significant work near the goal line this season. That really doesn't make a lot of sense, though, when you consider that Hyde has never been a particularly effective goal line runner. He's not necessarily bad at it, but he's never exceeded eight rushing touchdowns in a season and despite his "grinder" style, he's really only a couple of pounds heavier than Williams with significantly less explosiveness and versatility.

It would be shocking if the Chiefs deploy Hyde in anything other than a late-game grinder role this season. That type of usage could have some value in games where the Chiefs are blowing out their opponents, but we know that blowouts are often difficult to predict in the NFL so it becomes extremely risky to start players like Hyde based on the hopes that he'll get carries down the stretch when the game is already put away.

Hyde is currently being selected as a ninth-round pick and even that might be too much. He's essentially a handcuff to Williams with very little standalone value due to his lack of passing game prowess.
WR Tyreek Hill
(2018 WR Rank – 1, 15.1 FPts/G)
The biggest fantasy football question mark throughout the entire league was answered last week when the NFL released a statement, announcing that Kansas City wide receiver Tyreek Hill would not be suspended for off-field issues involving his son and his son's mother. There are other places that you can go to learn more about this story, but we're going to focus here about the fantasy impact this has for 2019.

Love him or hate him Tyreek Hill has now proven to be an elite fantasy asset in back to back seasons, both with Alex Smith and a first-year starter in Patrick Mahomes. Hill's unbelievable combination of strength, speed and explosiveness makes him practically uncontainable for even the best NFL defenses. He finished as the No.4 fantasy wide receiver in 2017 and many believed that his crazy efficiency would almost certainly mean that he'd drop down a bit in 2018. That didn't happen, though, as Hill increased his target total while maintaining his efficiency, which led to him finishing as the top-scoring wide receiver in non-PPR fantasy scoring.

Now without a potential suspension looming, Hill is free to return to the Chiefs with a clear mind and a fresh slate. That should be terrifying to NFL defenses but extremely exciting for fantasy players.

There will of course be extra scrutiny on anything that Hill does off the field for the foreseeable future and any sort of transgression could certainly lead to a significant suspension, so there is some added risk with Hill, but it's also worth noting that everything coming out of Chiefs camp seems to be that he's been a model citizen as of late.

Some fantasy owners will simply refuse to draft Hill based on the accusations about his misconduct, but those who do take a chance on him will almost certainly be showered with fantasy points this season. Hill's ADP is back on the rise and it won't be long before he's being selected near the top five at the position again.
WR Sammy Watkins
(2018 WR Rank – 62, 7.5 FPts/G)
Those of us who believe in Sammy Watkins' talent can continue to make excuses for him, but at some point we all need to take a look at this player and realize that he's just been a disappointment thus far in his NFL career. Yes, he had to play in Buffalo with questionable-at-best quarterback play. Yes, he had to learn a complicated Sean McVay offense on the fly. Yes, he went to his third team in three seasons this past year when he joined the Chiefs. And yes, he's dealt with injuries. But the reality is that NFL teams are not typically willing to move on from young, perceived-to-be-elite-talent wide receivers who don't have legal issues, unless there's something wrong. We need to come to the realization that it's at least possible that Watkins just doesn't have the determination needed to become a top-level wide receiver.

Watkins will be back with the Chiefs for his second season and while we are excited to see what he can do with the nuances he's hopefully picked up throughout his time in Kansas City while working with head coach Andy Reid, it's also important to note that Watkins is - at best - the third option in this passing game, behind Tyreek Hill and Travis Kelce. That means that his targets are almost certainly capped at under 100, barring injury to those players, and that really limits his upside even in one of the league's best offenses. Watkins does have some impressive per-catch numbers, but he only catches about 58 percent of the passes that come his way throughout his career. Of course, that number was significantly better this past season when he caught 72.7 percent of the passes that came his direction, but Watkins is unlikely to suddenly become a player who can produce consistently with the five or so targets that will come his way per game.

The suspension rumors regarding Hill momentarily had Watkins' ADP hovering around the middle of the fifth round, but look for that to tank over the coming days and weeks. Watkins now not only has to compete with Hill and Kelce for targets, but the Chiefs also added rookie Mecole Hardman to the mix who could very easily push Watkins for targets, especially if Watkins continues to suffer from various injuries as he has throughout the course of his young career.

Watkins is still very young at just 26 years old and it's possible that the best is yet to come for him, but unless there's an injury to Hill, it seems very unlikely that he's going to give weekly fantasy players a consistent enough stat line to make himself a valuable fantasy asset in 2019. He is, however, an interesting best-ball player given his propensity to produce huge games from time to time while essentially doing nothing in other weeks.
"The Tyreek Hill replacement" as many were calling him, Mecole Hardman had some seriously deep shoes to fill this season if Hill was to be suspended. With that rumor now being squashed, it's time for us to start viewing Hardman in a much more realistic way. This is a rookie who, at 5'10 and 187 lbs, is a near perfect twin to Hill. He actually ran a slightly faster 40-yard dash than Hill. The problem, of course, is that the team already has Hill - and Hill has already produced at an elite level.

Hardman, on the other hand, is coming fresh out of college where he really was not much of a producer. Hardman's best season came in his final collegiate season, as a junior, when he caught 35 passes for 543 yards and seven touchdowns. His sophomore season at Georgia saw him catch just 25 passes for 418 yards and four scores. Those numbers are great on a per-catch basis, but they're just not enough to give us any sort of confidence that he's going to be capable of stepping right onto an NFL field and giving us anything other than a wildly unpredictable stat line from week to week.

Hardman's ADP is obviously hurt the most by the news that Hill will not be suspended and he'll likely now be a late-round pick at best in most leagues. That's probably where he should be going in standard seasonal leagues, but he should still be considered an interesting possible first round pick in dynasty formats while also being a useful late-round best-ball wide receiver here in 2019.

TE Travis Kelce
(2018 TE Rank – 1, 12.1 FPts/G)
If you're looking for consistent, elite production from the most difficult position to find production at, look no further than Travis Kelce. At 29 years old now entering his seventh NFL season, Kelce has unquestionably established himself as one of the greatest fantasy football tight ends of all-time. He's exceeded 1,000 receiving yards three years in a row, including this past season when he finished second in the league behind George Kittle in yards, but both players actually broke Rob Gronkowski's previous single-season record at the position.

At this point there's really no question that Kelce is going to produce top-level fantasy production in all three of the major areas - receptions, yards and touchdowns. He's done it for five straight seasons and he's in a better offense than ever before, coming off of a season when he was targeted a ridiculous 150 times. Kelce could see a 20 percent drop off in targets and still be among the league leaders at the position, which makes him one of the safest options you'll find.
The real question about Kelce's fantasy value isn't whether or not he's great, but rather whether or not the tight end position is worth spending an early round draft pick on. That's an ongoing debate that you can find plenty of data about, but the truth is that the tight end position is only getting thinner. Sure, we added George Kittle to the top tier this past season, but we also saw the retirement of Rob Gronkowski and the continued deterioration of veterans like Jimmy Graham, Greg Olsen and Delanie Walker. There may have never been a bigger discrepancy between the elite players at tight end and the rest of the pack, which does mean that those elite players are even more valuable.

One other thing to consider when investing in tight end is that the position is historically extremely dangerous to play. Players at that size, running at that speed through the middle of defenses is just a recipe for injury. It's among the, if not the most dangerous position to play in all of sports. Kelce himself has been pretty healthy throughout his career which could mean that he's like Jason Witten who just seemed to never get hurt, but we do have to take the potential injury risk into consideration especially considering that Kelce is a second-round pick in most fantasy drafts this season.

Even with those risks, though, Kelce is a difference-maker at a position that most teams in your league will be scrambling to find value at all season. Not having to worry about the tight end position has its own benefits from a waiver wire and FAAB standpoint so unless he gets hurt, Kelce should return value this season while giving his owners the potential of a league-winning season.