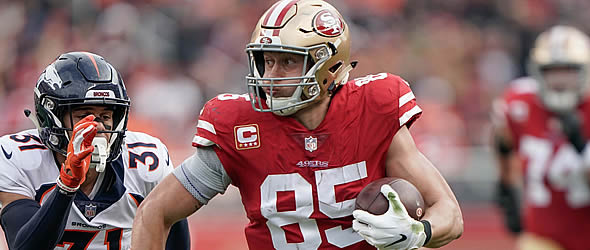 George Kittle is one of the few tight ends worth considering in the early rounds of your fantasy draft.
QB Jimmy Garoppolo
(2018 QB Rank – No. 40, 19.7 FPts/G)
One of the biggest stories in the league heading into the 2018 season was the 49ers' acquisition and subsequent financial investment in quarterback Jimmy Garoppolo. The team traded for him during the 2017 season and the entire offense was visibly and statistically much better under his leadership. Many fantasy experts predicted a breakout from Garoppolo in 2018, but a torn ACL near the end of the 49ers' Week 3 game against the Chiefs put an end to that before it ever really began.

The 49ers were just 1-2 when Garoppolo went out and things only got worse and they went on to win just four games on the season. It's worth noting that Garoppolo was not particularly effective as a fantasy quarterback in the games he did play, never reaching even 275 yards through the air with just five total touchdowns and three interceptions in his three starts. Not only that, but Garoppolo is notably one of the weakest contributors in the running game, having rushed just eight times for 33 yards in his three games. In fact, he tore his ACL on his only rush of 10 or more yards on the season.

Given the unexpected absence of Garoppolo, the 49ers passing offense wasn't actually all that bad, at least in terms of yards, in 2018. C.J. Beathard was given the first opportunity and he passed for an average of 250 yards per game while throwing eight touchdown passes in five games. Nick Mullens was up next, who averaged 285 passing yards per game, but he also threw 10 interceptions in only eight starts. Both passers took far too many sacks, but the overall yardage numbers really weren't that bad. In fact, both passers were better than Garoppolo on a per-game basis.

Still, Garoppolo's return to the lineup should be an upgrade across the board for the team. The 49ers invested in Garoppolo for a reason and it's obvious that Kyle Shanahan sees something in him. His skills are certainly better than Bearthard or Mullens', but it's still hard to completely buy into this offense given their relative lack of experienced weapons out wide.

The team's most experienced wide receiver is Marquise Goodwin, who has failed to reach even 500 receiving yards in all but one of his six NFL seasons. The other top wide receivers, Dante Pettis and rookie Deebo Samuel, have caught a combined three regular season passes from Garoppolo. They do have some of the best pass catching weapons in the league at tight end and running back, so look for the 49ers offense to take a step forward from where it was at in 2019, particularly in the way of efficiency. Garoppolo is a much more skilled passer than either Bearthard or Mullens and that should translate into fewer mistakes, which should in turn lead to fewer turnovers and more points for the San Francisco offense.

Garoppolo was one of the hottest names in fantasy heading into the 2019 and he's certainly cooled off this offseason as he's now being drafted outside the top-15 at the position. While his injury recovery is something to be a bit concerned about, that gigantic drop off in perceived fantasy value seems unjustified. If anything, the 49ers are more stacked offensively this season than they were heading into 2018, especially when you consider the breakout season that tight end George Kittle saw even without Garoppolo behind center. While his ADP of being a top-10 QB heading into 2018 was probably too high given his lack of rushing ceiling, Garoppolo does have the requisite skills and offensive system to make himself into a QB1 this season. Taking him as a high floor, low-risk QB2 to pair with a higher-risk QB1 like Kyler Murray or Jameis Winston seems like a wise option.
RB Tevin Coleman
(2018 RB Rank – No. 19, 10.1 FPts/G)
One of the more interesting moves at running back this offseason took place in San Francisco as the team added former Atlanta backup Tevin Coleman to the mix, reuniting him with former Falcons offensive coordinator and current 49ers head coach Kyle Shanahan. Coleman joins a cluttered, albeit injury-riddled backfield that was quietly productive in 2018 despite countless injuries across the offense.

It'd be easy to look back at Coleman's history with Shanahan and project Coleman to be the lead back in San Francisco this season. The 26-year-old Coleman enjoyed his most efficient season back in 2016 as a member of the Falcons with Shanahan calling the plays, when he rushed for 520 yards and eight touchdowns while adding 421 yards and three touchdowns in the passing game – and he did that while playing a complementary role to that season's fantasy RB1 overall, Devonta Freeman. Without a proven producer like Freeman in front of him in San Francisco, it would appear at first glance that Coleman is the odds-on favorite to lead the team in touches at the position this season.

However, there are concerns about Coleman, particularly relating to his lack of production in 2018. The aforementioned Freeman went down early in the season to injury and the hype train was in full effect for Coleman. However, Coleman fizzled out, rushing for just 800 yards while adding 276 yards as a receiver. His fantasy season was partially saved due to his impressive five touchdowns in the passing game, but his four rushing touchdowns were very discouraging in what was still a good Atlanta offense. What's most concerning, though, is that Coleman couldn't even fully hold off rookie Ito Smith, who saw over 100 total touches, limiting Coleman to fewer than 200 touches on the season.

It's tough to say that Coleman's season was a complete disaster as he did finish inside RB2 range, but there's no question that it was a disappointment given the context of the situation and what fantasy owners were expecting. Those who traded for Coleman once Freeman went down certainly did not return the value that they were hoping for.

The 49ers backfield may not have a proven mega-producer like Freeman in it, but it does have a number of players who are extremely gifted athletes and who have flashed explosive playmaking ability, which is really how Coleman has shined throughout his career. He may be the best bet of the bunch to be the top producer, but that doesn't mean that he's going to see enough touches to have even close to RB1 upside. In fact, the downside is that Coleman could realistically end up playing a similar role in San Francisco to the one he played in Atlanta, just in a less explosive, less-talented offense within a division with substantially more difficult defensive matchups.

Thankfully Coleman's ADP has been hovering around a bottom-end RB2 to high end RB3 so he's unlikely to cost fantasy owners much even if he does disappoint, so the upside of him finishing as a mid-level RB2 does make him appealing given the lack of cost to acquire him in drafts.
Few running backs had more hype with less career production than Jerick McKinnon had heading into the 2018 fantasy season. McKinnon had snuck into the RB1 range in drafts after free agency saw him make the move from Minnesota to San Francisco, where he joined a weak depth chart in an offense quarterbacked by a young budding star named Jimmy Garoppolo and coached by one of the best offensive minds in the game, Kyle Shanahan.

And then came the injury. McKinnon tore his ACL in practice prior to ever getting on the field for a regular season snap, ending his season before it even began.

While he'll have a full calendar year to recover before the 2019 season begins, the situation in the San Francisco backfield has now changed fairly substantially. The team added veteran Tevin Coleman, whose connection with Shanahan makes him an immediate favorite to be the starter, but perhaps the most concerning thing for McKinnon is actually Matt Breida, who broke out in his second season after being shoved into the starting role after McKinnon's injury. Breida, who took over as the lead back at Georgia Southern when McKinnon went to the NFL, is one of the few backs in the league who can match McKinnon's combination of raw size/speed/strength. This has typically been McKinnon's edge in most backfields, as he's been able to get on the field in certain situations just due to his athletic prowess. With someone like Breida on the roster, who has now proven himself in this very offense, he will now likely have to compete for even those snaps.

McKinnon is being drafted outside the top 40 at the position so he doesn't cost much, but it's tough to envision a scenario wherein he becomes a bell cow in San Francisco without numerous injuries to other players in the backfield. Given his own injury history and recent reports of a setback with his knee, makes McKinnon a lower-upside play than most probably realize.
RB Matt Breida
(2018 RB Rank – 24, 9.8 FPts/G)
Third-year running back Matt Breida was being drafted as the third 49ers running back off the board in fantasy drafts, but he's the only player on the team who's actually produced in this offense and recent news of Jerick McKinnon suffereing a setback in his ACL recovery should have Breida's ADP on the rise.

Breida was unexpectedly pushed into a role with significant playing time after an ACL injury cost Jerick McKinnon his entire 2018 season. The 49ers signed veteran Alfred Morris, who predictably did practically nothing aside from fall forward for three yards when he got carries, but it was Breida who ended up making a splash. Breida rushed for 814 yards on an impressive 5.3 yards per attempt, while also adding 261 yards in the receiving game on 31 catches. Those numbers would've likely been even better if Breida hadn't suffered numerous nagging injuries of his own, forcing him to play banged up in an offense that lacked firepower to begin with. His five touchdowns were also a disappointment, although that was mostly due to overall lack of red zone efficiency from the 49ers offense, particularly in the passing game.

If he can stay healthy, there's an outside chance that Breida could actually lead this backfield in touches. Coleman is on a new team and wasn't particularly effective in a much better Atlanta offense in 2018, so he has his own concerns. It won't likely happen early in the season, but Breida could very well end up being the best value pick out of this entire backfield.

We've seen situations like this before in backfields like New England, where there are a lot of talented players but no one player who necessarily sticks out as being the do-it-all "bell cow." That often leads to a frustrating fantasy scenario where the top picks end up being a disappointment and the late-round backs end up being a value. Breida is being selected very late or even being left undrafted in many leagues, so getting him as a late-round dart throw who could end up giving you solid RB2 numbers down the stretch seems like a great option.

WR Marquise Goodwin
(2018 WR Rank – 75, 5.9 FPts/G)
Following a breakout season in 2017, many believed that Marquise Goodwin was in for another big season in 2018 as he was now tethered to both a high quality offensive coordinator in Kyle Shanahan as well as a young potential stud quarterback in Jimmy Garoppolo. That didn't happen, however, as Goodwin fell back to being an inconsistent, mediocre contributor, just as he was in Buffalo.

Of course, it didn't help that Garoppolo missed the majority of the season with a torn ACL, but Goodwin's biggest problem continues to be his own injury situation. Goodwin is an incredible, Olympic-level athlete, but at just 5'9" and 180 lbs, he's just too small to be an every-down receiver in the NFL. He will likely crack the starting lineup for the 49ers at least early in the season, but any little injury to his lower body makes Goodwin less and less effective. He's not a polished route runner, he lacks upper body strength to battle for contested passes and he isn't great at finding holes in zone coverage. If something like a slightly sprained ankle or an injured toe is affecting his world class speed, he goes from being a big time weapon to essentially being just another guy on the field.

Goodwin's skill set makes him extraordinarily difficult to predict in fantasy football. He's one busted coverage away from producing WR1 numbers in just about any game, but he could just as easily give you just about nothing even in good matchups. That makes him a good fit in best ball formats, but his downside is being completely useless in most other fantasy formats.

WR Dante Pettis
(2018 WR Rank – 61, 8.5 FPts/G)
While it was tight end George Kittle who broke out and led the team in practically every receiving statistic for the 49ers in 2018, it was good to see that second-round NFL Draft pick Dante Pettis was able to make some decent contributions when he was on the field. Pettis only played in 12 games, starting seven, but his 17.3 yards per reception were quite impressive and he tied Kittle for the team lead with five touchdown receptions.

With the quarterback situation seemingly improved from where it was in 2018, the biggest concern with Pettis is no longer the questionable accuracy of the targets coming his way, but rather the competition he faces. Kittle should still lead the team in targets this season which limits Pettis' upside anyway, but he also faces competition from veterans Marquise Goodwin and Kendrick Bourne, along with incoming second-round draft pick Deebo Samuel, whom some compared to Samuel as a prospect even before he landed in San Francisco. The duplicative nature of much of their skill sets makes both players risky for fantasy purposes, but Pettis' ADP makes him a serious gamble. He's being drafted around players like Alshon Jeffery, Tyler Boyd, Robby Anderson, Allen Robinson – all of whom are proven producers.

While we do expect Pettis to improve with more experience and a clean bill of health as well as the 49ers offense to improve as a whole, Pettis suddenly breaking out to become a WR1 or even a high-end WR2 seems unlikely given the target competition he'll face from the tight ends, running backs and even other wide receivers in this offense.
Rookie wide receiver Deebo Samuel may not have had the hype of some of the other pass catchers selected in this year's draft, but very few have a better path to immediate targets than Samuel does here in 2019. With only unproven second-year wide receiver and inconsistent veteran Marquise Goodwin being locked in ahead of him on the depth chart heading into the season, Samuel could very well find himself starting quite a few games despite only being a second-round draft pick.

The biggest problem for Samuel is that his skill set does overlap with other pass catchers in this offense, particularly the aforementioned Pettis, who flashed at times as a rookie. It's also worth considering that Pettis was not the only receiver who the 49ers selected in this year's draft, as they did also add Jalen Hurd a round later than Samuel, whom many had ranked within their top 10 at the position in the class.

Realistically, Samuel's upside in 2019 is fairly limited, but he does have the requisite skill set to be a contributor in the long run at the NFL level. He's an interesting player in dynasty leagues where we can watch him develop and hopefully eventually become an every week starter in this San Francisco offense, but he lacks much upside to be anything better than a WR3/Flex play even in the best case scenario here in 2019.

TE George Kittle
(2018 TE Rank – 2, 10.5 FPts/G)
Many predicted a nice step forward for tight end George Kittle heading into the 2018, but very few – if any – foresaw the unbelievable season he would end up providing to fantasy owners.
Kittle didn't just take a step forward, he took a number of giant leaps, instantly becoming one of the elite players at his position while breaking the all-time NFL single season receiving yardage record at the tight end position. Yes, Kittle – in his second NFL season – produced more yardage than Rob Gronkowski, Antonio Gates, Tony Gonzalez, Travis Kelce, or any other tight end has ever had in a single year. And he did it while playing almost all of his games with the likes of C.J. Beathard and Nick Mullens throwing him passes.

Of course, it helped that the 49ers were extremely thin at pass catcher, with only one other player besides Kittle – Kendrick Bourne – seeing more than 50 targets on the season, but there's really no questioning that Kittle has to be considered one of the few difference makers for fantasy at an otherwise weak tight end position.

With that being said, there is at least some concern that Kittle might not be able to reproduce quite what he did in 2018. Of course, we can't expect him to repeat a literal record-breaking season from a yardage standpoint so regression in that area is to be expected, but how he got to those numbers is also a bit of a concern. Kittle actually crushed it in one very specific, often times difficult-to-replicate statistic – yards after catch. Kittle's 784 yards after catch was not only best in the league among tight ends, it was actually over 200 yards more than the next best tight end, Kansas City's Travis Kelce, and almost 400 yards more than the third-best YAC tight end, Jared Cook. To put that into further perspective, the only other tight ends who've ever even eclipsed 500 YAC yards in a season since they began officially recording that statistic are Kelce, Rob Gronkowski and Aaron Hernandez. Kelce's 784 YAC yards are by far and away the most ever by a tight end and that to be considered a lock to regress here in 2019, even if he's an extreme outlier at the position.

Just because he's likely to regress in yardage totals doesn't necessarily make Kittle a risk to bust, however. With the 49ers offense as a whole almost certainly being better than they were in 2018, Kittle should have additional opportunities to get into the end zone. That's the one area where he didn't excel this past season as he scored just five times in the year. That number should improve even with additional competition for targets, as Kittle is pretty much the only large-bodied pass catcher on the roster and he's certainly the only proven top-level pass-catching producer in San Francisco. If he can boost his touchdown total to even the upper single-digits, that would more than make up for the expected step back in yardage. If he can somehow push that to 10 to 15 touchdowns, as other elite tight ends have done in the past, we could see Kittle actually exceed his fantasy point totals from 2018 even if he's not nearly as productive in terms of yardage.

Kittle is an elite fantasy tight end and one of the few players at the position who's actually worth considering in the early rounds of your fantasy draft.