QB Patrick Mahomes
(2019 QB Rank – No. 10, 24.2 FPts/G)
Kansas City's $450 Million man Patrick Mahomes will be one of the top two quarterbacks selected in all fantasy drafts this season and that's after what has to be considered a "down" year in 2019. Mahomes missed roughly 2.5 games with a knee injury, but still finished as a top 10 fantasy QB on the season and the No.6 QB in fantasy points per game. His 16-game pace would've put him at 4,606 yards, 30 touchdowns and six touchdowns, which is a far cry from the absolutely insane performance he had in 2018, but we should've been expecting at least somewhat of a drop off. It would've been practically impossible for Mahomes to produce another 5,000-yard, 50 touchdown season through the air. What he did provide, however, was still plenty good enough to be considered an elite fantasy QB.

The crazy thing is that what we saw in 2019 might just be Mahomes' floor from a fantasy standpoint. Injuries led to some less-than-ideal situations as superstar wide receiver Tyreek Hill and starting running back Damien Williams both missed multiple games. This led to the Chiefs relying on rookie Mecole Hardman at wide receiver and veteran LeSean McCoy at running back, which really hurt their explosiveness and Mahomes' upside suffered a bit as a result.

Once the Chiefs were back to being healthy, however, Mahomes continued his blistering pace in the playoffs when he threw for over 300 yards per game, including 10 touchdowns and just two interceptions. He was also highly productive on the ground, which should show us that he's capable of an even higher ceiling than perhaps he was given credit for before.

The Chiefs' offense hasn't changed much this offseason, but they did add another pass catching specialist at running back in first round selection Clyde Edwards-Helaire, which should only serve to help Mahomes produce even more in the passing game. Lamar Jackson is coming off of a historic season, but there's plenty of reason to have more faith in Mahomes given that his floor is significantly higher while he still possesses other-worldly, league-winning upside.
The only first-round running back taken in the 2020 NFL Draft, LSU's Clyde Edwards-Helaire was the starting running back alongside Heisman trophy-winning quarterback Joe Burrow in 2019. Edwards-Helaire rushed for 1,414 yards and 16 touchdowns, but perhaps more importantly caught a whopping 55 passes for 453 yards and a touchdown, making him widely regarded as the best pass-catching back in the draft class. 55 receptions in an NFL season sounds like a solid number, but at the collegiate level it's almost unheard of from a running back.

We saw huge production from Damien Williams when he was given the opportunity to start in Kansas City, especially in the passing game, and Edwards-Helaire is probably an even better pass catching weapon than Williams. If he can even get a similar workload, Edwards-Helaire could finish as a mid-to-low-level RB1 this season, along with being perhaps the best rookie RB for dynasty purposes.

Not everything is perfect for Edwards-Helaire, however, as critics will argue that his talent might not be as unquestionable as a first round draft pick might indicate. Edwards-Helaire wasn't able to earn a starting role at LSU until his final (junior) season. He was the primary backup behind Nick Brossette, who wasn't even a starter on his XFL team. Edwards-Helaire is also not a great athlete, as he ran just a 4.6 second forty yard dash at under 210 lbs.

Nevertheless, CEH steps into perhaps the best possible situation in the entire league – at least in the long-term – in the league's most explosive offense. Damien Williams was never much of a producer at the NFL level prior to landing in Kansas City, but even he delivered some serious fantasy numbers when he was actually healthy in 2019.

Williams deciding to opt out of the 2020 NFL season has cleared the way for Edwards-Helaire to be the perceived starter right out of the gate. Andy Reid has given plenty of praise for Edwards-Helaire so we have to believe that he's going to be given every opportunity to succeed, especially now that there isn't another proven back on the roster.

Edwards-Helaire is a high-upside selection who really doesn't have a bad floor either given his contributions in the passing game. Add in his touchdown upside in this powerful Kansas City offense and you have a true potential league-winning back. Not everyone is a believer in Edwards-Helaire from a talent standpoint, but running back fantasy scoring - more than any position - is dictated primarily by usage and situation, and Edwards-Helaire is looking great in both of those very important categories.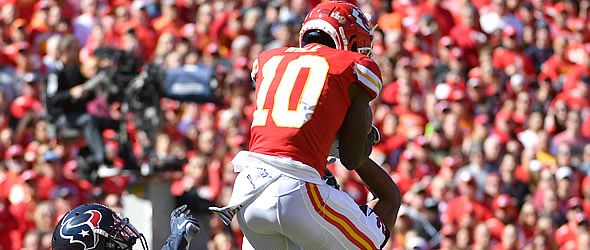 WR Tyreek Hill
(2019 WR Rank – 29, 10.9 FPts/G)
Like other players in the Kansas City offense, Tyreek Hill started off the 2019 season with an early-week injury – and his happened early in Week 1. Hill would go on to miss each of the next four games before he got back on the field and immediately started dominating again. He would also get knocked out of the Chiefs' Week 11 game with a knee injury. The missed games cost Hill his overall ranking on the season as he finished 29th among WRs, but his 10.9 fantasy points per game were eighth in the NFL among WRs who started at least five games.

There may not be a more dynamic, explosive receiver in the NFL than Kansas City's Tyreek Hill – we just have to make sure that he's on the field. If he's out there, there's no reason to bench him in really any matchup. He's capable of producing week-winning performances, but he also provides a surprisingly solid floor in comparison to most "big play" receivers. Hill finished with at least three catches and 50 yards in every regular season game he started in 2019 and all but two games in 2018.

The competition for targets really has not changed much so Hill remains a near lock to reach 120 targets on the year. No receiver is without question marks, but Hill really does provide the type of upside and floor that makes him a legitimate threat to finish as the top-scoring fantasy wide receiver this season.
WR Mecole Hardman
(2019 WR Rank – 49, 6.1 FPts/G)
The Chiefs' second round pick in the 2019 NFL Draft, Mecole Hardman was immediately thrust into significant playing time when Tyreek Hill went down in Week 1. Hardman's world class speed made him a hot fantasy add as many believed that he'd step in and at least produce a good amount of what Hill typically did on the field. It did pay off right away as Hardman scored touchdowns in each of his first two real opportunities in Weeks 2 and 3, but he then trailed off into fantasy purgatory when Hill made his return. The only games where Hardman reached 40 offensive snaps were when Hill was injured and he failed to reach even 30 snaps in all but one game after Week 5.

Sure, he's likely to get more playing time in 2020 as he'll have another year of experience under his belt, but Hardman isn't likely to suddenly supplant Sammy Watkins as the WR2.

While Hardman might be an interesting player to go after in some best ball formats because of his big play explosive ability, he's going to be almost impossible to predict on a weekly basis thus making him an extremely frustrating fantasy asset in normal leagues. He's essentially the wide receiver equivalent of a "handcuff" for Hill and that's asking for a lot to make him a quality fantasy asset.

WR Sammy Watkins
(2019 WR Rank – 52, 6.7 FPts/G)
Just about everyone has been burned by Sammy Watkins for fantasy purposes and that has actually suppressed his fantasy cost enough that he might just be a value in drafts. Watkins showed that he still has some upside in 2019 when he absolutely destroyed the Jaguars for nine catches, 198 yards and three touchdowns in Week 1 after Tyreek Hill went out with a shoulder injury. Watkins was the WR1 in fantasy that week and the price to acquire him skyrocketed with Hill set to miss a few weeks with the injury. Those who opted to trade Watkins, however, made out like bandits as the veteran would fail to score another touchdown or reach even 70 receiving yards for the entire remainder of the regular season.

While it didn't help fantasy owners, there is some hope heading into 2020 that Watkins may still have some value in this potent Kansas City offense. His three game stretch in the playoffs was actually quite impressive as he caught 14 passes for 288 yards and a touchdown while adding a 14 yard rush on the ground that put him over a 100 total yard per game average. It's a small sample size and it doesn't mean that he's going to be successful in 2020 but Watkins does have a role in this offense. He led all Chiefs wide receivers in snaps played in 2019 and is the team's most well-rounded complement to Hill when it comes to two-WR sets.

He'll likely be frustrating to own, but the upside remains for Watkins to return to fantasy relevance here in 2020.

TE Travis Kelce
(2019 TE Rank – 1, 10.0 FPts/G)
We've seen some incredible season-long performances from players like Tony Gonzalez, Antonio Gates, Jimmy Graham and Rob Gronkowski but there's a real case to be made that no player has been a more consistent elite producer than Kansas City's Travis Kelce. Since he became the Chiefs' starter in 2014, Kelce has produced at least 67 catches for 862 yards in every season. Better yet, he's now exceeded 1,000 yards in four straight seasons. To put that into perspective, Gonzalez and Gronkowski have only reached 1,000 yards four times in their careers while Gates and Graham have reached that number just twice in their careers.

Needless to say, Kelce is the picture of consistent, high-level production at a position that is extraordinarily difficult to find top-level production from. Kelce isn't just out-pacing the competition, he's lapping them entirely in many cases, essentially doubling some other top-12 fantasy TEs in year-long production. Jason Witten, the fantasy TE12 in 2019, scored just 76.9 fantasy points on the season while Kelce more than doubled that at 159.3 fantasy points. Even players like Lamar Jackson, Michael Thomas and Christian McCaffrey don't provide that type of gap between themselves and other top options at their positions.

The tight end position is obviously one to be concerned about from a health standpoint as the physicality makes it one of the most-injured positions in sports. Kelce has been a picture of health, however, as he's started every game (except Week 17 of the 2017 season when the Chiefs rested their starters) since becoming the team's starting TE in 2014. There's always a potential for injury and Kelce will be 31 years old when the NFL season kicks off, but he's provided incredible durability – and high-end production – at a position that can be extremely difficult to find production at.

Many fantasy experts will caution against taking any tight end at Kelce's ADP, but he does provide an edge over practically every other tight end, perhaps with the exception of George Kittle, and he could be a league-winner. It might sound counter-intuitive given that fewer tight ends are drafted in smaller leagues, but 10 and eight-team leagues are often a good place to target players like Kelce as he will help optimize your starting lineup while you can address depth at RB and WR in later rounds.