QB Tyrod Taylor
(2019 QB Rank Ė No. 60, 2.1 FPts/G)
The last time a quarterback other than Philip Rivers started a regular season game for the Chargers was all the way back in 2005, so thereís no question that itís going to look a little weird when Tyrod Taylor leads the team out onto the field in Week 1. Or so we assume, anyway. Thereís always a possibility that the Chargers choose to roll with rookie Justin Herbert, which is certainly one of the very valid concerns about Taylorís fantasy outlook for 2020.

The upside of Taylor, however, lies primarily in his legs. In Taylorís three seasons as a primary starter in the NFL, heís averaged 525 rushing yards per season. To put that into perspective, only two quarterbacks - Lamar Jackson and Kyler Murray - finished with more rushing yards than that in 2020, and only four total quarterbacks (Jackson, Murray, Josh Allen and Deshaun Watson) finished with even 400 rushing yards. Finding a quarterback who can give you an additional three to five points per week with his legs has long been a strategy for late-round quarterback drafters and there's an outside possibility that Taylor is the next in the line of deep options who ends up surprising almost everyone by finishing as a QB1.

Taylorís never finished with more than 20 touchdown passes in a season, but he does typically take care of the football from a turnover standpoint. This gives him a relatively high floor each week and could make him one of the better values in fantasy this season, provided that he remains the starter. Heís never had better pass catching options than he does this season in Los Angeles and thereís little reason to believe that he wonít easily outperform his current ADP in two-QB and SuperFlex leagues.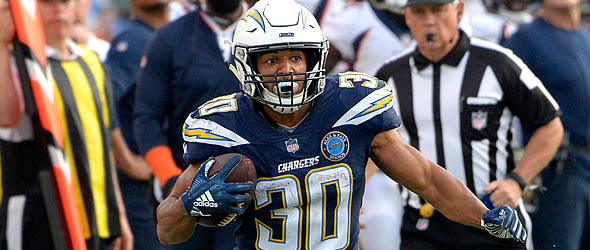 RB Austin Ekeler
(2019 RB Rank Ė No. 7, 13.8 FPts/G)
With Melvin Gordon now in Denver, the Chargers backfield has been opened up for 2019 breakout back Austin Ekeler. The team retained backup Justin Jackson who battled injuries in 2019, while also adding rookie Joshua Kelley in the fourth round of this yearís NFL Draft. Still, itís widely believed that Ekeler will see the lionís share of the touches which should give him enough volume to remain a quality fantasy option here in 2020.
Of course, the monstrous 10.8 yards per reception that Ekeler produced in 2019, along with his eight receiving touchdowns will almost certainly see some regression, but he did also only contribute three rushing touchdowns on the season which should theoretically see a bit of an increase, especially if he sees more work near the goal line here in 2020.

Thereís some concern that Ekeler might not be the receiving weapon he was with Philip Rivers at the helm, especially given that run-heavy quarterbacks like Taylor typically do not pass as often to their running backs, but Taylor has shown an ability to get the ball to pass-catching running backs in the past, as LeSean McCoy caught an average of 47 passes per season during the three seasons when Taylor was the primary starter. Thatís a far cry from the 92 receptions that Ekeler had in 2019, of course, but itís certainly not a death sentence for Ekelerís ability to finish as an RB1 in fantasy.
Rookie running back Joshua Kelley is likely the third back on the team heading into the season so his ADP will almost certainly be behind fellow running back Justin Jackson. Kelleyís upside could make him a significantly better fantasy value, though, especially in dynasty formats.

Kelley isnít particularly big, but he is quick, having run a sub-4.5 forty yard dash, and he possesses better-than-average strength as well. In addition, he showcased an ability to catch passes in college with 27 receptions in his 2018 season at UCLA. Kelley isnít likely to be an elite back at any point, but he could potentially be a fairly decent replacement for Melvin Gordon in the Los Angeles offense. He costs practically nothing in fantasy drafts and could be someone to look at late in deep drafts as thereís a real chance that he ends up being the primary back in the scenario that Ekeler misses time.

WR Keenan Allen
(2019 WR Rank Ė 11, 9.8 FPts/G)
Heís not a sexy pick, but it seems as though the injury concerns for Keenan Allen might be in his past, as heís now played in all 16 regular season games in three straight seasons. His overall production has been remarkably consistent as well, having caught 97, 102 and 104 receptions, while going for 1,393, 1,196 and 1,199 yards and exactly six touchdowns in each of those past three seasons.

Things will look different in the Chargers offense this season, but the one thing that makes Allen a better bet than most to continue his success is that heís an exceptional short-yardage pass catcher who makes plays with the ball after the catch. That bodes well for his chances to continue to at least be a reliable, productive receiver even with lesser quarterback play in 2020.

One thing thatís likely to cost Allen a bit of production this season is that the Chargers will almost certainly throw fewer total passes this season and while Allenís target share will likely remain relatively consistent, that could still mean that slightly fewer total passes come his way. Still, Allen is a high-floor WR2 or even low-end WR1 who could slip in some drafts due to the lack of fantasy hype heís getting this offseason.

WR Mike Williams
(2019 WR Rank - 37, 7.5 FPts/G)
Most fantasy analysts wouldíve told you to expect regression from Mike Williamsí gigantic 2018 touchdown rate when he scored 10 times on just 28 receptions, but few could have expected that heíd see 34 more targets in 2019 and finish with just two total touchdowns. Touchdowns are typically a very difficult statistic to predict, but we know that Williamsí 2018 touchdown rate was unsustainable on the high-end, and we should also be willing to forgive him and understand that his 2019 touchdown rate was unsustainable on the low end.

Now heading into his fourth season as a pro, Williams is yet to eclipse 50 receptions in any single season and heís unlikely at this point to develop into an every week, reliable fantasy option. That wonít be helped by the fact that heíll likely have a below-average passer throwing him the ball in 2020, whether it be Taylor or Herbert.

Still, Williams is really one of only three down-the-field pass catchers in the Los Angeles offense who has shown anything at the NFL level, so his target share is pretty safe. That alone should make him at least a viable WR3 option for fantasy with the potential of some spectacular, week-winning performances here and there.

TE Hunter Henry
(2019 TE Rank – 8, 7.9 FPts/G)
Another injury-plagued season cost Hunter Henry four games in 2019 and left him less-than-full-strength in many of the games he did play in. Still, Henry finished the season as the fantasy TE8 overall with 55 receptions for 652 yards and five touchdowns. He did that in his first season back after suffering an ACL tear in 2018.

Unfortunately, the Chargers offense just isn't likely to be particularly high-powered this season, which could lead to fewer red zone opportunities for Henry and thus cap him as a mid-level TE1. He's still young at just 25 years old, however, so the best of Henry may still be to come. Don't look for him to make that jump into the elite TE1 tier, however, as the players in that range are catching closer to 100 passes for 1,000-plus yards and oftentimes push for double-digit touchdowns. Henry is good and may have the physical ability to be at that level, but he's just not in a situation where he's likely to produce that kind of end-of-season numbers.