QB Jared Goff
(2019 QB Rank – No. 11, 21.0 FPts/G)
High-level fantasy production in both 2017 and 2018 led to Jared Goff having some hype as a potential top five fantasy QB in 2019, but it just didn't fall that way for a variety of reasons. Many will argue that the Rams' offense coached by Sean McVay has been "figured out" by NFL defenses and while that certainly may be contributing to the steep scoring decline that the team saw from 2018 to 2019, it should also be noted that the team was banged up and the offensive line continues to crumble in front of Goff. Still, some of the blame for the Rams scoring 133 fewer points in 2019 than they did in 2018 has to fall on Goff himself and the sudden spike up to 16 interceptions that he threw.

On a positive note, Goff did lead the entire NFL with 626 pass attempts in 2019 and he was able to salvage a top-12 fantasy QB season on sheer volume alone as he eclipsed 4,600 passing yards for the second straight season. While we shouldn't project him to throw the ball that much again this season, the Rams offense will likely still be built on a high play per minute ratio, which should lead to Goff again being near the top of the league in pass attempts. He will, however, be without Brandin Cooks and the team really did not bring in any sort of significant replacement for him, so don't look for the offense to be constructed the same way that it was in McVay's first few seasons with the Rams. We saw in 2019 some of what we should be expecting this season with fewer downfield pass attempts and more underneath throws to possession receivers and tight ends.

Goff lacks the rushing credentials to be a truly elite fantasy quarterback in today's game, but he's currently being selected outside the top 20 quarterbacks in many drafts. There's very little chance that he finishes below his ADP right now which should make him an ideal target as an ideal later-round QB2 in two-QB or superflex formats.

RB Cam Akers
(2019 RB Rank – N/A)
With Todd Gurley now off in Atlanta, the Rams were expected to make a move to bring in some sort of competition for the lackluster backs they had on their roster. They did that by selecting Florida State running back Cam Akers in the second round, which was actually their first pick in the 2020 NFL Draft.

Akers broke out as a freshman, rushing for over 1,000 yards on above 5 yards per carry behind one of college football's worst offensive lines. While he never really had the truly monster rushing production that most top two-round running backs provide, he was one of the more productive pass catchers out of the backfield in this year's draft class. The Rams had leaned heavily on Gurley in the passing game in previous seasons, but practically completely abandoned that in 2019 as it became apparent that Gurley's body was no longer capable of producing the flashy plays we had seen from him earlier in his career as a receiver.

Akers is not a one-for-one replacement for Gurley by any means and there's plenty of reason to believe that he'll have to fight for playing time against both Malcolm Brown and Darrell Henderson, but he is a player that the team invested significant draft capital in, so it should be assumed that he's going to be the team's top producer at the position even this season. That may not happen quite as quickly as some would hope, however, as the NFL training camp situation could lead all rookies to be less prepared than we're used to. Of course, running back is probably the easiest fantasy-relevant position for a rookie to pick up, but that still doesn't mean that Akers is just going to start the season getting 20 touches per game.

The other thing that fantasy owners need to keep an eye on regarding Akers and the entire Rams backfield is that, on paper, the Rams face an extraordinarily difficult schedule of opposing run defenses. Those numbers can certainly fluctuate some from season to season, but it's never a good thing when you look and see that your fantasy running back is facing a top 10 run defense seemingly every week.

Akers does have some potential value if he ends up being the team's primary back, but we just don't know if that will be the case, so there's risk in drafting him where he's currently being selected as he may end up simply being the best player in a multi-back committee on a pass-heavy offense. That's not a great recipe for consistent fantasy production.

RB Darrell Henderson
(2019 RB Rank – No. 95, 2.6 FPts/G)
One of the most over-drafted players in all of fantasy in 2019, Darrell Henderson shot up draft boards throughout last offseason when many believed him to be the Todd Gurley replacement. Reports indicated that Gurley was dealing with a recurring knee injury and that he could be phased out of the offense as early as that season. That appeared to be even more clear when the Rams selected Henderson in the third round of the 2019 NFL Draft.

Henderson, however, was fantasy football's biggest busts as he saw just 43 total touches as a rookie while failing to exceed even 150 rushing yards on the entire season as the Rams continued to utilize Gurley as their primary back in practically all situations. There's still belief in some circles that Henderson could be an every-down NFL back, but the Rams obviously don't view him as that as they invested a second round pick this offseason on Cam Akers. A committee backfield seems practically inevitable in Los Angeles and that's just not very exciting given that the Rams offensive line situation is still quite ugly.

Another concern with the Rams backfield is that Henderson and veteran Malcolm Brown weren't even productive in 2019 despite Gurley's workload being significantly reduced in comparison to previous seasons. Henderson finished with 3.8 yards per carry, caught just four passes on the season and didn't flash much in the way of big play upside as a rookie. It was on a small sample size so there's still reason to have hope for the future, but Henderson seems destined to be - at best - the second option in a committee backfield for the Rams this season.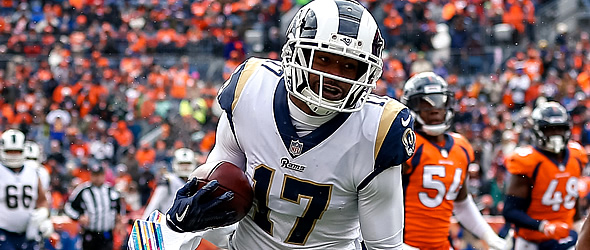 WR Robert Woods
(2019 WR Rank – 21, 9.5 FPts/G)
The Cooper Kupp vs. Robert Woods debate is one that will leave plenty of fantasy owners scratching their heads heading into 2020, but it may be more straightforward than some are making it out to be.

We know that the Rams are likely going to have to pass the ball quite a bit, so both Woods and Kupp are in line to be consistent, productive fantasy weapons regardless of how things play out, but there could very well be a shift in offensive setup happening in Los Angeles. We saw some of it in 2019 when the Rams offensive line was struggling to protect Jared Goff and open up holes for the running game, which led to the team shifting their offensive personnel groupings. Previously they were among the heaviest utilizers of three-receiver sets in the league when they would deploy Woods and Brandin Cooks on the outside with Kupp in the slot, but they began to shift to an offensive set that utilized just two wide receivers while adding a second tight end on the field. This helped bolster the protection for Goff, increased efficiency in the running game, but it also led to some big performances for Woods down the stretch.

While he failed to exceed 90 yards in seven of his first eight games in 2019, Woods blossomed in the second half of the season when he produced five 90-plus yard games in his final seven contests. Most importantly, he saw no fewer than nine targets in a game over those final seven games.

Woods was also quite unlucky in the touchdown department as he scored just twice despite catching 90 passes for 1,134 yards on the season. His frame isn't built to be a mega touchdown scorer by any means, but two scores on that type of volume is an extreme outlier that would almost certainly return closer to six or seven scores if he produced those yardage and reception totals here in 2020. Adding just a few more scores alone would shoot Woods up the wide receiver rankings, but there's a real chance that he actually sees more targets in 2020 than he saw in 2019 now that Cooks is off the roster. Sure, the Rams did invest a third round pick in Van Jefferson and Josh Reynolds is still on the roster, but neither of those players is likely to command anywhere near the type of target share that Cooks did, so banking on a healthy Woods to produce at least what he did in 2019 seems quite safe, with added upside of finishing as a top-12 player at the position.

WR Cooper Kupp
(2019 WR Rank – No.4, 11.0 FPts/G)
While Robert Woods was the unlucky one in the passing game with only two touchdowns on 90 catches, slot receiver Kupp blew up with his first 10-touchdown season in 2019 and he did so on 94 catches for 1,161 yards. Fantasy owners who took a chance on Kupp, who was being drafted third on his own team among wide receivers heading into 2019, were rewarded as he finished as the fantasy WR4 overall.

What's interesting about Kupp's game log, however, is how and when his production came. He did the vast majority of his reception and yardage damage in the first half of the season as he caught 58 passes for 792 yards and five touchdowns over his first eight games. That alone would be a quality fantasy season for many wide receivers and it could be argued that Kupp was the most valuable receiver in fantasy up to that point, given his ADP heading into the season.

It was around that point, however, when the Rams began to shift their offensive scheme toward heavier sets. While this affected Brandin Cooks the most, it also affected Kupp not only in snap share, but more importantly in target share. Kupp had averaged nearly 11 targets per game through the Rams' first eight games, but that number shrunk all the way down to just under six targets per game in the Rams' final eight games.

Certainly getting Cooks entirely out of the offense should lead to more opportunities than Kupp was seeing in the second half of 2019, but it just doesn't seem likely that he's going to get back to near the 11 targets per game that he was seeing when he was producing high-end WR1 numbers in the first half of 2019. He can still be productive on something closer to eight targets per game, but don't expect the type of per-target efficiency that he was producing down the stretch as his low volume and low yardage totals were being propped up by an unsustainably high touchdown ratio. Kupp failed to exceed 65 receiving yards in seven of the Rams' final eight games, while scoring a touchdown in five separate contests. There are some receivers who just have a "nose for the end zone," but that number is quite high even for those type of players.

The reality is that the Rams may end up running more 12-personnel in 2020 than they even did in 2019, which would mean a shift to the outside for Kupp, who has been the Rams' dynamite weapon out of the slot since he came into the league. It's not that Kupp is incapable of producing in an outside role, but he's certainly better suited to play out of the slot, so expect more fluctuation in his numbers than what we've seen from him throughout his short career thus far.
With the second of their 2020 second-round NFL Draft, the Rams selected wide receiver Van Jefferson. The move came in conjunction with the assumption that Brandin Cooks would be moving on this offseason, and he did.

While the Rams have historically been extremely heavy in utilization of three-WR sets under head coach Sean McVay, they saw success in shifting toward a heavier 12-personnel grouping in the second half of 2019. That doesn't necessarily mean that the third WR in Los Angeles won't see some playing time, but it's also worth considering that Jefferson will have to battle with veteran out Josh Reynolds for whatever playing time the third WR does get. That doesn't sound difficult given Reynolds' lack of name value, but Reynolds has flashed production at times when he's been given an opportunity and he does know the offense, unlike Jefferson.

Jefferson is more of a dynasty selection than he is someone to look for production from as a rookie, but there is a world where he ends up being a starter across from Robert Woods as early as 2021. Cooper Kupp becomes an unrestricted free agent after this season and if the Rams do end up finding success with two-WR sets, he may end up being a player that the Rams opt to move on from. That could mean a great opportunity for Jefferson who is probably better suited to play outside and make blocks in the running game.

TE Tyler Higbee
(2019 TE Rank – No.9, 6.5 FPts/G)
If you're looking for a player who came out of nowhere and became a league winner down the stretch at the tight end position in 2019, look no further than the Rams' Tyler Higbee. Typically considered the second-best fantasy TE on his own team over the previous few seasons, Higbee absolutely exploded once teammate Gerald Everett went down with an injury. Higbee hadn't gone over 50 yards in a single game since Week 11 in 2018, but ended up rattling off four straight 100-yard games capped off by an 84-yard game over the Rams' final five contests.

Needless to say, fantasy owners of Higbee's late season heroics and he's now being drafted inside the top 10 at the tight end position for the first time in his career. Meanwhile, Everett is still going undrafted in almost all formats, as he's outside the top 25 fantasy TEs on most ADP data.
There's certainly a possibility that Higbee again ascends into fantasy dominance if the right set of circumstances arrive, but it's worth considering that Everett out-produced Higbee in 2018 and 2019 prior to getting injured. Perhaps the Rams just didn't know what they had in Higbee, but it seems more likely that his production is a small sample size trap that will lead to disappointed fantasy owners here in 2020.

TE Gerald Everett
(2019 TE Rank – 28, 4.4 FPts/G)
Now the forgotten tight end in this offense, Gerald Everett is a player who fantasy owners should be looking into more than they are at the moment, if for no other reason than that he's been the better fantasy player than Higbee throughout their careers when they've both been on the field.

Higbee's gigantic five-game stretch in 2019, when Everett was out, was better than anything that either player had produced for an entire season up to that point, but there's still a real possibility that Everett ends up being the better fantasy tight end - particularly in terms of draft cost - between the two.

Everett is a far superior athlete who had out-snapped Higbee by a total of 436 snaps to 354 snaps prior to Week 13 in the 2019 season. He was also the better fantasy producer during that time, even though neither player was very fantasy relevant. The big difference is that Higbee played practically every snap for the Rams while Everett was out and that led to a huge jump in target share. If both players are healthy, it's entirely possible that Everett comes close to or even out-scores Higbee in 2020.

It's not often that there are two fantasy-relevant tight ends on the same roster, but if the Rams do end up sticking to the 12-personnel that they had success with in 2019, there's a possibility that the Los Angeles duo of Higbee and Everett both end up finishing as top-15 players at the position.

Don't bother drafting Everett in anything other than oddball leagues where you're forced to start more than one TE, but keep an eye on his playing time. If he's on the field and seeing targets, and Higbee suffers an injury, he could end up producing some real nice numbers just like Higbee did down the stretch this past season.