QB Jimmy Garoppolo
(2019 QB Rank – No. 15, 19.9 FPts/G)
Jimmy Garoppolo is a high floor, but low upside quarterback that will likely go undrafted or as one of the final quarterbacks selected in most standard fantasy leagues this season.

Despite finishing with the NFL's second-highest-scoring offense, the 49ers threw the fourth-fewest pass attempts in 2019 and had the second-lowest pass-to-rush ratio in the league. Although the 49ers will likely be a more balanced team than most, the chances of them finishing with more rush attempts than pass attempts again in 2020 is quite low. That should mean a higher number of total pass attempts for Garoppolo here in 2020, thus a higher ceiling for fantasy production. The team still lacks a locked-in WR1 but they really didn't have one heading into 2019 either and Garoppolo still finished as a borderline QB1 for fantasy.

Still, the obvious upside problem with Garoppolo is that he lacks any sort of rushing ability. He averages fewer than five yards rushing per game throughout his career and he's rushed for just two total touchdowns in 26 starts as a pro. Those are Peyton Manning-like numbers in the running game. We've seen that running the ball at quarterback is a massive tool so it makes sense that he's going off the board as a mid-level QB2 in mock drafts.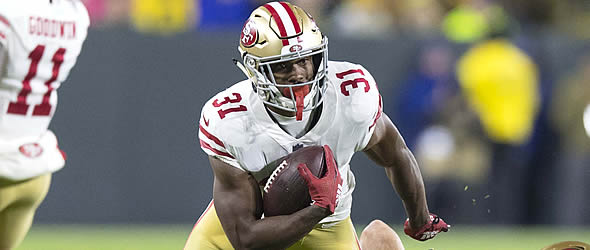 RB Raheem Mostert
(2019 RB Rank – No. 20, 10.3 FPts/G)
A breakout player and league-winner at running back down the stretch in 2019, Raheem Mostert has seen his ADP rise substantially throughout the offseason as the 49ers did not make a major investment at the position and in fact shipped off 2019 committee-mate, Matt Breida, to the Dolphins.

The 49ers finished second in the NFL in run-to-pass ratio and were just one of two (Ravens) teams that actually ran the ball more than they passed in 2019. A number of hugely positive game scripts led to a dramatically run-heavy approach from the 49ers, which has many fantasy analysts believing that this is necessarily a team that will again run the ball at an extremely high rate. That may not be the case, however, as the 49ers may see fewer positive game scripts due to a slight regression on defense and potentially a less efficient passing game due to the injury to Deebo Samuel. A drop in run-to-pass ratio would mean fewer attempts, particularly late-game attempts, for the running game as a whole, which would subsequently negatively affect Mostert. That's especially important in a backfield that is likely to feature up to three or even four different running backs per game.

Mostert led the team in snaps at running back just once in the team's first 12 games, but finished as the snap leader in each of their final seven games, including the playoffs. It's difficult to assume that Jerick McKinnon will be healthy considering his injury history, but McKinnon is currently ready to get back to football work and should also see some snaps. Keep in mind that McKinnon was projected to be the 49ers' top running back heading into the 2018 season prior to suffering back-to-back season-ending injuries in the pre-season in both 2018 and 2019.

The other problem with Mostert is his lack of usage in the passing game. We've seen players make big improvements as a receiver out of the backfield in the past, but it's not all that common and it's difficult to believe that he's going to suddenly become a serious contributor in that category. Mostert was only targeted 22 times for 14 receptions in the 2019 regular season and he was targeted just three total times in the 49ers' three playoff games.

Mostert is going off the board as a low-end RB2 in most leagues so he does have some nice upside given the price, but the chances of him finishing as a truly elite fantasy RB in 2020 are slim.


RB Tevin Coleman
(2019 RB Rank – No. 32, 8.2 FPts/G)
A newly-acquired weapon for San Francisco heading into 2019, Tevin Coleman was the team leader in snaps in seven of the 49ers' first 10 games, and he missed two of those games due to injury. He then fell off significantly in snap share in Week 13, never again surpassing Mostert as the RB snap leader. Still, Coleman was seeing nearly 30 percent of the 49ers' snaps at running back down the stretch, which did give him some fantasy value, including a 22-carry, 105-yard, two touchdown game in the playoffs.

While he's almost certainly second in the pecking order heading into the season, many analysts are throwing dirt onto Coleman's grave well before they should be. An injury to Mostert would almost certainly make Coleman one of the most highly sought-after fantasy assets and he may still have some fantasy-relevant weeks if Mostert remains healthy.

WR Deebo Samuel
(2019 WR Rank – 11, 9.8 FPts/G)
2019 rookie breakout wide receiver Deebo Samuel suffered a Jones Fracture (broken foot) on June 16th and was originally expected to miss 12 to 16 weeks, but Samuel claims he "might only miss 10 weeks." Players almost always over-exaggerate their own return dates, but it's good to hear that Samuel is feeling confident on his timetable.

The reality is that even if Samuel were completely healthy, there's not a great chance that he suddenly breaks into being an upper-echelon fantasy wide receiver. It's not that he lacks the skill to be there, but the 49ers offense just does not pass the ball enough to give both Samuel and Kittle the type of volume that they'd need to be top producers at their positions. Kittle is a proven elite-level performer at tight end so his target volume isn't going anywhere anytime soon. Therefore it's Samuel who is likely to remain at the mid-level WR2 range for realistic upside.

Even if Samuel does return and is ready for Week 1, he could be dealing with an injury that limits his explosiveness, which is one of his most important assets as a player. That could significantly hamper his fantasy success this season, especially early in the year. Obviously this has driven Samuel's ADP down, but he's still going around the range of players who are much safer options.
An upper-percentile speed with high-level burst scores, rookie Brandon Aiyuk has been on the fantasy radar as he could potentially fill the void left by Samuel – if Deebo does miss games. A four-year junior college transfer who didn't break out until N'Keal Harry left for the NFL, Aiyuk profiles more as a second option in an NFL offense than a first one, but he still has the highest upside of any wide receiver in this offense other than Samuel.

The 49ers reportedly had Aiyuk as their top-ranked wide receiver in the 2020 NFL Draft class and they selected him with their first round draft pick, so there's plenty of reason to believe that the team will be excited to deploy him as early as this season. However, given the current state of affairs with the health concerns that are threatening training camps throughout the league, there's a fair chance that Aiyuk takes a while to break out - or never breaks out at all - in his rookie season. Still, his price is currently quite low in fantasy drafts so it's worth giving him a chance on your roster with one of your final draft picks.

WR Kendrick Bourne
(2019 WR Rank - 37, 7.5 FPts/G)
The San Francisco passing game was about as low-volume as any in the league, but if you're looking for an early-season replacement for Samuel, should he miss a few games, look no further than veteran Kendrick Bourne. Bourne finished second on the team in snap count in 2019 and while he did fall to third in the pecking order once Emmanuel Sanders joined the team, Sanders left this offseason which could elevate Bourne back into a more prominent role. Bourne is a low-upside play who surpassed 50 yards just once in 2019 but he isn't the worst option if you're in a deep league and want to "handcuff" him to Samuel.
WR Dante Pettis
(2019 WR Rank - 130, 2.5 FPts/G)
There's an outside possibility that third-year receiver Dante Pettis could end up being the surprising beneficiary of Samuel missing time. Pettis started the 2019 season in the dog house but eventually saw significant playing time for the 49ers during the middle part of the season before he once again fell off into irrelevance.

There is some belief, however, that Pettis' playing style is the closest replacement for Samuel should the team need someone to step in 2020. Pettis saw moments of success as a rookie in 2018 but became essentially irrelevant in 2019 and could even end up being a cut or trade candidate in 2020. That might not be the worst thing for his fantasy value as he'd likely end up on a team that doesn't have a better version of himself on the roster.

TE George Kittle
(2019 TE Rank – 3, 9.8 FPts/G)
While the 49ers lack a true alpha WR1, they make up for it with one of the greatest tight ends in the history of the game. Yes, George Kittle - at age 26 - has already solidified himself as one of the all-time greats at the position. He's an elite run blocker, but fantasy owners have to be in love with a player who has gone over 1,000 receiving yards in each of his past two seasons. To put that into perspective, both Tony Gonzalez and Rob Gronkowski only had back-to-back 1,000-yard seasons once during their careers, while Antonio Gates had just two 1,000-yard seasons his entire career. With another high-volume season, Kittle could become the second tight end in history (Travis Kelce) to hit the 1,000-yard mark for the third straight season.

Kittle produced his 1,053 receiving yards in 2019 in just 14 starts, so his 16-game pace would've put him over 1,200 receiving yards. While his reception and yardage numbers are off the charts, Kittle has actually been unlucky in the touchdown department over the past two seasons, having scored just five times in each of the past two seasons. The 49ers were extraordinarily successful running the ball in the red zone as they finished with a league-leading 23 rushing touchdowns, but that type of success is extremely difficult to replicate. If the team sees a bit of a regression back toward the 15 to 20 rushing touchdown range, that would open things up quite a bit for Kittle to potentially get into the end zone more often. If he can bump that touchdown total up a bit, Kittle is suddenly producing WR1 numbers from the tight end position. That's potentially a league-winning player.

Of course, the fact that Kittle plays tight end is something that we have to keep in mind. While it does give him premium value given that most other tight ends aren't nearly as productive, the tight end position itself is also the most-injured position in all of fantasy football. Kittle himself missed a pair of games during the middle of the 2019 season and it's always possible that he suffers some sort of injury that prevents him from being his usual explosive self. The added risk of injury makes taking a tight end in the early rounds a risky proposition any year but Kittle is the type of player who could legitimately finish as the TE1 and give his fantasy owners a gigantic edge at the position.