QB Matthew Stafford
(2020 QB Rank – No. 15, 20.0 FPts/G)
The Rams offensive line was notably terrible in 2019, but it took major steps forward in 2020 and should now be considered one of the better units in the league. Many had used offensive line struggles as a reason for Jared Goff's struggles at quarterback, but unfortunately the improvements in front of him did not translate into success for the QB, who the team has now moved on from.
Seemingly finally admitting the reality that the Goff draft pick was a bust, the Rams made the move to acquire another former No.1 overall NFL Draft pick, Matthew Stafford. One of the biggest problems with Goff was that he didn't push the ball down the field, so a move to the big-armed Stafford should - at least theoretically - give the Rams a more vertical offense. Stafford was without Kenny Golladay for most of the 2020 season but still finished close to the top of the league in average target distance.
The Rams lost Josh Reynolds and Gerald Everett which isn't great, but neither of those players was a significant contributor this past season. 2020 rookie Van Jefferson should see more playing time and he probably has more upside than Reynolds at this point, so there's a realistic possibility that the Rams weaponry is about equal to what it was a season ago.
With second-year back Cam Akers now out for the season, look for the Rams to pass the ball more heavily in 2021, which should actually lead to more points scored for the team as a whole. This would be a nice boost for Stafford, who has spent his recent seasons stuck in a lackluster situation, behind bad offensive lines, with nervous playcalling and against defenses that were able to play hyper aggressively against the Lions. Los Angeles' elite defense should put Stafford in a better average starting position on drives than he's been used to in Detroit, which would also indicate a higher likelihood for scoring.
The only real negatives, from a fantasy standpoint, for Stafford are that he's entering a new offense which doesn't always translate into immediate results, and that he remains one of the league's least-mobile quarterbacks. We've seen players like Tom Brady, Peyton Manning, Matt Ryan and even Jared Goff deliver top-half QB1 seasons without contributing much of anything on the ground, but we also know that those performances are becoming increasingly more rare by the year. With that said, Stafford is a relatively safe option, especially where he's being drafted at the moment. He's going outside of the top-12 QBs on many fantasy ADPs so he's a QB2 for most owners. If you're taking a shot on a player like Jalen Hurts, for example, Stafford might be an ideal complement to deliver a safe backup option in case Hurts does flame out this season.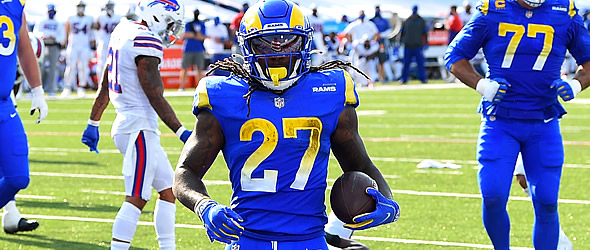 RB Darrell Henderson
(2020 RB Rank – No.31, 7.6 FPts/G)
The late-first round of fantasy drafts took a hit when it was announced that Cam Akers suffered a torn Achilles and will miss the 2021 season. Akers looked set to be the workhorse back in what should be an improved Rams offense this season, but now the whole backfield is in shambles. The team moved on from veteran Malcolm Brown this offseason, so the immediate impact would seem to be that third-year back Darrell Henderson should see an immediate and significant bump in value, given that he's now the only running back on the roster who's seen much NFL action.
Henderson was actually fairly productive and efficient when given an opportunity in 2020, but it was clear that the team was eventually going to make the move to Akers either way - and they did. Now that Akers is out, Henderson's only real obstacle to avoid is the Rams signing a veteran like Le'Veon Bell, Todd Gurley or Adrian Peterson. It does seem unlikely that the Rams will go into the season without making some sort of move to at least add to their running back depth, but there's a very real chance that he starts the season as the top back on the depth chart for what should be at least a decent Rams team.
Henderson saw 138 carries and caught 16 passes in 2020 in what was, at best, a split backfield. A 200-touch season is not out of the realm of possibilities for Henderson and that'd immediately catapult him into legitimate fantasy RB2 discussion, as only 20 total running backs touched the ball 200 times or more in 2020.
ADPs on Henderson haven't been corrected yet so it's hard to know where he's going to end up in fantasy drafts, but you're likely going to find a wide variety of opinions on his value at the moment, at least until we get closer to the preseason kickoff. There will likely be someone in most drafts who takes a "YOLO" approach when it comes to Henderson, opting to take the chance on him taking over the role as the team's bell cow back in 2021, so if you're interested, you're probably going to need to reach a round or even two higher than his ADP in order to land him in your draft.
WR Robert Woods
(2020 WR Rank – 13, 9.8 FPts/G)
A lack of downfield pass catching opportunities has really limited the true upside of Robert Woods in recent seasons, but he has continued to be one of the most reliable and slept on fantasy receivers. Woods finished as the WR13 in 2020, the WR21 in 2019 and the WR10 in 2018. He's now being selected as around the WR20 in the ADP this offseason, depending on the service you're looking at, and that would seem to be about his floor given recent history.
Certainly there are sexier picks, but Woods has now seen at least 129 targets in three straight seasons. What's really hurt him most in fantasy is that he just hasn't been able to translate his high target share and yardage into receiving touchdowns. In fact, he's caught just 14 touchdowns over those past three seasons combined. Some would argue he's, "just not a touchdown scorer," but history tells us that there are very few players like that throughout history. Like most things in sports, if the ancillary numbers are there, the corresponding statistics will typically correct themselves over time. This doesn't necessarily mean that Woods is likely to suddenly shoot up to being a 15-touchdown guy, but a 10 touchdown season - with improved quarterback play in what should be a more aggressive offense - doesn't seem out of the question.
One thing that has helped Woods in recent seasons is that he's been able to carry the ball between one or two times per week on average. That doesn't seem like much, but when he's been able to translate that into over seven yards per carry and four total touchdowns, it's easy to see why that extra point or two per week can help give Woods the edge over other players who aren't as involved in their teams' running game. To that point, however, the Rams did invest a second round pick on speedster Tutu Atwell, a wide receiver from Louisville. Atwell didn't contribute a ton in the running game during college, but he would appear to be almost an ideal "weapon" for the Sean McVay offense. That could end up leading to him stealing at least some of the carries that would've otherwise gone to Woods. Again, this is a relatively small number to begin with so we should be moving down Woods because of it, but it's something to keep an eye on as his rushing numbers have given him some nice added value.
The major point with Woods is that he's seemingly falling into the "slept on" category again this season by fantasy owners. He's likely never going to be a flashy playmaker, but Woods is a reliable fantasy weapon who consistently delivers WR2 numbers. Don't be afraid to select him over the "hot, new thing" who hasn't proven himself.
WR Cooper Kupp
(2020 WR Rank – 34, 7.9 FPts/G)
Like his teammate Robert Woods, Cooper Kupp struggled through an ugly season from quarterback Jared Goff in 2020. Kupp saw his yards per reception drop to a career low of 10.6 and his yards per target were also a career low at 7.9. Anyone watching the team from the outside could've told you that quarterback play was a problem, so the Rams opting to make the move to acquire Matthew Stafford should be a welcome change for both Kupp and Woods enthusiasts.
Kupp has primarily played out of the slot throughout his career, but actually saw his slot snaps drop a bit this past season when the Rams opted to play significantly more 12-personnel than they had in previous years. This made sense as the team was without Brandin Cooks, which meant that they were down to only two proven wide receivers on the roster. This meant more total playing time for tight ends Tyler Higbee and Gerald Everett, but it also meant that Kupp had to play outside more often. With Everett now gone and the Rams adding both DeSean Jackson in free agency and Tutu Atwell in the second round of the draft, it would seem likely that they will be looking to transition back into being one of the NFL's most consistent three-WR set offenses. This should allow Kupp to spend more time in the slot, where he's seen most of his success throughout his career. Kupp isn't a particularly fast or strong player, but he possesses tremendous open field agility and his route-running allows him to absolutely abuse the linebackers, safeties and nickel corners that dare line up to defend him out of the slot.
Kupp is currently being drafted just behind Woods and while his 2020 season saw him finish significantly behind that number, there's plenty of reason to believe that he'll be back to being a solid WR2 this season, particularly in PPR formats.
WR Van Jefferson
(2020 WR Rank – 64, 4.6 FPts/G)
The Rams relied heavily on 12-personnel in 2020, but with Gerald Everett now out of the equation, Los Angeles will almost certainly look to lean even more heavily on their three-WR sets in 2021. The two players who are most likely to benefit from that are veteran WR DeSean Jackson and second-year WR Van Jefferson.
Jefferson didn't fire as a rookie as he sat behind standouts Cooper Kupp and Robert Woods and was unable to supplant Josh Reynolds as the team's third wide receiver in three-WR sets. This is somewhat of a red flag as Reynolds himself was quite unimpressive in 2020 despite being given plenty of playing time. We've seen head coach Sean McVay give plenty of praise for Jefferson in training camp, including comments about how much work he's put in to improve throughout the offseason.
Still, there's plenty of reason to be worried that Jefferson just isn't "the guy," given that the Rams did bring in DeSean Jackson and they also drafted Tutu Atwell in the second round this year. It's not time to give up on Jefferson yet, but he's going to need to show improvements right away or he's probably going to lose his starting job in three-WR sets fairly quickly - potentially even before the season starts. Nevertheless, the upside is here for Jefferson and that should be enough to make him a worthwhile pick near the end of your seasonal drafts.
WR DeSean Jackson
(2020 WR Rank – 116, 6.2 FPts/G)
Injuries have completely crushed DeSean Jackson's recent seasons, allowing him to play just eight total games over the past two seasons for the Eagles. The 34 year-old has, however, shown signs of life when he's been on the field, particularly early in the season. He exceeded 100 receiving yards in three of his first four games for the Buccaneers back in 2018, then smashed in Week 1 of the 2019 season for the Eagles with eight receptions for 154 yards and two touchdowns before getting injured early in Week 2. His early part of the 2020 season wasn't quite as impressive, but he was still targeted 20 times over his first three games before getting injured.
Jackson now finds himself in a new offense, tethered to a big-armed quarterback who is completely willing to sling the ball down the field. That matches perfectly with what Jackson brings to the table as he, despite being an older player, is still one of the quickest receivers in the league.
The depth chart ahead of Jackson is set with Robert Woods playing outside and Cooper Kupp playing in the slot in the Rams' base three-wide set, but the other outside receiver spot is still very much up for grabs. It makes sense that the Rams would give Jackson a shot to compete for it, given that they brought him in this offseason, but they do have a pair of second round draft picks invested in Van Jefferson and Tutu Atwell, so he may end up being used more situationally than some fantasy owners are thinking when they just take a quick glance at the depth chart. Jackson's recent injury history is certainly a concern, so perhaps the Rams would be wise to not have him play every snap.
Jackson is a player who's going very late, or even undrafted, in most drafts. He does have huge upside if he outright wins the third WR job in Los Angeles and he could see his value skyrocket if anything happened to Woods or even Kupp. Still, the most likely outcome here is that Jackson doesn't provide enough weekly targets to make him a trustworthy weekly fantasy asset in normal seasonal leagues.
TE Tyler Higbee
(2020 TE Rank – 17, 5.5 FPts/G)
Tyler Higbee was one of the hot fantasy football tight ends heading into drafts in 2020, but a lot of that came from extrapolation of the stats he compiled near the end of 2019. That alone is a dangerous game to play, but the skepticism should've been compounded when it was considered that Higbee provided those numbers when the Rams were without his tight end counterpart Gerald Everett. Everett and Higbee have long been looked at as one of the league's best duos at the position, but neither player was a consistent fantasy asset because the Rams have relied so heavily on three-WR personnel, which has meant that only one of their tight ends could be on the field. Therefore, they cannibalized one another's opportunities despite the two of them combining for what would otherwise be usable fantasy performances.
Not surprisingly, Higbee was a huge bust in 2020 for those who invested in him as their TE1 for fantasy. He finished with just 44 receptions for 521 yards and despite a career high of five touchdowns, fantasy owners were left with the TE17 on the year.
Looking ahead to 2021, Higbee is now being drafted far outside the TE1 range, but the situation has completely changed. The Rams actually moved on from Gerald Everett and did not bring in any sort of additional competition at tight end. This should signify that Higbee is now the team's locked in TE1, giving him the lion's share of the snaps at the position. Certainly it should be noted that the Rams did sign WR DeSean Jackson and drafted WR Tutu Atwell, so there might be more target competition as a whole, but when it comes to specific competition at the tight end position, there really isn't anything stopping Higbee.
For conversation sake, if we were to add Higbee and Everett's stats together from the 2020 season, we would've seen that super-player contribute 85 catches for 938 yards and six touchdowns. To put that into perspective, only two tight ends (Darren Waller and Travis Kelce) caught more than 72 passes in 2020. Only those same two tight ends went over 723 yards, and only eight tight ends caught more than six touchdown passes.
Certainly we can't just add Higbee and Everett's numbers together and say that this is what we'll get in 2021, but Higbee looks like a player who's being vastly undervalued right now and a lot of that is stemming from the disappointing 2020 season he provided for those who didn't pay attention to the Everett situation. He's going so late in fantasy drafts that he costs practically nothing to acquire, but Higbee looks like a potential top six option at the position if he can stay healthy.