QB Daniel Jones
(2021 QB Rank – No. 28, 18.5 FPts/G)
Giants quarterback Daniel Jones' early career had many viewing him as a player who could develop into a strong fantasy asset. That projection just hasn't developed into reality, however, and the former first-round NFL Draft pick is now looking more like a player who might end up on another roster sooner rather than later.
Jones' rookie season saw him throw for 24 touchdowns with 12 interceptions in just 13 games, but his two seasons since have seen him combine for just 21 touchdown passes while throwing 17 interceptions in 25 starts. A sub-one touchdown pass per game average is horrible for anything other than the most elite runners at the position, but Jones hasn't even been able to produce on the ground - at least not at the level that we'd need for him to be a viable weekly fantasy asset in single quarterback leagues. He's averaging just shy of 30 yards per game on the ground, which is a nice bonus if you were talking about someone like Justin Herbert who's also giving you 5,000 or even 4,000 passing yards, but Jones is currently averaging fewer than 2,800 passing yards per season. Some of that lack of passing production is due to injury, sure, but the reality is that the Giants have just done an incredibly poor job of putting him in good positions and he hasn't been able to overcome the obstacles in front of him.
The good news is that he is still surrounded by a lot of talented pass catchers. Evan Engram moved on, but the Giants still have veterans Kenny Golladay and Sterling Shepard (currently on the PUP), second-year wide receiver Kadarius Toney, and new additions like second-round wide receiver Wan'Dale Robinson and fourth-round tight end Daniel Bellinger. In addition, running back Saquon Barkley should be back which will give the Giants a ton of added versatility along with an explosive underneath receiver out of the backfield. There's still a lot of work to be done on the offensive line and the play-calling improvements are only a projection with the new coaching staff, but things are looking up for this offense as a whole.
There's still way too much risk in Jones to consider drafting him in normal single-QB leagues, but he's an interesting late-QB2 in 2QB or superflex formats. He's probably not going to give you much consistency, but he's had some real blow-up weeks in the past and that can certainly be valuable.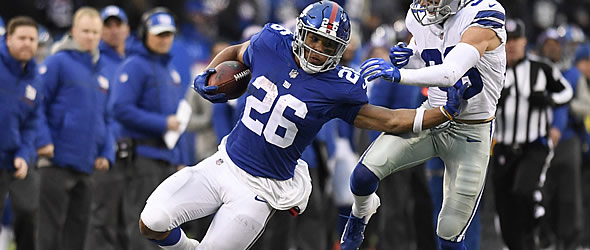 RB Saquon Barkley
(2021 RB Rank – 34, 8.4 FPts/G)
One of the most physically gifted running backs in recent memory, Barkley has certainly taken a tumble down fantasy boards this offseason. Previously a first-round fantasy pick every year of his career, Barkley is now being drafted outside the top two rounds in many drafts. While few can argue that tremendous upside does not still exist with him, his extensive injury history is now being weighted heavily in his draft day cost.
Barkley originally suffered an ankle injury early in 2019, his second season in the league. After missing three games, there was a noticeable degradation in his on-field performance. Then in 2020, after being a top-two overall pick in most fantasy drafts, he suffered a season-ending ACL/MCL injury just two games into the season. This burned many fantasy managers and the frustration only got worse in 2021 when he suffered another leg injury in Week 5, resulting in him missing almost that entire contest in addition to four more games.
Now entering his fifth season in the league, reports are that Barkley is back to full health, but there are now worries that he might have lost a step since he first took the league by storm as a rookie in 2018. Barkley averaged 5.0 yards per carry as a rookie, but that number has dropped to just over 4.0 yards per carry over his past three seasons. Certainly, YPC is closely correlated to offensive line play, which Barkley has been consistently let down by in New York, but his lack of explosive plays is also worrisome. Not only that, but we saw him get targeted in the passing game just 4.4 times per game in 2021, compared to 7.5 times per game as a rookie. If Barkley isn't being utilized at an elite level in the passing game and his offensive line isn't opening up holes for him to run through, then what exactly is he for fantasy purposes?
The positive for Barkley remains that he's the unquestioned starter for the Giants heading into the season. The team hasn't spent substantial resources on running back since drafting him and there's really no indication that they don't have full confidence in him. Even if he isn't quite the player that he once was, he's still a dynamic athlete who commands double-digit touches in every game. If he's able to avoid debilitating injuries, there's almost no way that Barkley doesn't provide a positive return on investment for fantasy managers, given his low cost.
RB Matt Breida
(2021 RB Rank – 81, 5.4 FPts/G)
Journeyman running back Matt Breida joined the Giants this off-season after spending time in committee backfields with the Dolphins in 2020 and the Bills in 2021. Now aligned as the clear backup with no real path to a starting role without an injury, Breida is going undrafted in most fantasy leagues as a handcuff to one of the league's most entrenched starters on what is expected to be a bad team.
While Breida is unlikely to see significant work without a Saquon Barkley injury, it's a bit odd to see Breida not being selected by the fantasy managers who continually decry Barkley as being "injury-prone." If they're so convinced that Barkley is going to get hurt again, wouldn't it make sense to at least take his backup with a late-round pick? Even if the team is projected to be bad, a starting running back - or at least one who'd be projected to lead a committee - would have some value in today's fantasy game.
Putting that question aside, it's easy to look at Breida and not be very excited about him. After performing well but dealing with his own injuries while in San Francisco, Breida has had a tough time getting touches with the Dolphins or Bills over the past two years. When he has touched the ball, however, he's been more efficient than some might think. He's averaged over 10 yards per reception in each of his past two seasons, albeit on small sample sizes, while also rushing for 4.5 yards total per carry. He was more effective than Myles Gaskin, Salvon Ahmed, Zack Moss, or Devin Singletary when he had the ball in his hands.
Don't go into your draft expecting that Breida is going to become some sort of stud for you this season, but understand that he's an injury away from potentially being a weekly flex starter here in 2022.
WR Kenny Golladay
(2021 WR Rank – 86, 3.7 FPts/G)
Wide receiver Kenny Golladay spent his first four seasons with the Lions before making his debut with the Giants in 2021. Considered by most to be one of the bigger off-season wide receiver acquisitions that offseason, it's hard to not look at him as being a colossal failure for New York. Golladay accumulated just 521 yards on 37 receptions and failed to score a single touchdown. This was by far the worst per-game production of his career, but it's hard to not blame the numerous injuries he suffered for much of that disappointment.
Unfortunately for fantasy managers, even though reports out of camp are that Golladay looks healthy, statistics tell us that his history of hip and leg injuries put him at an added risk to suffer more of those types of injuries this season and beyond. We shouldn't be overly concerned about the rib injury he suffered in 2021, but the ankle and hip injuries specifically have a tendency to come back over time.
If Golladay can stay healthy, though, we should expect that he's going to be one of the primary weapons in this Giants offense. The team is actually fairly talented at their skill positions, but Golladay stands out 6'4", making him the most physically imposing receiver on the roster. This has manifested itself in the past in a near 1,200-yard, 11-touchdown season for Golladay in 2019 - his only professional season which saw him play in all 16 games. It's hard to imagine that Golladay has that type of upside in New York with Daniel Jones behind center, but there's plenty of reason to think that he can still be a viable fantasy asset this season.
New head coach Brian Daboll has praised Golladay multiple times throughout the offseason, noting that Golladay has tremendous contested-catch ability due to his size and athleticism. The team invested in their offensive line this offseason which should help not only with the running game but also with protecting the quarterback, which would seemingly give the team more of an opportunity to take shots down the field. Golladay would theoretically be the primary beneficiary of an increase in deep targets as he is by far the most proven downfield pass catcher on the roster and has been borderline elite at that range throughout his career.
WR Kadarius Toney
(2021 WR Rank – 104, 4.7 FPts/G)
An off-and-on rookie season makes Kadarius Toney one of the more interesting fantasy players in New York as we head into the 2022 season. He had a couple of "breakout" games, but immediately suffered injuries that caused him to miss time and really deflated his hype.
Now heading into his second season, Toney is in the driver's seat to start opposite Kenny Golladay in two-WR sets. Slot receiver Sterling Shepard is expected to be back at some point and the Giants spent a second-round pick on Wan'Dale Robinson who also projects to play primarily out of the slot which will mean an interesting change in situation for Toney. He was looked at as primarily a slot receiver himself when he came out of college and played most of his snaps in the slot as a rookie.
While his average depth of target was one of the lowest in the league, Toney consistently made Deebo Samuel-esque post-catch moves to finish in the top-10 in the league in yards after catch per reception in 2021. The Giants can definitely draw up some ways for him to get the ball in his hands close to the line of scrimmage even if he's not playing out of the slot, but he's likely going to need to progress as a route separator on the outside if he's going to take the next step toward becoming more than just a gadget player at the NFL level.
There are plenty of concerns about Toney when it comes to his ability to perform as a more traditional NFL wide receiver, but the Giants spent a first-round pick on him in 2021 and they're going to give him every opportunity to prove that he deserved that draft spot. As such, if there's any receiver on this roster who's most likely to break out and become a WR1 for fantasy this season, it has to be Toney. The chances are still slim given the expected output from the Giants as a whole, but it's not impossible that Toney make some real splashes for fantasy in 2022.
WR Sterling Shepard
(2021 WR Rank – 106, 6.0 FPts/G)
After missing 21 games over his past three seasons and battling through injuries in most of the ones he did play in, it's easy to forget that Sterling Shepard is entering just his seventh NFL season and remains one of the more reliable slot receivers in the league. Unfortunately, he tore his Achilles' in mid-December of 2021 and has found himself on the PUP list to start training camp. There have been some impressive returns from this major injury in recent seasons, including Los Angeles' Cam Akers who tore his Achilles' in July of 2021 before returning to lead the Rams' backfield during their eventual Super Bowl run. However, that type of recovery is far from the norm and while it's been seven months since Shepard's injury, it's normally a full year before players are back on the field, let alone relevant for fantasy.
If you're looking for even more proof that the Giants are worried about Shepard, consider that they drafted Wan'Dale Robinson, who projects to be more of a slot receiver himself, in the second round of this year's NFL Draft. This comes after then-rookie Kadarius Toney primarily played out of the slot in relief of Shepard in 2021. Add in Saquon Barkley who occasionally plays out of the slot himself and this is a roster full of players who perform best as pass catchers when they're going over the middle of the field and making catches close to the line of scrimmage. They're not one-for-one replacements for Shepard, but the Giants are unlikely to force the issue of getting Shepard back on the field given their roster makeup.
With that information in mind, it makes a lot more sense to avoid drafting Shepard in traditional redraft leagues and instead look to add him to your roster once we hear grumblings that he expects to get back on the field at some point this season.
TE Ricky Seals-Jones
(2021 TE Rank – 37, 3.6 FPts/G)
Tight end Ricky Seals-Jones signed with the Giants this offseason after a mediocre run in Washington where he replaced the injured Logan Thomas. There was a lot of excitement early from fantasy owners who remembered some breakout games he's had throughout his career as a member of the Browns and previously the Cardinals, but the hype quickly went away when he failed to perform. The fact that Seals-Jones has had those types of breakout games has never been able to stick with a team is pretty telling. This will be the fifth team that Seals-Jones has played with over his past five seasons and he has never reached even 350 yards or scored more than four touchdowns in any season.
Seals-Jones is athletically gifted, but he just hasn't caught on anywhere and there's little reason to believe that he's suddenly going to create a quality connection with a mediocre passer like Daniel Jones. To make matters worse, the Giants also drafted tight end Daniel Bellinger in the fourth round. Bellinger wasn't much of a stat producer at San Diego State where his best season saw him catch 31 passes for 357 yards and two touchdowns as a senior. Still, the added competition at the position makes it even more difficult to believe that Seals-Jones is going to be a fantasy name worth noting in 2022.