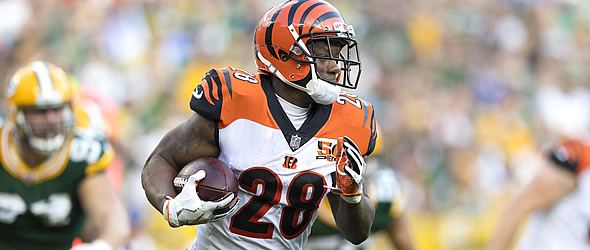 Mixon finished 28th in FPts/G last season but volume alone should vault him into easy RB2 territory.

QB Andy Dalton
2017 QB Rank - No.16, 17.2 FPts/G
I couldnít be less excited to write this preview about Andy Dalton. Heís the definition of an average quarterback, as heís really only as good as the players around him, and other than A.J. Green, those players have been just average. With a dreadful offensive line, inconsistent running game, and no players other than Green in the passing game, Dalton ďledĒ Cincinnati to a 7-9 season and saw his yardage and completion percentage drop precipitously. Some positive regression in touchdowns was expected after only throwing 18 in 2016, and his 25 passing scores was 10th best in the NFL, but no matter how you stretch the stats, Dalton just doesnít move the fantasy needle.

The move to Bill Lazor early last season seemed to help some, but Dalton efficiency wasnít good, coming in under 60% completions in 10 of the 16 games. He also became extremely touchdown dependent with only a single game above 300 yards. I do expect this offense to be better overall this year with a full off-season in Lazorís system. Cinci also made improvements on the line in the draft and free agency, and you have to think former 1st round pick John Ross will snag at least 1 reception this year, which would be a 100% improvement over the zero he had as a rookie. All in all, I do think this team will be more competitive this season, and the additions on offense should help Daltonís efficiency and production, but expecting more than fantasy backup level production from Dalton is a fallacy.
RB Joe Mixon
2017 RB Rank - No.32, 8.2 FPts/G
Right here in this space last season I predicted the o-line could be a problem for Mixonís fantasy production, and that turned out to be an understatement. Not only did Mixon look sluggish at times, but the amount of times he ran into defensive brick walls was comical. His 3.5 yards-per-carry average was a sorry 41st among running backs. Despite the agonizingly slow production, he also got hit by the injury bug a few times, missing some snaps and two games with head and ankle injuries. To top it all off, Gio Bernard had little problem finding running room behind the same shoddy offensive line, so as a whole it was a rough debut season for the former Sooner.
With the bad news out of the way, letís take a look a few reasons why Mixon has a chance to climb into the RB1 conversation. First, itís easy to forget that he would have likely been the first running back off the board last season if not for his off the field issues, so the talent is there. Next, heís dedicated himself this offseason to getting leaner and faster, dropping 10 pounds. The coaching staff has thrown their own weight behind finally making Mixon the bell-cow on offense, and the additions to the o-line, while not earth shattering, have to be an improvement on the disaster from last season. The volume that didnít exist last year should be there, and if he can get over 4.0 yards-per-carry, he should be able to hit the 1,000 yard plateau. With a chance to catch 40+ passes, and goal-line work to himself, Mixon has the combination of workload and talent to make a leap in his second year. Heís an ideal pick as a RB2, that if things align, could give you a few RB1 weeks.
RB Giovani Bernard
2017 RB Rank - No. 36, 6.8 FPts/G
For the first 12 weeks of the season Bernard was basically a no-show, with 5-8 non-impactful touches a game. Maybe it was the sorry state of the Bengal offense, or a slow return as he worked his way back from a 2016 ACL injury, but for most of the fantasy season Bernard wasnít even worth a roster spot. But sometimes fantasy is all about opportunity, and thatís what Bernard received in Week 13 when he got the start for an injured Mixon. He put up 96 total yards in a narrow loss to the Steelers, and continued to give the offense a spark with 100+ yards in two of the final four games of the season. Being quicker to the hole than Mixon allowed Bernard to find enough gaps to surpass 5 yards-per-carry four times to end the season.

Bernard has been a consistent dual threat for the Bengals since his rookie year, but itís long been clear that Cincinnati views him only as a passing game/change of pace option. With the team set to lean on Mixon, Bernard should be able to thrive in his part-time role. I know he finished strong last season, but in two of those games the Bengals were absolutely annihilated, and he was able to pick up lots of garbage time statistics. Nearly two years removed from his ACL injury, and still on a team that doesnít have many reliable passing catching options, Bernard not only makes for a strong handcuff for Mixon owners, but a real option in PPR leagues. 700 total yards and a few touchdowns makes him a tough sell in standard leagues, but he should be good value for where you can draft him.

WR A. J. Green
2017 WR Rank Ė No.7, 9.7 FPts/G
Like most of the Bengals offense, Green struggled with consistency in 2017. A big chunk of his production came in a few games, while he failed to be a difference maker in the others. His 9.7 standard points per game was the lowest of his career and he enters his age 30 season hoping for a return to glory.
Itís a testament to how great he has been in his career that weíre talking about a guy who struggled, yet finished in the top 10 at his position. He led the NFL in percentage of his teamís air yards, his 8 scores were the most heís had since 2015, and the 143 targets were all a sign that heís still far and away the top dog in this passing game. It would be better for Cincinnati's efficiency if they could get at least one more viable passing game threat, but regardless, Green should lead this team in every receiving category by a country mile. Despite the down year, Green is still one of the better bets in fantasy to finish at the top 5 at his position, and someone Iíd be happy to have as my WR1.

WR John Ross
2017 WR Rank Ė N/A
The fact that John Ross and I had the same amount of receptions last year tells you all you need to know. Showing a supreme lack of preparation and eventually health, Ross got a redshirt year after being the 9th overall pick in the 2017 draft. There was a reason he was a top-10 pick, and the Bengals desperately need a lid-lifting threat to open the field for the rest of the playmakers. Looking back on his college tape, and his numbers, he has this ability, but can and will he be able to put it together? The Bengals coaches seem to think so, and with a fully healthy offseason, he should be a big part of this offense. The big issue with his fantasy value comes from volume. He projects more as a deep threat, and will have to battle for scraps behind AJ Green. The good news is the team recently jettisoned LaFell making way for increased opportunities for Ross. I do think Cinci will look to get him the ball in creative ways, and like his overall upside, but not enough to where Iíd feel comfortable drafting him. Keep tabs on how he looks in the preseason, and itís possible he could move into flier territory before Week 1.
TE Tyler Eifert
2017 TE Rank No. 91, 2.3 FPts/G
TE Tyler Kroft
2017 TE Rank No. 12, 5.5 FPts/G
At this point drafting and rostering Tyler Eifert as a No.1 tight end is a fool's errand. He's been a top flight tight end when healthy, except that hasn't happened with consistency since 2015. Yet another back surgery this offseason is another example his chronic injury problems. When the injury bug hit Eifert last year, Tyler Kroft came in and produced admirably, eventually finishing with a 42-404-7 line. While he's limited athletically, his huge frame makes him a fantastic red zone target, and a player worth having.
It's clear that Tyler Eifert is a difference making player, both for the Bengals and your fantasy team. Cincinnati signed him to a 1-year "prove it" deal this offseason, so he has great incentive to be and stay healthy. The problem is, I just don't see it happening. Sure, he has double-digit touchdown scoring potential, but the risk is all too real. The way I see it, you have two options. Draft Eifert as a TE2 and pair him with a solid starter, or stack both Tylers on your team and hedge your bets. Either way, this offense can and will utilize the tight end position to a fair degree so TE1 production can be found here when it all shakes out.