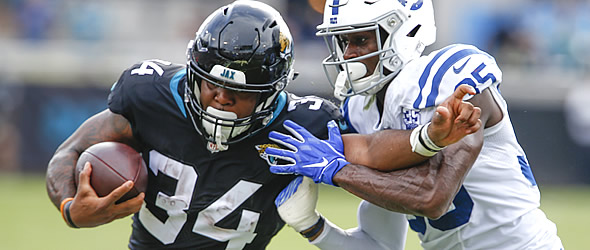 Even with Damien Willaims the 1-A, Carlos Hyde landed in a great spot for his fantasy value.
Just two short years ago Carlos Hyde was having a career year in San Francisco (240-940-8; 59-350-0), finishing as an under-the-radar RB2, who had double digit scoring potential to go with a dual threat game. Typically held back by injuries, many thought Hyde would be a free agent steal prior to last offseason, but he surprisingly was snapped up by Cleveland and became part of a muddled three-man backfield. After a solid six-game stretch with the Browns that saw him rack up almost 400 yards and 5 touchdowns, Hyde was shipped to Jacksonville after losing out to Nick Chubb in Cleveland.

Largely invisible with his time with the Jaguars, Hyde was unceremoniously dumped a few days ago, only to quickly surface with the Chiefs on a one-year, 2.8 million dollar deal. Itís been a wild ride for the once promising Hyde, but is KC the right place to rehab his value, and bring him back into the good graces of fantasy owners? Let's take a look.

Hyde joins yet another crowded backfield, as the Chiefs return newly re-signed Damien Williams, and Darrel Williams with Spencer Ware and Charcandrick West free agents. The biggest roadblock to fantasy value is clearly going to be playing time, as even an offense as mighty as Kansas City would struggle to support three runners. The good news is that despite being productive in this offense for stretches, neither Williams (Damien) or Williams (Darrel) are superior talents. Hyde has the potential to be just as versatile, and clearly must have been promised a role in the offense if he chose the Chiefs has his rehab stop.

The negative for Hyde remains his lack of explosion, as heís failed to top 4 yards a carry in any of his last three full seasons and he has lots of mileage on his treds for a guy entering only his sixth year in the league. Iím not entirely sure what the heck happened in Jacksonville, maybe it was just a bad fit, but it has to be a concern that Hyde is on his fourth team already.

The signing of Hyde makes total sense to me in a practical football connotation. The Chiefs get to replace Kareem Hunt with a three-headed backfield, and Hyde gets a chance to showcase what he has left on the most talent laden offense in the league. If youíve played fantasy football long enough, you know that most running backs fail to play the full 16 game slate, and that a starting running back on an Andy Reid offense is a lottery ticket. I think Hyde slots in as the 1-B to Damien, as I do think he is a better pure runner, even if Williams is the better receiver. Surprisingly, I do think he has the talent to take over the league back if Damien falters or misses time with injury. The Chiefs gave him a decent chunk of guaranteed money, which tells me there is a role for him on the offense.

Ultimately Hydeís status will bear close watching into spring and summer. He will be most assuredly be a late-round upside pick, and a name to keep stashed away.