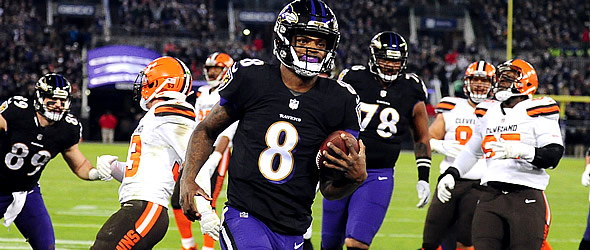 Improvement in the passing game is needed for Lamar Jackson to become a reliable fantasy QB1.
QB Lamar Jackson
2018 QB Rank - No.29, 12.3 FPts/G
Lamar Jackson ended up playing exactly like many people thought he would when he was finally inserted into the lineup in Week 11. The Ravens were running on fumes after a three-game losing streak. Joe Flacco was hurt, the offense was mired in the muck, and Baltimore knew that inserting Jackson was the only chance they had to dig out of a middling season. Jackson not only gave them a spark, he displayed all the elite playmaking skills that earned him a Heisman Trophy, and almost single handedly willed the Ravens to an upset of the Chargers in the wildcard round.
As expected, Jackson played like a quarterback that was picked 30th in the 1st round instead of 3rd. He showed little as a passer, struggling with accuracy and touch. But what he lacked throwing the ball he more than made up for on the ground. He was able to take advantage of some talent deficient defenses as he scored 18+ fantasy points in all seven of his regular season starts. With 17 rushing attempts a game, and a total of 697 yards and four touchdowns, he saw near RB1-type usage down the stretch.

Now that the Ravens have begun to build this offense around him with the hiring of coordinator Greg Roman and the offensive additions via the draft and free agency, can we expect these numbers to continue? I'm going have to say no. Although he was a dynamite weapon, we've seen young quarterbacks have success running the ball early in their careers. But no matter the talent or ability level, running a quarterback 15+ times a game isn't a viable long-term strategy. Teams either begin to adjust their strategy, or injuries occur. Either way, Jackson struggled mightily for much of the game against the Chargers before flashing late in the 2nd half. He was held to a season low 9 attempts for 54 yards and his erratic passing was a reason the team was down for most of the game in the first place. There is no doubt in my mind Jackson is going to continue to give fits to defenses, but I'm not sure he can develop enough as a passer in one offseason to be a realistic fantasy starter.

RB Mark Ingram
2018 RB Rank – No.28, 10.3 FPts/G
After a mostly successful eight-year career with the Saints, Ingram joins the Ravens as their likely RB1. Ingram has a little less wear and tear than a typical 29 year-old running back, as he was in committees for much of his career, especially the last few seasons. Even after missing four games due to suspension, and being slowly phased out of the offense in favor of the more dynamic Alvin Kamara, Ingram held onto fringe RB2 value in 2018. Ingram is a fantastic fit for what the Baltimore offense is trying to do. He's a one-cut runner that has versatility as a pass receiver, and will benefit greatly from the amount of attention defensive ends and linebackers are sure to pay Lamar Jackson. We've seen time and time again running backs reap the rewards of having quarterbacks who are dangerous runners. Heck, Gus Edwards lived on it the second half of the year! Ingram is much more talented than the former undrafted player from Rutgers, and should easily return solid RB2 value. Healthy, hungry, and on great offense for his skill-set, Ingram is a solid value pick.

RB Gus Edwards
2018 RB Rank – No.46, 7.8 FPts/G
As part of their offensive shakeup, Edwards was Inserted into the starting lineup with Lamar Jackson in Week 11. He then went on a mini tear over the next seven weeks, piling up five games of 80+ yards on the ground to go along with two touchdowns. It was an out-of-nowhere performance that likely saved a few fantasy seasons, but will likely be the highlight of his career. The Ravens signed Mark Ingram to be their starter, and drafted home run hitter Justice Hill in the 4th round of the draft. Kenneth Dixon is also still kicking around on the roster as well. Edwards will find his way into a few carries a game, but as a near zero in the passing game ( I mean that literally, he only had 2 receptions on 2 targets in 11 games) and Jackson accounting for a host of rushes a game, Edwards doesn't have a clear patch to touches. His value lies in his volume, and there just won't be enough there to be more than an Ingram handcuff or end of the roster stash.
Short of a rash of injuries to the guys above him I don't think Justice Hill will nearly see the ball enough to make a fantasy impact, but I want to mention him because he gives the Raven running game a dimension they've hoped to get out of Kenneth Dixon. Hill was an impressive playmaking force for Oklahoma State during his three-year career, averaging well above 5-yards per carry and scoring 31 touchdowns. Unlike Ingram and Edwards, Hill is incredibly shifty, and sudden as a runner. He runs with an entirely different style and will give the offense a very different look when he touches the ball. He doesn't have the size to be a big volume back, but given a shot in a legit timeshare, he could have upside value. He's the type of back I love to add to my teams late in the draft with hopes of late season juice.

WR Willie Snead
2018 WR Rank - No.68, 5.2 FPts/G
No offense to Snead or any of the other Ravens' receivers, but if you're looking for fantasy starters in this passing game you've reached troubling levels of desperation. Entering his second season with the Ravens, I'd call Snead a "nice player". He produced a decent 62-651 line last season, but with an offense designed to run the ball 30 times a game, and a quarterback who struggles on short and intermediate throws, Snead is just not going to see enough production to be a fantasy asset. You'll likely add him at some point in the season when you have a rough bye week, or your receivers have all gotten hurt, but I can't see spending too much thought pondering how to acquire any of the pass receivers on this team.
Baltimore replaced a John Brown with a Marquise Brown, but other than changing the nameplate in the locker, it's going to be hard to tell them apart. Slightly built, but with speed to burn, Marquise Brown was the lightning bolt on the other side of numerous big plays for the Oklahoma Sooners the last few seasons. "Hollywood" gives the Ravens a lid-lifting deep threat that pairs well with Lamar Jackson's cannon of an arm. Defenses who risk stacking the box with too many guys will be susceptible to Brown's explosive potential. While Marquise is a fantastic schematic and strategic fit for this offense, let's tempter our fantasy expectations. This is still a run first (and second) team, and it remains to be seen if Brown can return to form after missing much of the offseason recovering from a foot injury. This is the player, who during Week 9 your opponent will be forced to start, and after doing virtually nothing before or after, will have 3 catches for 110 yards and two touchdowns and directly be responsible for your crushing defeat.

TE Mark Andrews
2018 TE Rank – No.16, 4.6 FPts/G
What do you get when you have two tight ends fighting for scraps on a low volume passing offense? You get little in the way of fantasy value. Even at such a volatile, shallow fantasy position like tight end, neither Edwards nor Hayden Hurst are worth much of a look. Edwards had an impressive rookie line of 34-552-3, and did have most of his best statistical games when Jackson was inserted into the lineup, but he saw more than 5 targets only two times all season and this is with Hurst missing 7 games due to injury. With both guys healthy again, I just can't see there being enough opportunities to go around to make them fantasy relevant as more than a TE2.