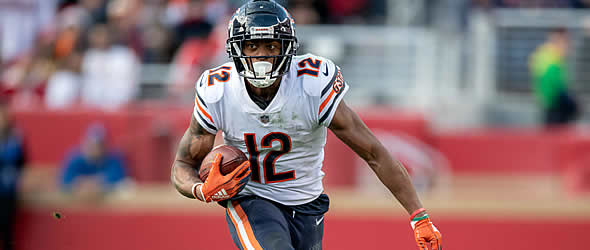 Allen Robinson was a low-end WR3 last season but has room to the upside in Matt Nagy's offense.
QB Mitchell Trubisky
(2018 QB Rank - No 15, 22.7 FPts/G)
Freed from the shackles of an archaic offensive, Trubisky had a breakout statistical season in 2018 behind the creativity of head coach Matt Nagy. The Bears cooked up one of the spiciest offensive gameplans throughout the year utilizing a dazzling array of formations and misdirections. Trubisky's stats improved tremendously across the board, upping his completion percentage by a significant amount, accounting for 27 total touchdowns, and even adding a surprising 421 yards rushing. Despite some uneven play throughout the year (still showed a tendency to make risky throws into coverage), Trubisky led an exciting Chicago team to within a doinked kick of a deep playoff run.

Entering his 3rd pro season, and 2nd with Nagy's offense, I expect Trubisky to continue to improve on his numbers. Nearly two decades ago Donovan McNabb had a great year in an offense like this for Andy Reid, and Trubisky reminds me of a young McNabb. I felt at times last season Nagy and the offensive staff tried to hide Trubisky's shortcomings with a funky offense, and while he'll likely never be a totally refined pocket passer, he's a terrific athlete, has a cannon for an arm, and seems to have the moldable talent to eventually be the centerpiece of the offense. Remember, this was a guy who only started 10 games in college, and has just 26 more in the NFL. With continued coaching, and better scheme mastery, Trubisky has a chance to flirt with QB1 numbers this season. I'm probably a little higher on him than most, but I think the Chicago defense will still get a ton of takeaways, giving the offense more chances. If he can cut down on the turnovers of his own, and play more consistently past twenty yards, Trubisky could be a very sneaky QB pick for those owners who want to fade the position.
With one-dimensional Jordan Howard jettisoned to the Eagles, 3rd round pick David Montgomery from Iowa State has a chance to be the versatile workhorse that this offense wants to deploy. Hand selected by Nagy and the front office to be the workhorse of the offense, Montgomery flashed an impressive set of NFL-ready skills while at Iowa State. Going over 1,000 yards in each of his final two seasons with the Cyclones, Montgomery also tallied 71 total receptions in his collegiate career. The off-season hype has been in overdrive, with talk of potential offensive rookie-of-the-year honors. With Howard's 250 carries up for grabs, Montgomery has the scheme fit and talent to make a big fantasy impact in Year 1.

With his ADP already in the early 4th round and continually rising, Montgomery is being picked as a high end No.2 back. I know the pad-less puff pieces have been glowing, but remember, the Bears also added veteran Mike Davis, who churned out 700+ total yards and 5 touchdowns in part-time work for the Seahawks last season. Montgomery is going to have to bring it in camp to earn the starting role over Davis, and that isn't a given to happen. Overall I love Montgomery's upside in this offense, and I do think he has a chance to be a fantasy asset, but he's not nearly the value he would have been a month ago, and I fear if early camp notes are as positive as they've been, his ADP is going to move into the early 3rd round. Andy Reid-style offenses have typically relied on one main workhorse, and maybe the Bears are hoping to recreate the magic of Kareem Hunt's rookie year, but the presence of Davis and Cohen have to factor into your decision.

RB Tarik Cohen
(2018 RB Rank - No.42, 5.6 FPts/G)
I had a good feeling that Cohen would be a valuable PPR league piece, but little did I know he'd do enough to finish as an RB2 in standard leagues, and go on to carry the Bears offense during stretches of the 2018 season.

All last offseason Cohen was hyped as a versatile chess piece, playing roles in the passing, running, and return game, and that hype materialized into production. He was dynamic in all three phases, giving a struggling Bears pass offense some consistency. I watched him single handedly beat the Giants in Week 13 when he went for 186 total yards and had 12 receptions. For long stretches of the season Cohen was the only way Chicago could move the ball, and while he's clearly a boom or bust runner, his presence on the field must be respected. Because of Jordan Howard's lack of versatility, and some early struggles by Trubisky, I think Chicago ended up using Cohen more than it had planned to. With the selection of Montgomery, and the addition of Davis, I see a cut in snaps and a touchdown regression for Cohen. I think he's a lock for 50+ catches, but with other guys who can play on 3rd down, matching or exceeding the 71 from last season is going to be a challenge. Cohen is going to continue to be a dynamic piece of the offense, but he ends up having a FLEX/RB3 ceiling in standard leagues, with a little more value in PPR leagues.

RB Mike Davis
(2018 RB Rank - No.36, 6.9 FPts/G)
On his third team in five seasons, Mike Davis finds himself in a good spot in Chicago. Sure the hype for Montgomery is at a fevered pitch, but in reality Davis only has a 3rd round pick and a 5'6'' scatback to beat out for the lead role. Davis wavered in and out of favor during his time in Seattle, but his 4.6 yards-per-carry average was solid last season, and he stayed healthy enough to play in 15 games. He's a versatile, reliable NFL back that unfortunately, was likely signed as an insurance policy. Yes, he was able to hold off a 1st round rookie last season, so I wouldn't put it past him to delay Montgomery's ascension, but he'll honestly have to play his tail off in camp and early in the season to hold on to a lion's share of the rushes long term. Do keep in mind that Chicago was tied for 6th in the NFL last season with 468 rushing attempts, and 250 of those are now in Philly. There is going to be room in this backfield for Davis to carve out some value. If you draft Montgomery, handcuffing Davis is a must, but if Montgomery's ADP gets too rich for my liking, I'd look to snag Davis later in the draft and reap the value.

WR Allen Robinson
(2018 WR Rank – No.41, 7.7 FPts/G)
Robinson, Chicago's prize free agent acquisition largely underwhelmed in his first season in the Windy City. He seemed to lack explosion in his first full season back from his ACL injury, and plodded to a measly 55 receptions and 4 touchdowns. Pegged as an upside WR2 going into the season, Robinson sunk to benchable fringe WR3 as fellow receivers Taylor Gabriel and Anthony Miller gained more prominent roles in the offense.

I don't doubt that Robinson has WR1 talent, and should be much more explosive with an additional year to heal, but the biggest roadblock to big numbers is the sheer amount of weapons this Chicago offense has, and how they are utilized in the scheme. Robinson's game is the deep ball, something that the Bears weren't afraid to try, as Trubisky ranked in the top-5 in deep pass attempts. But with Robinson having a hard time separating, Trubisky's completion percentage on those throws put him in the low tier among NFL starters. All-in-all I think Robinson is due for an uptick in touchdowns, and I do expect his quarterback to be more efficient with more experience in the offense. Miller, Gabriel, and even Trey Burton will be a big part of the weekly gameplan, meaning Robinson just isn't going to be the target hog top tier fantasy receivers need to be. I'll be targeting Robinson as a high end WR3 that has upside in an offense I believe in.

WR Anthony Miller
(2018 WR Rank – No.52, 6.2 FPts/G)
Miller was everything Chicago thought he could be when they traded up to select him in the 2018 draft. The rookie slot receiver from Memphis proved his route running chops, really coming on for the Bears during the middle stretch of the season. He caught a tidy 61 percent of his targets, and his seven receiving touchdowns led the team. A shoulder injury that lingered all year really flared up later in the season, but offseason surgery has corrected the problem and he should be ready for camp.

I was impressed whenever I saw Miller play last season. He was in the right place at the right time, and already looked like a seasoned vet. He reminds me a lot of Randall Cobb in his prime, as a shifty receiver who knows how to get open in the red zone. He has a chance to be the most consistent fantasy receiver for this team by virtue of his efficiency. I know Robinson has the track record of production, and the more prototypical frame, but Miller represents a growing breed of NFL receiver that wins with surgical route running, quickness and savvy. Miller's current ADP is nearly 5 rounds later than Robinson, but I love his fit in this offense, and I think he ends up being a much better season-long value than Robinson.

WR Taylor Gabriel
(2018 WR Rank – No.51, 5.4 FPts/G)
An infrequently targeted deep threat during his previous stops in Cleveland and Atlanta, Gabriel was a revelation for the Bears last season. His 67 receptions nearly doubled his prior career high total of 38, and easily led the Bears receivers in that statistical category. His low touchdown total hurt his overall fantasy value, but he turned out to be a much bigger part of the weekly game plan than most figured. Despite the surprising stats, I do think Gabriel overachieved in 2018. The Bears struggled to find consistency in the passing game much of the year, and the scheme seemed to turn to a different guy on a weekly basis. With the addition of the versatile Cordarrelle Patterson and the improved health of Robinson, I think Gabriel takes a step back this year. He's not really someone I'll spend draft capital on because of his limited upside, but he might be worth a waiver add should Miller or Robinson suffer an injury.

TE Trey Burton
(2018 TE Rank – No.6, 5.8 FPts/G)
While Burton finished in the top-10 amongst tight ends, I think it says more about the lack of quality at the position than the quality of first season he had in Chicago. By most metrics I'd say Burton was a fantasy disappointment. A trendy breakout pick last offseason after signing with the Bears, Burton was virtually invisible after a breakout game against New England in Week 7. After going for 9-126-1 in that game, Burton failed to register more than 40 yards or 5 receptions in a game the rest of the season. Many fantasy teams had to scramble to find a replacement after likely banking on Burton to be a difference maker. Nagy failed to find a meaningful role for Burton, as most of the short passing work went to Tarik Cohen out of the backfield. The scheme is tight end friendly, and I do believe in Burton's talent, and that's why I feel a rebound is coming in 2019. I do think Chicago will make it a point to get Burton more involved consistently, and with the fantasy depth at this position being so poor, Burton is a sure bet to be in the TE1 conversation yet again.