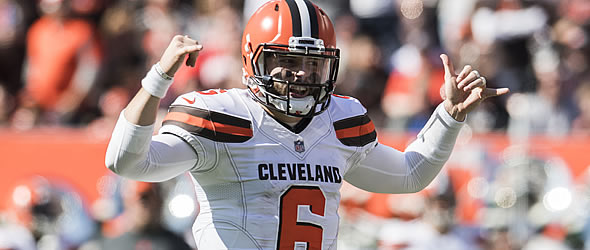 Fantasy owners are pricing Baker Mayfield as a no-brainer QB1. But should they?
QB Baker Mayfield
2018 QB Rank Ė No.16, 22.0 FPts/G
In just one season of football (14 games to be exact) Baker Mayfield has reset the expectations of a morose franchise. Along the way to setting the rookie record for most passing touchdowns (27), Mayfield displayed the moxie, accuracy, and big play ability that made him the No.1 pick in the 2018 draft, and put the Browns in the rare air of playoff contention. Mayfield proved the doubters wrong, but can he and the team carry over the momentum into 2019?

There is every reason to believe that Mayfield can, and should improve on his 2018 numbers. Remember, he started the first two games of last season on the bench, and the additions of OBJ and Kareem Hunt add to an already stocked pantry of offensive delights. The continuity he will have with his head coach means Mayfield should be poised for a breakout. But before you go betting the house on Cleveland's new prize horse, remember, heís the fuse sitting on top of a powder keg of strong personalities. There are already rumblings that the transition to new OC Todd Monken is off to a rocky start. While the Browns have the potential to be the new darlings of the NFL, there is some who believe they are just as likely to implode. They are led by a very green head coach, and things could spiral out of control quickly should the team not find the success it anticipates.

From a purely fantasy perspective, Mayfield is part of the deepest position in the game, and Iím frankly not in love with his offensive line, especially the left side. There is no doubt in my mind that Mayfield has monster upside (top 3), but he doesnít come without risk (despite the high touchdown totals, his 15 interceptions in 14 games tell me he was still too loose with the ball) and his very early off-season ADP seems a little high for me. Mayfield helped win me two leagues last year, so I have a soft spot for him, and would be happy to run him back as my QB1 as long as I can draft him in a comfortable spot.
RB Nick Chubb
2018 RB Rank - No.15, 10.9 FPts/G
Last season I advised owners to target Chubb as a mid/late season sparkplug for their teams, and Iím happy to say this was a hit (among many misses!). Chubb not only made his fantasy owners look good, but heís another gem in G.M. John Dorseyís rebuilt Cleveland roster. After flashing it Week 3, with a 3-105-2 day (yup, a pedestrian 35 yards per carry average in that one) Chubb didnít see meaningful snaps until Week 7, when he carried a career high 18 times in a narrow loss to the Bucs, which happened to be the same week Carlos Hyde was dealt to the Jaguars. Chubb remained a fantasy force down the stretch, finding the endzone 8 times from Week 7 on, while amassing 6 games of 100+ total yards.

Although this offense is teeming with talent, with Chubb being a piece, the addition of the
disgraced former Chief Kareem Hunt puts a dim light on the season-long fantasy prospects for Chubb. While Hunt is suspended for the first 8 games of the season, Chubb can and will dominate touches, but what about when the more versatile and talented Hunt returns? He will be supremely motivated to produce, as he only has a 1-year deal with the Browns, and he gives the offense a look in the passing game that Chubb has yet to display. My biggest hesitation with Chubb is watching his touches plummet during the most important part of the fantasy season, and it will simply be impractical from a value standpoint to handcuff Hunt to Chubb. The bottom line here is I love Chubbís early season value in this offense, but itís built to take advantage of three-down back like Hunt, and I canít trust the former Georgia Bulldog as anything more than a season-long fringe RB2.
RB Kareem Hunt
2018 RB Rank - No.8, 18.6 FPts/G
The fact that Hunt finished as the No.8 overall running back in standard scoring, despite missing five games, tells you everything you need to know about his talent and value. After a relatively slow start, Hunt began to fill up the stat sheet from Week 4-9, scoring 10 total touchdowns during that span. Iíll be perfectly honest, Iím not really sure where to value Hunt in the 2019 season. Heís going to end up missing more than half of the fantasy year, and what will his role be when he does return? If Nick Chubb and the offense is rolling, will Hunt be more of a bit player? My gut tells me that Hunt is more than worth stashing on your roster, as he has title winning potential should he grab a lionís share of the backfield work on this offense. The Browns didnít risk the backlash Hunt provided simply to have him be a role player. They saw this as a chance to get a difference making talent for very little monetary risk, and frankly, heís a much better schematic fit for what this offense wants to do. I see him commanding at least a 50/50 split with Chubb initially, and could be the clear lead back just as the fantasy playoffs come around. If your league has extra roster spots, stashing Hunt for 8 weeks becomes a lot easier, but I believe in his talent enough to make roster concessions if Iím forced to.
RB Duke Johnson*
2018 RB Rank - No.48, 5.1 FPts/G
I have as asterisk next to Johnson, because frankly Iím not sure heíll be on the team by the time this article goes live on the site. Heís demanded a trade multiple times this offseason, but things have yet to move on that front. An afterthought in the run game, Johnson continued to be a key cog in the short passing game with 49 receptions for 429 yards. Unfortunately, those final numbers amounted to career lows for the 5th year back. Two straight off-seasons the Browns have looked to the draft or free agency to fill their running back needs, and clearly view Johnson as nothing more than a change of pace back. And for as long as he remains on the roster, thatís what he will be. I anticipate Johnson remaining on the team into training game as injury insurance, but likely being dealt sometime in late August before roster cut downs. Heís undraftable if he stays on Cleveland and Chubb is healthy, but keep an eye out if he gets dealt. Heís shown the ability to catch 60+ passes in a season, and that alone can return RB3 value.
WR Odell Beckham Jr.
2018 WR Rank - No.19, 11.9 FPts/G
And now we get to the biggest fantasy quandary in perhaps all of the sport, just how to value OBJ. Weíve known for years that when Beckham is on the field, heís the most dynamic wide receiver in the league. But this quickly brings us to problem No.1, heís missed 17 games over the past two seasons due to injury, and only once in his 5-year career has he played a full season. The quickness, and ďtwitchĒ he plays with means heís a soft tissue injury waiting to happen, and doesnít have the size to be effective when his speed is sapped. The other problem is his mercurial nature. Itís impossible to gauge his mental health half the time. Even after getting paid and being the focal point of the offense for years, he was perpetually grouchy on the Giants. Will a move to a franchise mired in a decades long funk work, even though the arrow is pointing up? I said earlier in Mayfieldís piece that this Cleveland team is going to explode, one way or the other, and Beckham is going to be a big part of it. Heís playing with the most naturally gifted quarterback heís ever had, but there are also a few more mouths to feed in Cleveland than there ever was during his time in New York. Based on talent and previous production alone, heís a shoo-in WR1, but the position is super deep this year, so youíll have a tough time getting real value if you draft him too early.
WR Jarvis Landry
2018 WR Rank No.22, 8.4 FPts/G
After 5 years in the league on two different teams, we know what Jarvis Landry is. Heís a complimentary receiver who relies on a high volume of targets to get his production. His elite hands and body control make him a dynamic possession receiver, but he just doesnít make enough plays downfield to rack up big yardage totals. Heís been miscast as a WR1 his whole career, so itís going to be a huge relief for Landry to no longer have to deal with double teams now that OBJ is lining up on the opposite side. Look for Landryís target percentage and efficiency numbers to be the strongest of his career, but his total targets should take a nosedive, and his touchdown total is limited by the sheer volume of playmakers on the offense. Look for Landry to have a much better real life season, than fantasy one, making him more of a high end WR3.
WR Antonio Callaway
2018 WR Rank No.51, 5.6 FPts/G
We saw all the reasons why Calloway was a 1st round talent in a 4th rounderís reality last season. When he wasnít dropping passes, or slacking at practice, he was hitting big plays and giving the Browns offense a passing game dimension they lacked much of the year. Raw and laden with red flags coming out of Florida, Calloway had a very mixed 2018 season and the addition of OBJ doesnít signal good things for the 2nd year playerís production. Since the offense hasnít lost targets with anyone departing, many of the 2018 targets for Calloway and Landry will be siphoned to Beckham, leaving Calloway little more than a lid lifting deep ball receiver. Those type of guys rarely see fantasy relevance unless they play on elite level offenses. While the Browns have that potential, being at best 4th in the pecking order doesnít spell fantasy value for Calloway, baring major injuries.
TE David Njoku
2018 TE Rank No.8, 5.5 FPts/G
One Cleveland receiver I don't see taking a huge step back in production because of OBJ is 3rd year player David Njoku. Njoku built off his solid rookie season by posting a 56-639-4 line last year, finishing in the top-10 standard scoring at the position. Njoku is one of the most athletic tight ends in all of the NFL, and has improved his blocking and route running, meaning he doesn't leave the field often. He finished 5th in the NFL in snaps played by tight ends and his 89 targets where 7th best in the league. He still drops a few too many passes for how strong and athletic he is, but he should remain a big piece of what this offense wants to do. While I don't know that there is much room for his reception or yardgage totals to climb with Beckham in the fold, I do think he can improve his touchdown totals by a few, putting him squarely in line for top-10 production yet again. He's still incredibly young, and has fantastic upside in what COULD be a very potent offense.