QB Mitchell Trubisky
(2019 QB Rank - No.27, 17.1 FPts/G)
Is it just me, or does Chicago have one of the most frantic personnel departments in the NFL? Between their over-the-top pursuit of kickers last offseason and tight ends this offseason, to the desperate attempt to move on from Trubisky, this team still hasnít found a solid footing under third-year head coach Matt Nagy. Toss in a global pandemic and this is the backdrop for the coming quarterback competition between the young gun trying to salvage his career, and the journeyman Super Bowl MVP trying to do the same.

To say Trubisky regressed in his 3rd season is an understatement. I get that he played with a damaged labrum in his non-throwing shoulder for much of the season, but he was extremely erratic during the first few weeks prior to injury; especially the season opener against Green Bay at home where the Bears looked befuddled on offense, scoring only 3 points. I think that game set a tone for the confidence the team and fans had in him, and the confidence he had in himself. Plagued by continued inaccuracy (18th in the NFL in completion percentage), Trubisky only managed to convert 4 of his 15 attempts past 30 yards last year, and that was with Pro Bowl caliber Allen Robinson. Combine his physical issues with continued questionable decision making, and itís clear that the Bears are ready to go in a different direction. But Trubisky did show in 2018 that he has the athletic gifts to be fantasy relevant, and should he win this battle, offers the most upside. I still will likely be looking elsewhere come draft day.
QB Nick Foles
(2019 QB Rank Ė No.41, 12.8 FPts/G)
The Bears become the latest team trying to put the Foles lightning back in the bottle. To be fair, Foles never had a fair shot in Jacksonville, as a busted collarbone followed by the emergence of Gardner Minshew made a long-term stay in northeast Florida unlikely. Off to the much cooler environs of the Windy City, Foles engages in a wholly uninteresting quarterback competition with Trubisky. I think we all know who Foles is as an NFL quarterback by now. Heís a guy who has played well in short bursts (2013, and the Eagles SB run) and has been a high level back-up at other times. Chicago, desperate for an alternative to Trubisky, is going to give Foles every chance to unseat the incumbent. The problem is, I donít think itís going to matter much. Yes, Foles is back in an Andy Reid style offense that fits him, but in a league that values quarterbacks above all else, four teams (the Eagles twice!) sent him packing. I do think heíll be a boost to the Chicago receivers as he delivers a much more catchable ball, but with limited athleticism (39 rushing yards in the last four seasons COMBINED), there is a low fantasy ceiling. My best guess is that both Foles and Trubisky make many more starts for the Bears in 2020 than they do for fantasy teams.
RB David Montgomery
(2019 RB Rank - No.21, 9.3 FPts/G)
I was leery about Montgomery last summer when he was the top rookie runner being selected, sometimes in the top-three rounds and those fears came to fruition as Chicago seemed unwilling and unable to give Montgomery the workhorse role he needed to be a fantasy difference maker. Tarik Cohen siphoned nearly all of the backfield receptions away and despite finishing 14th in rushing attempts; Montgomeryís efficiency with those touches (3.7 yards-per-carry) was dreadful. The wiggle and power he displayed in the pre-season (where he and the entire Chicago offense were mothballed for a month) was nowhere to be found in the regular season as he failed to generate yardage on his own. When you have a bad offensive line and only get whatís blocked, bad things happen.
I really canít say Iím overly bullish on Montgomeryís fantasy prospects in Year 2. Cohen is still there to own the majority of the 3rd down and hurry up receptions, and while Montgomeryís rushing volume is sure to hover around the top-10 at the position, the offensive line hasnít made enough meaningful additions to move the needle from their low-tier 2019 rating. Chicago just canít seem to figure out any type of identity or consistency on offense, and maybe Foles helps here, but short of a major shift on offense, or an injury to Cohen, Montgomery feels like an upside RB3 at best in 2020.
RB Tarik Cohen
(2019 RB Rank - No.45, 5.3 FPts/G)
Despite a huge drop in receiving efficiency (71 for 775 in 2018 to 79 for 456 in 2019), Cohen still managed to be a PPR fantasy factor last year. As expected, the addition of rookie David Montgomery saw a drop in rushing attempts for Cohen, but the fourth-year back was already going to have a nearly impossible time trying to match his herculean 2018 season.
The entire Chicago offense was in a malaise last year, and even the shifty jitterbug Cohen seemed to be stuck at times. There were simply no-big home run plays to be found and he only had one game over 50 yards receiving, when he had five such games in 2018. I know the Bears planned to do things differently this offseason, but with a pandemic shutting the doors on preparation, and an uncertain preseason, I donít see an earth shattering change in Cohenís role in the offense. Itís likely 2018 will go down as the best of his career, and 2020 will continue to show that itís PPR or bust for the diminutive back.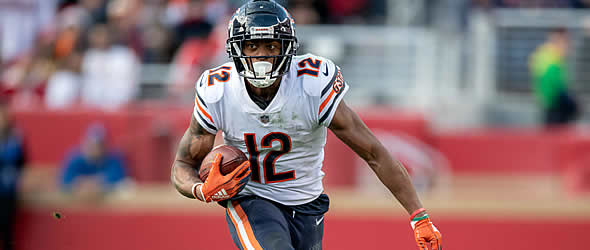 WR Allen Robinson
(2019 WR Rank Ė No.12, 9.8 FPts/G)
While I was high on the Chicago offense at this time last year (ugh!) I wasnít a huge believer in Robinsonís fantasy stock. I knew he would be better than 2018 simply by being healthier, but there is no way I envisioned him going from 94 targets to 154! As the lone playmaker in the entire passing game Robinson dominated targets, turning in his best season since 2015. He finished 3rd in targets, 4th in receptions and finished as a solid WR1 despite being on an offense that was 25th in the NFL in passing yards.

But while his talent and physical ability are top tier, itís tough to see a repeat of the ďone man armyĒ performance he put on last season. With Anthony Miller struggling to be a factor in the first half of the year, and Trey Burton injured, ďthrow it up to RobinsonĒ was the best play in the playbook in 2019, but I canít see the Bears trying to repeat that strategy. With the additions of Cole Kmet and Jimmy Graham at tight end, and the continued development of Miller, look for Robinsonís target share to take a dip some in 2020. And while there is no mistaking the fact that Robinson is the best player on this offense, a reduction in targets and receptions might be enough to push him down in high end WR2 territory this year.
WR Anthony Miller
(2019 WR Rank Ė No.60, 4.8 FPts/G)
I was an unmitigated disaster at dissecting the Chicago receivers in this column last year. While I saw a huge second year leap for Miller as a reliable and dangerous slot threat, the reality was this offense lacked identity and cohesion, and Miller was invisible for half of the games he played in. In fact, he was likely dumped long before his Week 11-15 resurgence and provided most fantasy squads with absolutely zero value last season. It took most of 2019 for Miller to find his groove, but even those huge few weeks were followed by duds (2 receptions for 7 yards total) to close out the year.

You know the saying about being fooled, so obviously take this with a grain of salt, but I do think Miller is set for a rebound in 2020. Despite undergoing another surgery on his shoulder, Miller might be the healthiest heís been since entering the league. There has also been some chatter about the light coming on for him as far as his mental and physical preparation. If the coaching staff can turn some of this fluff into actual game plans on the field, Miller has a shot to provide tremendous fantasy value. Miller also has the most to gain from Nick Foles winning the QB battle, as heís a big improvement in the short pass accuracy department. I see Miller as a guy sitting in that WR4 territory that has a real chance to over perform his draft position.
TE Jimmy Graham
(2019 TE Rank No.20, 3.9 FPts/G)

TE Cole Kmet
(2019 TE Rank N/A)
Following last offseason's reality game-show-like pursuit of a new kicker, Chicago again has tried a dramatic approach to finding a new tight end by rostering as many as nine different players this offseason! While most will be cut by camp, two guys likely to stick and be a part of the rotation are veteran Jimmy Graham, and athletic rookie Cole Kmet from Notre Dame.

Matt Nagy brings a version of this offense that has always run best using multiple tight ends. The reason they lavished millions of free agency dollars on Trey Burton, and have brought in a legion of players to remake the position, is evidence of that. The Bears have had some of the worst fantasy production from the tight end position over the last few seasons, and while Graham and Kmet are mega upgrades, I'm still not sure this is a place to look for fantasy production. Graham largely flopped during his time in Green Bay and is well past his prime. If he couldn't find a way to produce on an offense like the Packers, it's not going to improve in Chicago. And while Kmet brings a very rare combination of size and speed, and was considered the top tight end in the class, he's still very raw with only 23 games played during his three seasons in South Bend.

Any production this duo musters is going to be more than Burton gave during his time on the team, so while it may help the passing game be a bit more balanced and structured, it will take the unlikely return to glory for Graham, or the bucking of the rookie tight end trend for Kmet for either of these players to see a return on a fantasy investment.