Sure, some teams get hit with a rash of injuries, but what the Steeler offense dealt with last season was bordering on silly. After Roethlisberger went down in Week 2 with a season ending elbow injury, Pittsburgh lost their No.1 running back (Conner) and No.1 receiver (Smith-Schuster) for a total of 10 additional games and could simply not find any rhythm or consistency in the games they did play in. Combined with the injuries and inexperienced back-ups taking over for Big Ben, Pittsburgh plummeted from 4th in total offense in 2018 to 30th in 2019.

As we sit here mired in the tumultuous summer of 2020, there are a slew of unanswered questions revolving around the Steeler offense, and they start with the 38-year-old QB starting his 17th season in Black and Gold. His last full season was one for the ages, as he finished as the No.2 overall fantasy quarterback, with career highs in attempts, yardage, and touchdowns. Although guys like Brady and Brees make it seem 38 is young for quarterbacks now, Roethlisberger has much more wear and tear than the other guys around his age. The bevy of lower body injuries heís had over the years make him a statue in the pocket, and none of those other old fellas is coming back from a serious throwing arm injury. Heck, the jury is still out on how effective he can be without Antonio Brown, and the one full game he played last season was an abysmal 33-3 loss to New England.

With 16 years of numbers to analyze we know that more times than not Roethlisberger has been a QB1. The abundance of playmakers around him was always enough to ensure his numbers stayed consistent, but things have swung wildly in the other direction in just one calendar year. With health a bigger question mark than ever and a supporting cast still going through growing pains, can the vet return to piece it all together? Iím very skeptical. At his age, even fully recovered, there has to be a loss in velocity off his fastball, and it remains to be seen just how much formal work he will get with his teammates before the start of the season. Can Conner return to 2018 form? Can Ju-Ju ascend and play up to the No.1 receiver gig? Can some of the young guys develop into reliable playmakers? Most of this hinges on the return of Roethlisberger. There is a boatload of fantasy value in this offense IF Big Ben is healthy enough to see it through. The spectra of injury, age and ineffectiveness is just too much for me to buy in as a QB1, but I would take a flier on Roethlisberger as my back-up in the later rounds.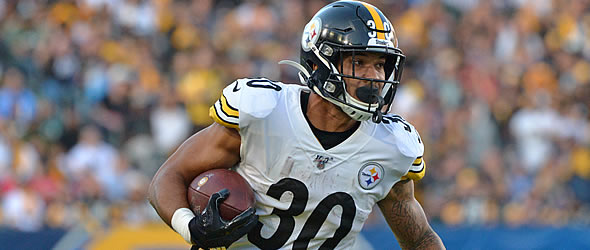 RB James Conner
2019 RB Rank Ė No.33 11.4 FPts/G
All the things that came together to help make 2018 a career year for Conner disappeared in 2019. The loss of Roethlisberger, and injuries of his own, resulted in a precipitous drop in not only his statistical totals, but his efficiency as well. In his 2nd season as a starter Connor barely reached 4.0 yards-per-carry, and went for more than 50 rushing yards only twice.

With 9 missed games over the last two seasons, injury questions are going to linger. Can he handle the rigors of being a No.1 back for 16 games? To this point the answer is no. But while the fantasy world may have their doubts, the Steelers donít seem to share that sentiment. Although they have added a running back in every draft over the last few seasons, their only meaningful addition to the backfield in 2020 was change-of-pace, 5th round pick Anthony McFarland Jr. from Maryland.

The Steelers seem determined to roll with a mix of Conner, Samuels, Snell and their new rookie. Therein lies the key to Connerís value. Pittsburgh knows that Conner is the best runner on this team, but his inability to stay healthy means they will be forced to go with a committee approach. More ground and pound than pop and sizzle, Conner needs a high volume of touches to approach RB1 value, and unfortunately I canít see that happening. His 8-83-1 and 7-78-1 receiving lines from last season show me heís still a capable three-down player, but with a crowded corps of specialists behind him limiting the cap on the percentage of his touches, Conner is a low-end RB2 going forward. If Roethlisberger can glue the offense back together and make the passing game a real threat again, Conner will return fantastic value.
RB Benny Snell
2019 RB Rank Ė No.59 5.2 FPts/G
Snell, the 4th round pick from Kentucky had a decent rookie season for the Steelers in 2019. His 108 rushing attempts finished second on the team just behind James Conner, but a 3.9 yards-per-carry average and zero impact in the passing game (3 receptions on 4 targets) puts serious doubt on his fantasy upside. Sure he showed flashes of solid running ability on tape, and his poor numbers are largely due to stacked boxes and a disjointed offense, but the addition of rookie McFarland Jr., and the return to health of Conner, means Snell is a back-up one-dimensional north-south runner, not exactly a ringing fantasy endorsement. This backfield is a sloppy mess behind Conner, with each guy seeming to serve a specialized role. With Conner healthy this is likely to be a three-back committee much of the time, and Snellís lack of passing game work and big play ability make him a poor direct handcuff should something happen to the starter. Iím already hesitant to take a dip into this backfield in the first place, so end of the draft roster filler seems to be Snellís best chance right now.
Iím lumping these guys together as I think itís likely only one of them ends up playing enough meaningful snaps for the Steelers this season to be fantasy relevant. I know the Pittsburgh offense struggled mightily last year, but what Samuels did on the ground in 2019 was brutal. His 2.7 yards-per-carry average was amongst the worst in the league and he was merely a low-upside checkdown target in the passing game. He was all but phased out of the offense entirely down the stretch of the season, and the selection of McFarland Jr. means even his grip on playing time is tenuous at best. The rookie from Maryland brings some flash (4.44 40-yard dash) to what has generally been a workman-like backfield. His blend of size, speed, and acceleration should provide Pittsburgh with a dynamic playmaker from a position that has been sorely lacking one. As a raw rookie who didnít catch the ball much even in college, he needs to develop that part of the game to earn shares of the passing game touches. Heís pretty low on the depth chart at this point, but I think McFarland has the tools to be a difference maker on this offense if he can come in and refine his game. Heíll be someone to watch as a waiver add as the season moves on.
Possibly the biggest fantasy disappointment of the 2019 season, injuries and shoddy quarterback play conspired against JuJu in his first season as the Steelers No.1 receiver. Widely drafted as and counted on as a mid-tier WR1, Smith-Schuster had a decent start to the year despite the loss of Roethlisberger in Week 2. Over the first half of the season, 5 of his 7 games saw him reach at least 75 yards, while finding the endzone three times. While not exactly stats befitting a WR1, it wasnít a total disaster. At least not till the 2nd half of the season. In an injury plagued back end, Smith-Schuster was nearly non-existent, unable to even surpass five points in any game. His 12 receptions for 109 scoreless yards over five games was truly a low point in his young career.

With all the negative circumstances of last season itís impossible to judge whether he is capable of taking over the WR1 hole left with the departure of Antonio Brown. Like most offensive players on the Steelers, Smith-Schusterís fantasy value comes down to the health of Roethlisberger. If Big Ben can stay under center and return to form, Smith-Schuster is going to see enough volume to get back into the WR1 conversation. With the addition of rookie Chase Claypool, JuJu might be move back into the slot more frequently, as where much of his 2018 success came from routes on the inside. This entire offense is seeing depressed fantasy value so you wonít have to reach for anyone, but remember, this team put on a show as recently as 2018, and itís not going to be hard to surpass the disaster than 2019 was. The risk seems to be already built into his current low WR2 draft slot, but if he and Rothelisberger can reestablish their connection quickly, he should easily return some serious value.
WR Diontae Johnson
2019 WR Rank Ė No.42 6.4 FPts/G
If JuJu was a major disappointment, then the rookie 3rd rounder from Toledo was a major surprise. Johnson ended up leading the Steelers in receptions and touchdowns , while being a consistent playmaker for the team. He had at least 50 receiving yards in half of his games, and more impressive was his four-game stretch to end the season. During Weeks 14-17, Johnson averaged 6 receptions for nearly 65 yards per game, while sprinkling in two touchdowns. Those 23 receptions were his most during any four-game stretch of his first season, and showed that when given the opportunity, Johnson can deliver as a go-to receiver. With the healthy return of Roethlisberger to take advantage of all levels of the field (something Rudolph and Hodges couldnít do) and Smith-Schuster to absorb defensive attention, Johnson is a great bet to build off his debut season as an upside WR3 pick.
WR James Washington
2019 WR Rank - No.50 6.1 FPts/G
Washington was clearly under ďbust watchĒ after an abysmal rookie year in 2018, but rebounded nicely last season, leading the Steelers in receiving yardage (735) despite limiting quarterback play. The return of Roethlisberger will obviously help, but the receiver room got more crowded with the addition of rookie Chase Claypool. Washington is the deep threat in this offense, evidenced by his nearly 17 yards-per-reception average last season, and thatís exactly the role mega-athletic Claypool looks to play in 2020. Washington really canít afford a dip in target share if he is going to remain on the fantasy radar, but that looks surely to happen. With Eric Ebron added at tight end, JuJu healthy, and the emergence of Diontae Johnson, I just donít see enough volume coming Washingtonís way. Because heís at least worked with Roethlisberger before he should start the season as a starter out wide, but Claypool has the physical talents to demand targets. Even in a best case scenario, I donít think the 3rd or 4th receiver on this team is going to warrant fantasy attention.
TE Eric Ebron
2019 TE Rank - No.23, 5.0 FPts/G
An easy regression candidate after a monster 13 touchdown 2018 season, injuries, the retirement of Andrew Luck, and a reduction in targets combined to sink Ebron last year. Largely underwhelming during his career, Ebron simply hasnít been a difference making player since being a top-10 selection by Detroit in 2014. If he can prove to be recovered from off-season ankle surgery, he definitely has a chance to be fantasy relevant in this offense. Big Ben has a long history of utilizing his tight ends, especially in the red zone, and that is where Ebron can use his frame to be most effective. 10 of his 13 touchdowns in 2018 came inside the 20, and with enough guys to spread the field, look for the Steelers to deploy Ebron on short and intermediate routes. Given a two-year 12-million dollar deal, Pittsburgh clearly expects Ebron to be a big contributor to the offense despite the presence of Vance McDonald. Heís not a great player, but heís still very young, could fall into 50 receptions, and has a 5-8 touchdown ceiling. Being taken toward the end of early drafts, I do think Ebron ends up eventually being a touchdown dependent streaming option worth taking a shot on.