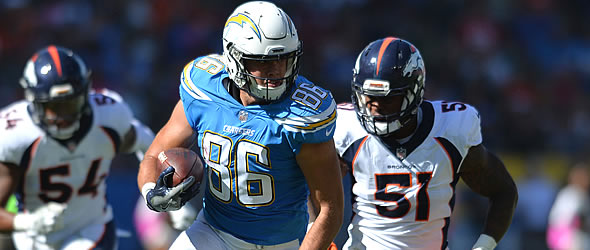 To say New England has revamped their passing game is an understatement! In the first 12 hours of free agency the Pats added two receivers (Kendrick Bourne and Nelson Agholor) and one of the top available tight ends (Jonnu Smith). So it was quite a surprise that one of the first transactions of Day 2 (or Day 1…who knows!) was the Pats adding Hunter Henry. So what in the world do all these new moving parts mean for Henry's fantasy outlook...let's dig in.

Henry has been a tease for years now, showing the ability to rack up considerable catches, yardage and touchdowns from a perennially frustrating fantasy position. But the inability to stay healthy has been Henry's biggest obstacle, as he's missed multiple games each season, including the entire 2018 season with a knee injury. Despite missing two games last year, Henry was still the 7th most targeted tight end in the league, and he set career bests in targets and receptions so the ability remains.

Unfortunately for Henry the switch from dinker Philip Rivers to the rifle arm of rookie Justin Herbert led to the offense going much more vertical in 2020, especially in the middle part of the year when Herbert settled in. I do wonder if the injuries are piling up to the point they are costing Henry some of his seam stretching explosiveness. His average yards-per-reception have dropped each year he's been in the league and he seemed to slip behind Mike Williams in the pecking order at times last year.

That leads me to my biggest concern about Henry's fantasy outlook; his role in this offense. Being teamed with Jonnu, the Gronk-Hernandez comparisons from the early 2010's is inevitable, but the additions of Bourne and Agholor can't be ignored. The offense flowed through Gronk and Hernandez with great success years ago, but that was with Hall of Fame bound Brady conducting the symphony.

With a late model Cam Newton behind center (as of this being typed up) and a strong defense, this isn't suddenly going to become the greatest show on turf. All four of these guys were signed partly because of their versatility. They can all play inside or outside, and I feel the game plan each week will be based on the most exploitable matchup, which means that this offense isn't going to have a defined "go-to" receiver. And just how many red zone scores can there be? Newton is a good bet to steal half a dozen from inside the 5, and with Smith around and capable, Henry doesn't have that role to himself.

Yesterday I was really high on Jonnu putting up solid TE1 numbers, and I would have felt the same about Henry had he been signed first. But short of a major upgrade or turnaround at quarterback, I can't see them being Dynamic Tight End Duo 2.0 for New England. The talent is there, and the fantasy position so shallow, that they both can at least be low end TE1 options at best but that's probably the high end of their projections.