QB Joe Burrow
2020 RB Rank - No.14, 21.9 FPts/G
A devastating knee injury and the dominance of Justin Herbert stole the spotlight on what was shaping up to be one of the better rookie quarterback seasons in recent memory. The Bengals played fast and loose on offense as Burrow averaged over 40 attempts per game, which placed him right at the top of the NFL with Ben Roethlisberger. This style of play was forced upon the rookie as the run game couldn't get much going, and the defense wasn't reliable. Eventually the leaky line played a part in Burrow's knee getting mangled and the Bengal season came to a crashing end.

It was only a 10 game sample, but it was clear to anyone watching that Burrow has the makings of something special. He showed toughness and grit, was accurate (65% completion percentage) and careful with the ball (13-5 inception-to-touchdown ratio). He was able to elevate the players around him, and become a team leader.
The health of Burrow's surgically repaired knee is the only question mark coming into the 2021 season. The Bengals added Ja'Marr Chase to an already loaded receiving corps, and with the return of a healthy Mixon, Cincinnati could have the most talented young skill position players in the NFL. They have bolstered their offensive line with new coaching additions, veteran signings, and through the draft (2nd round pick Jackson Carman is expected to start). If 2019 1st rounder Jonah Williams can stay healthy and play to his potential, Burrow should see immense improvement in the blocking this season. Look for the Bengals to play an up-tempo offense with 3 receivers who are capable of beating the defense on any given play. This offense, with Burrow at the helm, will be exciting to watch. If the knee keeps him in the pocket more, Burrow will likely top out a low end QB1, but has upside to finish near the top-10.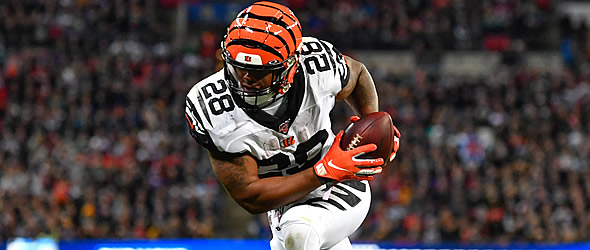 RB Joe Mixon
2020 RB Rank - No.49, 13.4 FPts/G
Poor line play, and a mysterious sprained foot that cost him 10 games combined to torpedo Mixon's fantasy season in 2020. Other than the destruction of the Jaguars in Week 4, Mixon struggled to make plays in the ground or passing game. Rather than spend any more time trying to dissect a lost season, let's look forward to what we get in 2021.

There is a TON to like about Mixon this season. With the release of Giovani Bernard, Mixon becomes the true undisputed workhorse of this offense. The Bengals added nothing to the running back room in the offseason, so they really must have faith in Mixon's health. With Burrow and the trio of receivers, he'll never face a stacked box, should benefit greatly from improved line play, and the ever elusive 3-down role (he was on pace for 56 receptions last year). I really can't find a single reason (beside health) why he can't return a top-10 season in any format. Talent, opportunity, and scheme fully align to give Mixon a shot at a career year. It's time for Mixon to play to the big contract extension he was given.
RB Samaje Perine
2020 RB Rank - No. 67 5.0 FPts/G
With long-time Bengal Gio Bernard shown the door, Perine, the castoff from Washington steps into the backup role behind Mixon. Other than flashing against lowly Houston for a meaningless Week 16 game last year, Perine has put very little good football on tape in his career. I'm frankly floored that Cinci didn't infuse this backfield with a little more talent behind Mixon, but they feel strongly about what Perine brings. If you are a Mixon owner desperate for a handcuff, Samaje is your guy.
WR Tee Higgins
2020 WR Rank – No.27, 8.6 FPts/G
A true bright spot in an otherwise tarnished 2020 was the play of rookie receiver Tee Higgins. The 1st pick of the 2nd round of the 2020 draft out of Tennessee, Higgins displayed a dazzling skillset. Using every inch of his 6'4 frame and large catch radius to make highlight reel plays, Higgins also displayed the ability to take slants and short passes for long gains. His numbers took a precipitous dive after Burrow went down, but Higgins was the most dependable receiver on this team for large stretches of the year. Offseason reports about his preparation and conditioning have been glowing, and the return of a healthy Burrow should allow this duo to flourish. The addition of rookie stud Ja'Marr Chase and presence of Tyler Boyd will no doubt cap his upside, but his talent, and this pass happy scheme should enable the 2nd year receiver to lead this team in receiving, and give you tremendous value as a WR2.
Largely considered the top receiver in the draft despite missing the 2020 season due to Covid opt-out, Chase gets reunited with his collegiate QB, and joins an offense ready to break out. Blessed with a unique athletic profile, and All-Pro skill-set, Chase should benefit greatly from his situation in Cinci. Reports from mini-camp have beamed about how quickly Chase and Burrow have reestablished their chemistry from college. Burrow lobbied the team to draft his former Tiger teammate, and I expect Coach Zach Taylor will look to get the rookie involved early. Justin Jefferson's historic rookie season is a good blueprint for Chase's offensive involvement, even if the presence of Tee Higgins and Tyler Boyd put limits on his statistical potential. I expect Chase and Higgins to battle all season to lead this team in receiving, and likely be the better value at season's end. Being a rookie and having missed all of last season could lead to a slow start, but I absolutely love Chase as an upside WR3 you can probably get well after Higgins is off the board.
WR Tyler Boyd
2020 WR Rank – No. 36, 7.1 FPts/G
Every year I watch Boyd get lost in the shuffle, only to emerge as a solid WR3, and I can already feel it happening again in 2021. With the hype of Tee Higgins, and the swag of Ja'Marr Chase, here sits the crafty veteran of this offense. Quiet and ready to provide the stability and consistency the passing game will, Boyd strikes me as a major value. Since 2018 Boyd has produced solid numbers on some really bad teams, despite not being given much support. He's produced when All-Pros, and flashy top-10 picks were lining up beside him. His ability to get open and be a game breaking threat from the slot will be the glue that holds this passing game together. If the passing volume turns out to be what I expect it to, look for Boyd to again reach WR3 value on a weekly basis.
C.J. Uzomah
2020 TE Rank No. 70, 7.4 FPts/G
TE Drew Sample
2020 TE Rank No. 37, 2.6 FPts/G
To say the tight end position in this offense is an afterthought is an understatement. Sample, the team's 2nd round pick in 2019 was barely noticeable despite playing in all 16 games after Uzomah was injured last season. 11 personnel (1 RB, 1 TE, 3 WR) is the team's base formation, as they led the NFL in 2019 AND 2020 with 76% of their snaps coming from that grouping. The tight end in this system just doesn't play a meaningful role in the passing game as a receiver, so unless your league rewards points for blocks, look elsewhere for your fantasy needs.