QB Aaron Rodgers
2020 QB Rank - No.3, 27.5 FPts/G
Now that the Midwest soap opera has played itself out (for now), Rodgers can get back to being a stud as enters his age 38 season. Despite a string of sub-par fantasy seasons, Rodgers rebounded in a massive way in 2020 with one of the best statistical seasons of his storied career. In his 2nd run through in Matt LaFleur's system, Rodgers carried savvy fantasy teams with career highs in total touchdowns (51) and almost 4,300 yards in the air. He simply played some of the best football in his career, and the drama of the offseason can only add to the edge his plays with already.
There isn't much of a reason to nitpick the fantasy outlook for #12 this season. Sure, a regression in touchdowns is almost a given, and his legs aren't nearly as spry, but he should be as efficient as ever as he makes beautiful music with Davante Adams. The young receivers are slowly ascending and have to be respected by defenses, and explosive Aaron Jones still anchors the run game. Oh, and Randall Cobb is back in the fold… for whatever that means! With one final run with the core of the team intact, Rodgers should shine as the first of the pocket passers picked in drafts.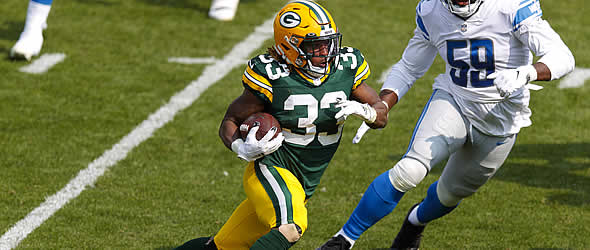 RB Aaron Jones
2020 RB Rank - No.5, 15.1 FPts/G
Just rostering the Packers offense last year would have gotten you four top-10 positional players, and that includes the finish by Jones, as he amassed almost 1,500 total yards and 11 total touchdowns in only 14 games. His 5.5 yards-per-carry average tied his career high, and though he had only one true week winning game, he was incredibly consistent with 11 games of double-digit scoring. Jones was also 9th in the NFL among runners with 63 targets, so you are getting multi-format value as well. Although Jones was brought back on a 4-year, $48 million dollar deal, the biggest hindrance to his numbers comes in the form of 2nd-year back A.J. Dillon. Despite being a 2nd round pick Dillon was hardly used, but that looks to change if the words from Packers running back coach Ben Sirmans means anything.

Already being as efficient as possible and the presence of Dillon make it nearly impossible for Jones to significantly improve on last season's numbers. He just doesn't get the big carry numbers other top-5 backs do (he only had one 20+ attempt game last year), but still remains a solid, upside top-10 option.
RB AJ Dillon
2020 RB Rank - No.77, 4.3 FPTS/G
The Packers 2020 draft was a big reason why Aaron Rodgers was so miffed this offseason. On a team primed to win a championship, Green Bay spent their first two draft picks on Jordan Love who didn't see the field, and Dillon, who was essentially the 3rd running back, and contributed 263 total yards and two touchdowns. Health, the existence of Jamaal Williams, and a possible issue with a complicated playbook all conspired to topple Dillon's fantasy prospects. 2021 brings much brighter prospects for the former Boston College Eagle. Williams is gone, and Dillon has had a full offseason to better immerse himself in the offense. He's been talked up by the coaching staff, and despite playing in only 11 games last year, did manage a 5.3 per-carry average on his 46 attempts, which is impressive. If his Week 16 start vs Tennessee was any indication (21-124-2), he has the chops to carry the run game if Jones goes down. With only late round picks Kylin Hill and Dexter Williams behind him on the depth chart, look for Dillion to be a little more than a breather back for Jones. With volume upside, and 5+ touchdown potential, Dillion makes for a great Jones handcuff, or late-round value pick.
WR Davante Adams
2020 WR Rank – No.1, 17.5 FPts/G
Easiest outlook in the land! Contract issues aside, Adams is as "money" as they come in fantasy football. I'm relegated to bad puns in this section, as the career numbers Adams has put up are simply gross and need little inspection. He led the league last season with 18 touchdowns, making that the fourth season out of seven that he's gone for double digit touchdowns. Having a telepathic connection with his quarterback, and being the clear alpha pass receiver on this team puts Adams in a category all by himself. His route running, and the way he's schemed the ball inside the ten-yard line mean triple digit receptions and double-digit scores are a near given, even if there is some natural regression in the TD department. As long as #12 is still slinging the ball for the Pack, Adams should be one of the first non-running back names off of most boards.
WR Randall Cobb
2020 WR Rank – No.78, 6.2 FPts/G
After a two year stint away from Green Bay, Cobb returns to the Packers on the back of Aaron Rodgers's powerplay. Plucked from the purgatory of Houston, Cobb is ready to run it back with some of the old crew, and it couldn't come at a better time. The passing game struggled at times in 2020 (if you can believe that) when the ball wasn't heading to Adams. Young Packers Marquez Valdes-Scantling and Allen Lazard showed flashes, but too were too thrust into roles and situations they weren't prepared to handle and Cobb is the perfect bridge. Though overpaid, he was still serviceably productive in Dallas and Houston and should rekindle the chemistry with Rodgers in a jiffy. One of the better slot receivers early in his career, Cobb should carve out value in PPR leagues, but I think he's far out from weekly value in any other format.
Maddeningly inconsistent at times in 2020, MVS was still able to set career highs in yards (690) and touchdowns (6) while trying to fill the #2 receiver role for Green Bay. A scary combination of size and speed, MVS is the true field stretcher of the offense as he led the NFL with a 20.9 yards-per-reception average. The addition of Randall Cobb means it's highly unlikely he is going to improve much on his measly 33 receptions from a year ago, and frankly, consistent value is impossible to come by on such a low reception floor. He's probably worth an add simply because of #12, but good luck picking the week he pops off.
TE Robert Tonyan
2020 TE Rank – No.3, 7.8 FPts/G
A free agent gem on most fantasy leagues last year, Tonyan came out of nowhere to not only become the Packer's No.2 receiver, but piled up career highs in targets (59), receptions (52), yards (586) and touchdowns (11). The undrafted free agent from Indiana State, Tonyan enters his 4th season in the NFL with sky high expectations. Tonyan had a clear connection with Rodgers, as he was the only tight end in the NFL in top 10 in catch percentage, snagging a silly 88% of the balls thrown his way. He may have entered 2020 nameless and well off the radar, but should be an easy pick in the top-10 at his position this year.