QB Ben Roethlisberger
2020 QB Rank - No.14, 21.5 FPts/G
When I started college way back in the mid 90's I had a real junker of a Volkswagen Rabbit. Poop brown, and barely able to accelerate on the highway, it was a nightmare in several ways. It was my first ever car, so there was some sentimental value, and I didn't have much extra spending money, but I realized it was time to move on into something that wasn't going to spontaneously fall apart. Why start my first player outlook of the 2021 season with this vehicular-based aside? I see a direct correlation between that car, Ben Roethlisberger, and the Steelers. Playing the role of the poop brown Rabbit is Big Ben, who despite finishing with the 4th 30+ touchdown season of his career, failed to be able to carry this offense down the stretch. Instead of cutting bait and trying to retool a deteriorating roster, the Steelers instead brought back Ben, drafted a running back in Round 1, and seemed determined to try and keep pace with the young guns in the division. Will the old vet find his mojo in likely his last season for the Steelers, or will the wheels truly and finally come off a few miles down the highway?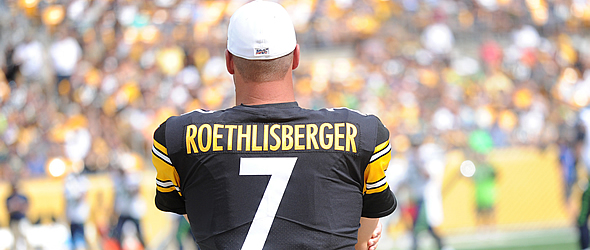 Roethlisberger's surgically repaired elbow was much worse than many believed, and it was evident he spent 2020 compensating and slowly getting back into form. He finished 33rd in the NFL in yards-per-completion with a 9.5 average as the offense transitioned from a big-play, down the field scheme, to become reliant on slants and screens. Throw in a complete lack of any running game, and an offensive line that got old in a hurry, and the Steelers looked downright pathetic, losing four of their final five games of the year after starting 11-0. The offense failed to reach 20 points in a three-game December stretch, and Ben turned the ball over 4 times in the first half during an embarrassing Wild Card loss to the Browns.

While Brady is a spry-looking 44 year-old, Roethlisberger is a grizzled, rickety 39. The quick, short passes allowed Pittsburgh's offensive line to look better on paper than it might have been, and they return ZERO players who started Week 1 of the 2020 season. DeCastro and tackle Kevin Dotson are building block players, but some younger guys are going to have to step up, as there were no meaningful additions to this unit in the draft. At this point in his career Big Ben is a complementary player, and I just don't feel great about him completing the season. I think the Steelers ride Harris to protect a fading defense, and take one more shot before the inevitable rebuild, making Roethlisberger a low end QB2.

Despite becoming a rarity in the 1st round these days, the Steelers bucked the trend and selected workhorse running back Najee Harris from Alabama. The ultra-talented Harris dominated in his last two seasons with the Tide, scorching the NCAA with 51 total touchdowns, flashing speed, power, and versatility, and joins a Steeler offense that had a gaping hole at the position. Poor blocking and the lack of any sizzle from their stable of backs, Pittsburgh was last in the NFL in rushing yards (1,351) average yards-per-carry (3.6) , and had the 2nd fewest (81) rushing 1st downs. Letting James Connor walk in free agency, and spending primo draft capital, tells me the Steelers plan to be all-in on their rookie back.

With Roethlisberger's career approaching its expiration date, and a defense in transition, I expect Pittsburgh to lean very heavily on their rookie runner. It wasn't long ago this offense was run through its backfield, and Harris possesses the skill-set to be on the field in every situation. His 67 receptions in his last two years as a collegiate starter was identical to the 67 receptions Le'Veon Bell had in his final two seasons at Michigan State. Bigger, stronger, faster, and with a better athletic profile, Harris has a real chance to push for 325+ touches, a threshold only two backs reached last year. Even as perfect fit for this offensive scheme, Harris will need to rely on the line to gel and improved offensive efficiency if he wants to push his way into the top-5 at the position, but there are few rookies in a better spot to make a major fantasy impact than Harris and on volume alone, is a good bet to be a top-10 runner in all formats.
RB Benny Snell
2020 RB Rank – No.58, 4.5 FPts/G
Snell has peaked as a mediocre backup in his time with the Steelers since being a 4th round pick in 2018. While reliable in a pinch, or "breather" situation, Snell just doesn't have the tools to threaten Najee Harris's stranglehold on this backfield. His 3.6 career yards-per-carry average, and 13 total receptions mean this backfield becomes a messy committee without Harris. Barring an injury to the rookie, Snell is at best an end of the draft insurance policy for Harris owners.

2020 was a strange season in many ways for the mercurial JuJu. Though he rebounded from a disastrous 2019 season with 97 receptions and a career high 9 touchdowns, his 8.6 yards-per-reception average was not only a career low, but also ranked 126th in the NFL behind guys like Jimmy Graham and Drew Sample! Partly a product of rising stars Diontae Johnson, and Chase Claypool, and the passing scheme change to quicker, shorter completions, Smith-Schuster played much closer to the line of scrimmage last year. After a mediocre season in a contract year in which he put his foot in his mouth during the playoff collapse to the Browns, it seemed all too likely that both he and the Steelers would part this offseason. But because of "loyalty" and not the reduced cap situation limiting funds around the league, JuJu spurned offers from KC and Baltimore to return to the Steelers on a one-year deal. So what does that mean for his 2021 prospects?

For all intents and purposes Pittsburgh is clearly trying to run things back one final time before the roster gets nuked. Once considered the heir apparent to the passing game throne for the Steelers, the former Trojan has demonstrated he's not an elite WR1 in the NFL, and is rather a solid complementary WR2 like he showed early in his career. And that's exactly what he's going to be on this offense. With Johnson, and the explosive Claypool ready to ascend into a more consistent role, Smith-Schuster's upside is severely capped. With the improved running game surely to slash the Steelers NFL leading 656 pass attempts from a year ago, I can't see a repeat of the 97 receptions he had last year. Hovering in WR3 territory, squeezing into the top 30 is likely on the high end of projections for 5th year receiver.

WR Diontae Johnson
2020 WR Rank – No.25, 9.1 FPts/G
As I understand it, catching the football is an important skill for the position Diontae Johnson plays and that seemed to be a major issue for a 2nd year wideout from Toledo. Johnson led the NFL with 10 drops last season, often catching heat from his coaches, as he was benched several times for his transgressions. But the Steelers stuck with their young receiver, and he had a monster follow-up to his rookie season as he finished with an 88-923-7 line on a team high 144 targets. Johnson became this team's No.1 option, but with Smith-Schuster returning, Claypool lurking, and the Steelers likely to use more two-tight end sets to support the running game, Johnson is going to find it tough to improve upon his 2020 numbers.

The 144 targets which were 6th most in the NFL among receivers will be nearly impossible to replicate, which means the yards and touchdowns will have to increase for Johnson to be more than a mid-tier WR2. As with JuJu, baring a repeat implosion of the backfield and defense, there is just no way the Steelers throw the ball 656 times again. If he can manage to trim the drops down, he did leave a bunch of stats on the field, and his talent and upside should give him a chance to win you a week or two.

WR Chase Claypool
2020 WR Rank - No.14, 9.7 FPts/G
As expected with most rookies, especially receivers, Claypool was highly volatile in his first season, but the Notre Dame alum flashed game breaking talent on his way to a 62-873-9 first season. Buoyed by a complete lack of running game, Claypool came out of nowhere to see 109 targets. While most considered the raw rookie to be a beast down field with his size/speed combination, Claypool also showed his run after the catch ability on drag and crossing routes. After only seeing 9 targets the first three weeks combined, Claypool won his owners plenty of games with a 7-115-3 explosion against the Titans in Week 5. The rookie, along with the whole offense, cooled tremendously in late November and into December, before finishing strong in the final two games.

Rookie wall, attitude, preparation, or just defenses scheming better, it seemed the Steelers went away from the potent rookie even while the offense struggled, and Dionte Johnson dropped everything on sight. Some maturity issues seemed to pop up, and with a coach like Mike Tomlin, that isn't going to fly. As long as Johnson and Smith-Schuster are healthy, Claypool is going to have to make do with the leftovers. As I've said with the other receivers, repeating 2020 numbers with all three guys still around, and the addition of Najee Harris is simply not possible. I'll take Claypool as an upside WR3 in standard leagues, and a bench stash in PPR.
TE Eric Ebron
2020 TE Rank No.13, 5.7 FPts/G
Last season Ebron was one of 4 Steelers to get more than 90 targets, but with their offseason roster moves, and philosophy shift, repeating as a top-15 option at the position will be highly unlikely. Signed to bring athleticism and receiving ability to the position, Ebron dropped the ball at a ridiculous rate, and offered next to nothing as a run blocker, hence Pittsburgh drafting Penn State tight end Pat Freiermuth in the 2nd round. The theme with this offense in 2021 is a return to balance, and with three strong receivers, and a rookie running back sure to get 60+ targets of his own, I don't see a situation where Ebron is draftable outside of niche fantasy leagues.