QB Lamar Jackson
2021 QB Rank - No.15 – 24.7 FPts/G
After two history book seasons in 2019 and 2020, 2021 showed just how quickly things can turn, even for a dynamic player like Lamar Jackson. A boatload of injuries to the offense didn't help, nor did the first major injury of his career. Missing five games certainly hurt Jackson's bottom line stats, but it was a troublesome 16-13 touchdown to interception ratio that once again has the league questioning his ability to be an effective passer.

Despite what seems like continued league-wide disrespect and a very odd contract negotiation, I fully expect Jackson to bounce back and be one of fantasy's most explosive players in 2022. While his season-long stats took a nosedive, he still finished just outside the top-5 with a 24.7 points-per-game average, and has added some bulk to his slight frame. The added muscle should help absorb the hits he'll continue to take as a runner, something I don't envision slowing anytime soon. His running ability is what makes him special, and 150 carries should be a near guarantee. The loss of Hollywood Brown hurts the depth in the receiver room, and nixes a big downfield threat, but Brown was maddeningly inconsistent, and Bateman is a much more refined route runner with better hands. With his runners hopefully back healthy, Jackson shouldn't have to take on the burden of the entire offense again in 2022, allowing him to play a little more under control. Jackson has more chips on his shoulder than a bag of Lays, and makes for an easy QB1 with top-5 upside.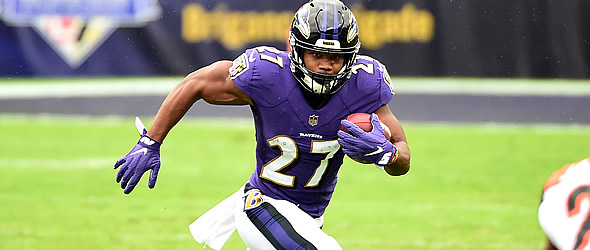 Before an ACL tear in the final preseason game last season, Dobbins was pegged as a serious breakout candidate. Unfortunately, we never got to see Dobbins in his 2nd year, and instead are left to wonder what could have been, and what can ultimately be expected of him in 2022. There have been several studies and examinations done over the years on how effective players can be upon return from ACL injuries. For every Adrian Peterson, who rushed for 2k yards the year after his injury, there are a handful of guys that struggled (Saquon Barkley most recently) or never regained their form, and were soon out of the league. Dobbins has both age (23) and time (he will be 12+ months recovered by the start of the season) on his side.
What he doesn't have is a clear path to carries in this Raven backfield. Dobbins, and his torn-ACL sidekick Gus Edwards are sure to split carries to start the year until they get their legs back under them. Dobbins had a dynamite rookie year, rushing for 805 yards, scoring 9 times on the ground and averaging 6.0 yards-per-carry, and he certainly has the ability to best those numbers with enough opportunity. There was also talk of increasing his work on the passing game, as they Ravens desperately need more from their backs, but he hardly looked smooth and natural as a rookie. As it's highly unlikely Dobbins will see snaps in the preseason, pay close attention to practice reports. If it gets deep into the summer, and he's practicing, don't hesitate to take a shot on his tremendous upside.
RB Gus Edwards
2021 RB Rank - N/A
Edwards was yet another member of the Ravens backfield MASH unit last season, suffering his own torn ACL prior to Week 1. Fresh off signing a new contract, Edwards was locked into a significant portion of a backfield timeshare before the injury bug hit. It's hard to pinpoint exactly how rehab is going, but all the noise coming from the team sounds optimistic. With Dobbins, and newly signed Mike Davis, the Ravens and Edwards have the luxury of taking it slow with their backfield. While this is great news for their health and longevity, it makes gauging their fantasy value trickly. Edwards is slightly older (27) than Dobbins, and wasn't exactly home-run hitting explosive before the injury, so any loss of speed or explosion could be a problem. Edwards is going to get his fair share of chances, especially close to the endzone, so that should prop up his standalone value. Unfortunately, he offers a near zero in the passing game, so he's only a realistic option in standard leagues as a low end RB3, or strong handcuff for Dobbins.
WR Rashod Bateman
2021 WR Rank - No. 80, 4.8 FPts/G
Big things were expected from Bateman entering his rookie season. Considered by many to be the most "pro-ready" of the 1st round rookie receivers, Bateman got off to a tough start, missing the first five games of the season with a groin injury, and having an up and down snap share during the rest of the year. With his challenging first season behind him, Bateman enters 2022 with his arrow pointing WAY up. The departures of Hollywood Brown and Sammy Watkins have allowed Bateman to vault to the top of the receiver depth chart, and he could find himself with a double-digit increase in target share. There is certainly a strong chance Baltimore reverts back to being a run-majority team like they were prior to 2021, but there are plenty of departing targets to give Bateman WR3 value, with upside for more.
WR Devin Duvernay
2021 WR Rank - No. 102, 2.9 FPts/G
Entering his 3rd year, Duvernay's leap up the depth chart puts him into position to set career highs across the board in 2022, but considering this offense has rarely been able to support more than two pass catchers over the last few years, I'm not sure the added chances will be enough for Duvernay to have any fantasy value. This receiver room is as green as any in the NFL, and I wouldn't be surprised to see the Ravens add some veteran depth in camp. If Duvernay can hold on to his spot entering the season, he's at least someone to keep waiver tabs on.
TE Mark Andrews
2021 TE Rank – No.1, 11.2 FPts/G
Andrews has been one of the best fantasy players at his position since entering the NFL in 2018 as a 3rd round pick. The passing offense has essentially been built around him, as he's a mismatch for nearly every defensive player on the field. His 107-1361-9 line last season would have easily been a WR1 finish in any format, so the weekly advantage a player like Andrews gives is immeasurable. With Kelce turning 33, and losing the attention of Tyreek Hill, and Kittle breaking in a new quarterback, Andrews has to be the consensus TE1 in all formats, even if there will be some natural regression in his numbers.