Bye Weeks: Chicago, Tampa Bay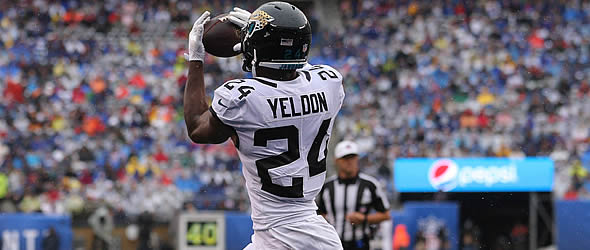 With Leonard Fournette out, T.J. Yeldon should see 20 touches against the Kansas City defense.
Grab a Helmet

T.J. Yeldon @ KC: I sincerely hope that Leonard Fournette owners handcuffed their workhorse because it may be awhile before heís back. In the meantime Yeldon will quietly continue to put up RB2 numbers for a team that likes to control the clock and play great defense. Yeldon is currently the No.12 running back in standard leagues and with 14 receptions has been a factor in PPR leagues as well. Yeldon and the ground attack should be a featured part of the game plan this week as the Jags try and slow the Pat Mahomes express. Pencil in at least 20 touches and a potential score for Yeldon, making him a strong play.

Mark Ingram vs WAS (Mon): Joining Julian Edelman as an instant fantasy factor upon return from suspension is Mark Ingram. Savvy owners who were able to get a super discount on Ingram during the draft can now reap a return on their investment. Donít expect a full complement of touches (which was about 18 a game last year) right off the bat, but this offense is at its most dangerous when Ingram and Kamara are active. Sean Peyton has gone on record this week about finding the proper balance in his backfield, but even in a timeshare Ingram will be part of what this offense is trying to do against Washington. With looks in the passing game in addition to red zone work, Ingram makes for a plug and play RB2 in his first action of the season.

Derrick Henry @ BUF: Henry and the Titans run game have been a colossal disappointment this season. The former Alabama runner has a yards per carry average that would make for a fine G.P.A. (3.0) and has yet to find the endzone. I do think the Titans are more dynamic when they spread the field and throw the ball deep, but Iím going with pure gut this week, as I think the Titans, with a healthy offensive line, look to pound the ball on the ground on the road against Buffalo. The Bills have given up the 2nd most rushing touchdowns to tailbacks in the league, and Henry is due as he and Lamar Miller are the only running backs in the NFL with 50+ carries and no touchdowns. 75+ yards and a score makes Henry a solid FLEX/RB2 play for the week.
Grab Some Pine


Latavius Murray/ Dalvin Cook @ PHI: Let me just lay it out for you. This Vikings backfield is a mess. Soft tissue injuries seem to be in vogue this year, as Dalvin Cook is yet another impact fantasy player who canít seem to get his hamstrings healthy. Latavius Murray isnít talented enough to overcome a bad offensive line, and a lack of a receiving back means the offense is easier to defend when they know the running back isnít a threat on passing downs. With a balky leg, Cook is going to be in danger of an in-game flare up, and Murray hasnít even been a solid handcuff, as heís totaled 3 yards on 4 carries in his last two games. Philadelphia has one of the most versatile defensive lines in football and they have been destroying opposing running games. The Vikings desperately need some balance to help out a reeling defense, but until Cook gets fully healthy, this has to be a backfield to avoid.

Mike Davis vs LAR: Listening to Pete Carroll's assessment of his players is always a fool's errand. With Chris Cason injured, the Seahawks dusted off Mike Davis instead of rolling with Rashaad Penny their 1st round pick this year. Of course Davis rushed for 100 yards and two scores, further muddling this backfield quagmire. Carroll says that Davis has earned a spot in the rotation, and with Cason presumably back this week, and Penny still needing touches, there isn't anything resembling clarity in Seattle. Itís anyoneís guess who gets enough carries to produce fantasy points, so in these situations itís always best to look somewhere else, lest you be burned.

Alex Collins @ CLE: Despite a surprisingly effective Ravens offense, Collins hasn't really gotten going yet this year. He's failed to top 70 yards rushing or 4 yards per carry, and his three scores are all that is keeping his fantasy value afloat. He's been benched twice this year for fumbling near the goal line, most recently costing the Ravens serious momentum against the Steelers. A one dimensional back that could be in danger of losing most of his goal line carries, Collins ceiling is severely capped. Without a stranglehold on carries, Collins is getting increasingly hard to trust as anything more than a "cross your fingers" RB2.


Quarterbacks | Running Backs | Wide Receivers