Bye Weeks: N/A

Grab a Helmet

12-148-2… that's the line that Engram laid on the Cowboys in two games last season, and I expect a repeat in Week 1 this year. Engram is far and away the most talented pass receiver on the Giants with the departure of OBJ. Sterling Shepard is a complementary player coming off a broken thumb, and Golden Tate is suspended, so I look for Engram to be the focal point of the passing game, especially this week against the Cowboys. After an inconsistent, injury riddled first half last season, Engram put up 65+ yards in the final five games of the season. A top-3 start at the position this week, Engram was an easy pick in this slot.
Under wraps since joining the Browns via a mega trade this spring, Beckham Jr. is going to get the ball early and often this week against Tennessee. Looking to set the tone early, and silence the "haters", I could actually envision the Browns starting the game with a bomb to Beckham down the sideline. This offense is oozing with swagger, and I expect them to be the aggressor on offense when given the opportunities. Cleveland simply has too many threats to dedicate too much attention to Beckham so he should have plenty of chances to catch the ball in space as well. With a 10-target floor this week, OBJ is an easy WR1 pick in all formats.
I said earlier in this column that all signs point to this game being a high scoring shootout, so I want as much stock in Godwin as I can get. He's been rocketing up in ADP all summer and figures to be in the weekly WR2 conversation in this new Bruce Arians offense. The Tampa defense stinks, and they have no reliable run game either. San Fran can struggle in the secondary without pressure from their front, and Godwin should see plenty of single coverage in the game. 100 yards and a score is in the realm of possibility, putting Godwin in the high end WR2 category for the season's opening week.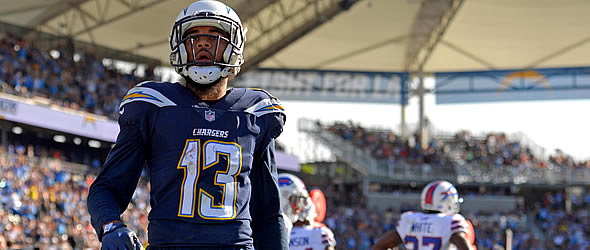 Grab Some Pine

Baring a coaching miracle by Jay Gruden, this could be one of the most difficult offenses to watch this season. A journeyman or raw rookie is going to be throwing the ball, and it's anyone's guess who's going to be catching it. Jordan Reed is in the concussion protocol and is ind danger to miss Week 1. With Josh Doctson cut, the top receivers are going to be unproven Trey Quinn who had 9 receptions in his rookie year, and Paul Richardson who frankly doesn't scare anyone. On the road with a bad offensive line and the aggressive front seven of the Eagles waiting to pounce, there might not even be a Washington offensive player I would consider starting. Yikes.
Consistently a top tier yardage and reception producer when healthy, Allen has missed the last several weeks of preseason work due to an ankle injury. Normally when a vet misses some offseason work it's not a big deal, but Allen has a history with lower leg injuries losing the better parts of two seasons in 2015 and 2016. At this point in his career he relies on timing and route running and these could be slow to develop because of the missed work on the field. The Colts defense is no longer a punchline, so I wouldn't be surprised to see the Charger offense struggle some out of the gate making it difficult for Allen to produce to his draft slot. .
Missing the better part of the last few weeks of the preseason with a calf injury, Anderson enters Week 1 with a brutal matchup against budding shutdown corner Tre'Davious White. In his last three games against the Bills Anderson has been held under 80 yards (but he has managed to find the endzone twice.) With that said, I do think Anderson and Darnold will make some sweet music this year, much like the tail end of 2018, but the missed time and Buffalo secondary puts Anderson closer to low-end WR3 territory than the WR2 I think he can be most weeks.

Good luck this week!

Quarterbacks | Running Backs | Wide Receivers